The US Supreme Court's swing-vote justice, Anthony Kennedy, is retiring
This is the kind of event that could shape the country for decades to come.
Kennedy was often called the "swing-vote justice," which — aside from being a cool nickname — means his was often the critical fifth vote in major cases.
For example, Justice Kennedy cast the fifth vote on reaffirming Roe v. Wade and establishing marriage equality in the US. Yet he was also a reliable conservative on the bench on many other matters, including corporate interests.
Now, after more than 30 years on the high court bench, he is retiring.
Here's why this a huge deal: Kennedy's retirement means President Donald Trump gets to name another nominee to the Supreme Court, having just placed Neil Gorsuch there. As our legal editor put it, that's a "legacy-shaping opportunity" for Trump.
There are already consequences to Kennedy's retirement: Groups on both sides of the abortion debate are gearing up to fight over Roe v. Wade, because many advocates saw Kennedy as the sole blockade preventing the court from overturning the 1973 Supreme Court decision that legalized abortion throughout the country.
Meanwhile, Kennedy's retirement also gives conservatives their best shot at weakening same-sex marriage. Kennedy agitated Christian conservatives when he wrote the landmark equal marriage ruling in 2015.
Among the notable reactions to Kennedy's retirement: A lot of people think now is a good time to get IUDs — we rounded up those reactions here.
One more thing you need to know: Trump said he'll choose one of these people as Kennedy's replacement. Naturally, the Democrats are promising a fight, while the high court vacancy gives Republicans a needed boost.
Oh, and by the way, Kennedy voted this week to uphold Trump's travel ban. In a note separate from the majority opinion, he wrote: "An anxious world must know that our Government remains committed always to the liberties the Constitution seeks to preserve and protect, so that freedom extends outward, and lasts."
Workers at the tent facility holding separated children say "it's just a job"
"I'm not here for the politics. I'm just here to provide for my family." That's what one worker told our reporter Amber Jamieson at the Tornillo tent facility that has sparked outrage.
Workers at the site in Texas told us the politics is irrelevant to them. They said the job pays well, and they feel they're helping the children. Most did not know how long they would be there for, with one saying he was told until February 2019.
This stands in stark contrast to the incident commander, who earlier this week said of the "zero tolerance" policy that led to family separations, "It was an incredibly dumb, stupid decision." He added, "I want to be done with this mission 100%."
Is that opinion shared by other workers? "No," one told Jamieson. "It's work. That's all. It's work." She nodded when asked if it was well paid.
You also need to know
Facilities holding immigrant children will be reviewed by the Health and Human Services inspector general.
We are asking for your help: BuzzFeed News is trying to find families who have been separated at the border. We are today partnering with ProPublica, the Intercept, Univision News, Animal Politico, and Plaza Publica to gather vital information about the children in immigration detention facilities and shelters. More details here.

SNAPSHOTS
The US Supreme Court ruled government workers who aren't in unions don't have to pay union fees. The high court decided that public-sector unions' "agency fees" — fees required of nonmembers — violate the First Amendment. This is a long-sought victory for opponents of the fees, and a decision that was quickly decried by unions.
Joe Jackson, patriarch of the Jackson family, has died at 89. The domineering father managed his singing children in the iconic Motown group the Jackson 5, and helped give rise to the careers of Michael and Janet Jackson. He died after years of poor health.
The GOP's final attempt to address immigration and DREAMers has died in the House. Congress is unlikely to take another shot at an immigration bill anytime soon after yet another attempt ended in failure, leaving DREAMers without any legislative protection for the foreseeable future. The so-called compromise bill went down by a vote of 121–301.
A white supremacist was charged with a hate crime for killing Charlottesville protester Heather Heyer. James Alex Fields Jr. was indicted on 30 counts after he ran Heyer and others over with a car. The charges against Fields include 28 counts of hate crime acts causing bodily injury and involving an attempt to kill and one count of racially motivated violent interference with a federally protected activity.
NASA is delaying the launch of its $9 billion space telescope — again. The telescope, which will unfold a tennis court–sized observation mirror a million miles from Earth, was intended to launch in 2013. Now NASA says it won't launch until March 30, 2021.
At last, we have the first photo of Kristen Wiig in Wonder Woman 1984. Wiig will play the villain in the film, scheduled to be released in November of 2019. Now director Patty Jenkins has released a picture of Wiig from set. Here it is: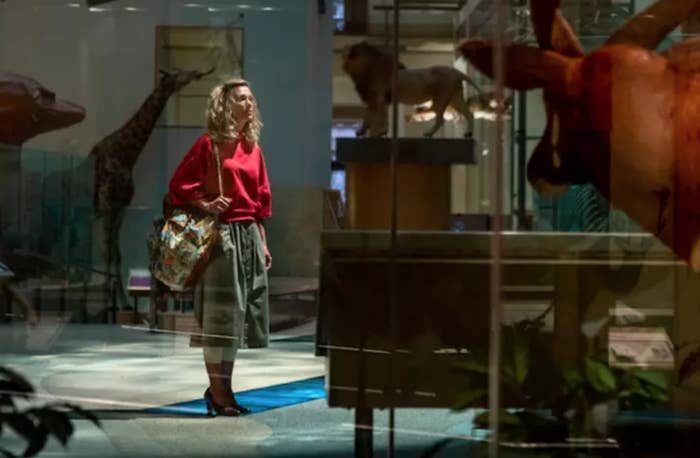 Google just spent millions to gets its products to work on dumb phones
The internet giant splashed $22 million on a feature phone operating system called KaiOS.
Feature phones, by the way, are the cheap, basic devices you used to have before Apple introduced the modern smartphone.
Here's the thing: Way more people have feature phones than smartphones — they're used by a lot of people in developing countries such as India, where estimates suggest many more people are using KaiOS than Apple's iOS.
And it gets more interesting: Recent reports say feature phone sales are growing much faster than smartphone sales right now.
This is where Google comes in. Most people in emerging markets can't afford basic Android phones, which means they're locked out of Google services. The company wants to integrate its products such as search, maps, YouTube, and its voice assistant directly into about 40 million feature phones made by companies like Nokia, Micromax, and Alcatel.
Mexico fans are hilariously, adorably hyping up Koreans after they defeated Germany in the World Cup
Mexico was guaranteed to advance in the World Cup if defending champions (and my team) Germany lost their match. Against all odds, South Korea defeated Germany (which, again, my team), sending Mexico to the next round of the competition.
And because this is the best sport in the world (yeah, I said it), Mexico fans are responding in the best, most dramatic way.
A parade of Mexico fans swarmed a single Korean fan and lifted him up. Random Mexico fans are doing the "Gangnam Style" dance.
My favorite thing is the outpouring of support online: "I'm going to Korea Town today and will hug and thank every single person I run into," one person tweeted. "Gracias Korea."
Mexico soccer fans vowed to "start listening to K-pop" and "continue watching more Korean dramas." One guy, who identified himself as Korean, said he'd already been approached by a group of Mexico fans in public who shook his hand.
Enter your email below to sign up for the BuzzFeed News newsletter: