Here's what you need to know about the family separations story
The fallout of the story continues to grow. Let's walk through the big developments you need to know.
Quickly, give me the background: Over 2,000 children have been separated from their families at the US–Mexico border. The Trump administration began charging all people caught crossing the border illegally — a "zero tolerance" rule — and that's why this is happening.
Where do you even begin? We begin with President Trump, who yesterday referred to immigrants as vermin, saying they "will infest our country." We've collected all of the language Trump uses to talk about immigrants.
Is anyone in his party telling him to stop the family separation policy? Here's a list of all the Republicans who have been public about this. Sen. John McCain called it "an affront to the decency of the American people."
Anyone else speaking out? Tech giants are pushing back, too. Executives from Apple, Facebook, Microsoft, Uber, Google, Twitter, and many others spoke out against family separations.
Is anyone doing anything about it, other than speaking? Yes — here come the lawsuits. A Guatemalan woman is suing in federal court, challenging her separation from her 7-year-old son. New York Gov. Andrew Cuomo said his state is filing a "multi-agency lawsuit" alleging family separations are unconstitutional. The American Civil Liberties Union is also challenging family separations.
What are the conditions where these children are being detained? Well, one child migrant detention center worker quit after being told to stop siblings from hugging. Meanwhile, Fox News anchor Laura Ingraham compared them to "summer camps."
Are there stories coming out of these detention camps? Yes. For example, a 10-year-old girl with Down syndrome was separated from her mother at the border. Former Trump staffer Corey Lewandowski mocked the story on Fox, saying "womp womp."
Anything else I need to know? A former head of US Immigrations and Custom Enforcement said separating families could backfire. Also, MSNBC anchor Rachel Maddow broke down in tears while trying to report on "tender age" shelters for immigrant babies.
The US just quit the UN Human Rights Council
The US formally announced its withdrawal from the United Nations Human Rights Council, after US Ambassador to the UN Nikki Haley called it a "cesspool of political bias."
The move does not come as a surprise — at last year's meeting of the council, Haley said the US would consider withdrawing unless the UN body addressed what the Trump administration called "chronic anti-Israel bias."
On the withdrawal, Secretary of State Mike Pompeo said "we need to be honest, the Human Rights Council is a poor defender of human rights."
The council, which was created in 2006, has a standing agenda item on suspected violations by Israel. It's the only permanent agenda item devoted to an individual country.
More on this story
Our deputy world news editor Hayes Brown wrote a thoughtful opinion piece on why this is exactly the right time for the US to leave the Human Rights Council.
Here's Brown: "Under the Trump administration, the United States cannot perform the role that the world needs it to, marshaling allies ... to push forward a clear view of universal values in the council's resolutions. Right now, we've made it difficult to get even Canada on our side."
SNAPSHOTS
Canada just became the second country in the world to legalize recreational marijuana nationwide. Lawmakers approved the landmark legislation that will make it legal for adults to buy and consume marijuana across the country. Canada follows in the footsteps of Uruguay, which was the first nation to legalize.
People are shocked and livid after paramedics placed a white sheet over a teen shooting victim who was still breathing. Erin Carey, a 17-year-old from Chicago, was presumed dead after a shooting. A paramedic had even covered him with a sheet — but he was still alive and breathing. Witnesses reportedly begged police and paramedics to remove his sheet. Carey eventually succumbed to his injuries and died. The Chicago Fire Department is now investigating for potentially "grossly negligent" behavior.
Dunkin' Donuts is under fire for a sign that people are calling racist. The sign, which appeared at a Baltimore location, offered customers coupons for free coffee and a pastry if they reported workers who were not speaking English. An employee at the location told us the manager who posted the sign is "no longer working there."
Another school named after a Confederate leader will now be named after Barack Obama. J.E.B. Stuart Elementary School was the last remaining school in Richmond, Virginia, named after a Confederate leader. It's dropping the name of the slaveholding general and becoming the Barack Obama Elementary School. A Mississippi school did the same thing last year.
Giant hogweed, the plant that causes burns and permanent blindness, is spreading in the US
I'm very ill-versed in botanical nightmares, so this story has me a bit rattled. Giant hogweed may look like any regular ol' plant, but it is not. It's an invasive species that's known to grow in some states in the US.
The giant hogweed's sap can cause blistering burns on the skin, long-lasting scars, and even permanent blindness. You could be forgiven for not knowing this, because again, it looks like any regular ol' plant.
It is known to grow in New York, Vermont, Pennsylvania, New Jersey, Wisconsin, Michigan, Oregon, and Washington.
Last week it was discovered for the first time in Virginia. It's listed as a noxious weed by the federal government, which means it's illegal to transport across state lines without a permit.
[King George from Hamilton voice]: Good luck!
People are loving this photo of Colombian and Mexican World Cup fans lifting up an Egyptian fan
I've never been good at being a cynic. It's just not one of my strengths, and I accept this.
During the World Cup, I start to have a faint glimmer of belief that sport can actually bridge some of the imagined distances between us.
I'm usually proven wrong, but today I have evidence to support my side.
People are in love with this photo showing soccer fans from Colombia and Mexico lifting up Hassan Sedky, a young Egyptian fan in a wheelchair, so he can watch his country play.
The internet is loving the photo for good reason: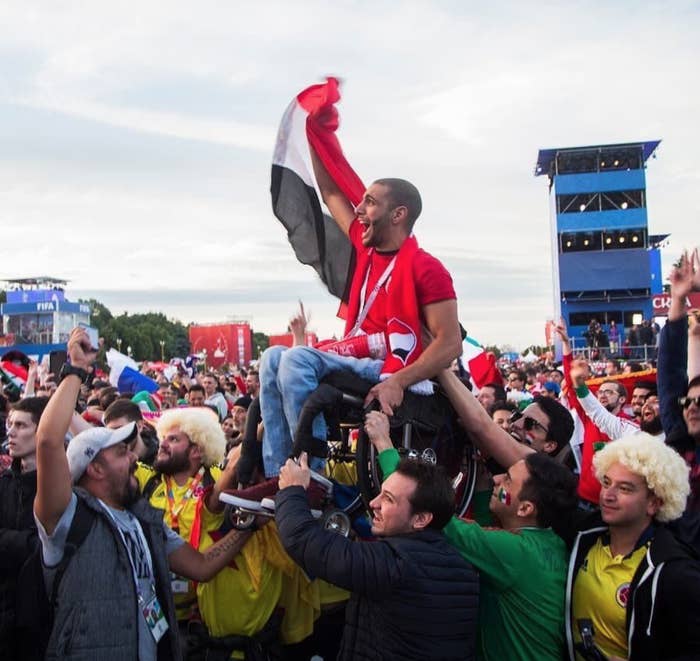 Lift someone's heart up,
Elamin
Enter your email below to sign up for the BuzzFeed News newsletter: