North Korea announced it will stop conducting nuclear and missile tests
This is a massive policy shift, especially from a government that has made it its business to deliberately act as erratic and threatening as possible. North Korea also announced that it will close its nuclear testing site ahead of a potential meeting with President Donald Trump.
North Korean leader Kim Jong Un said the country "no longer needs" to conduct nuclear or intercontinental ballistic missile tests because it has completed its weaponizing programs.
Trump tweeted that the decision was "very good news" for the world.
Police are still searching for a man who shot and killed four people at a Waffle House
The man walked into the Nashville restaurant early Sunday morning with an AR-15 and opened fire on six people in total. Four were killed and two remain injured in the hospital, authorities say. The police added that the suspect was nude except for a green jacket.
Authorities named the suspect: Travis Reinking of Morton, Illinois. Police say he was once arrested by the Secret Service for entering a restricted area near the White House and refusing to leave.
Following the White House incident, his firearm license was revoked and his weapons were seized. Those weapons were returned to Reinking's father, who admitted giving the guns back to his son.
A Waffle House patron tackled the suspect and wrestled away his weapon. The shooter fled. Authorities said he is still at large and presumed to have at least two more weapons with him.
All the people killed in this shooting were under 30. Here's what you need to know about each of them.
James Shaw Jr., the 29-year-old man who tackled and disarmed the shooter, says he's not a hero. Here's everything else he said.
Quick brief:
At least 57 people were killed by a suicide bomb in Kabul
The explosion at a voter registration center left at least 119 injured. A suicide bomb was detonated where people were collecting national identification cards.
Afghanistan's chief executive, Abdullah Abdullah, condemned the bombing and described it as a terrorist attack.
Parliamentary elections are set to take place in Afghanistan in October, so the process of voter registration has been open since the beginning of April.
ISIS took responsibility for the bombing through its Amaq news agency.
Avicii has died at 28
Tim Bergling, the Swedish DJ better known as Avicii, was found dead in Muscat, Oman, on Friday, according to his publicist and Oman authorities. The cause of death was not disclosed.
The musician was reportedly in Oman to visit friends.
Bergling became one of electronic music's biggest names through smash hits like "Levels" and "Wake Me Up," playing sold-out festivals. He had retired from touring in 2016 due to health issues.
Tributes from DJs and musicians have poured in, and they're quite touching.
The Trump administration just shifted teen pregnancy programs toward abstinence
The administration outlined what it's looking for in order to continue to fund teen pregnancy prevention programs. The funding guidance issued favors specific, abstinence-oriented approaches.
The announcement compared the risk of teen sex to "drug use" or "failing to use a seatbelt."
Organizations that receive grants to run their programs are required to replicate one of two kinds of programs in order to receive funding: the first focusing on "sexual risk avoidance" and the second on "sexual risk reduction." These are advocacy terms that favor abstinence-oriented approaches to sex ed.
People love this guide dog who led his owner into a store called Cool Dog Gear
Dogs just know how to make your day.
Michele Sykora filmed her sister Danielle's guide dog being sneaky.
While the pup, named Thai, was guiding Danielle around the mall, he casually led her to the pet store because Thai had treats on the brain.
We spoke to Danielle, who told us that a week after she got Thai, he jumped into a cake. She would rather have a mischievous guide dog than a well-behaved one.
People can't get enough of the sneakiness, so please enjoy.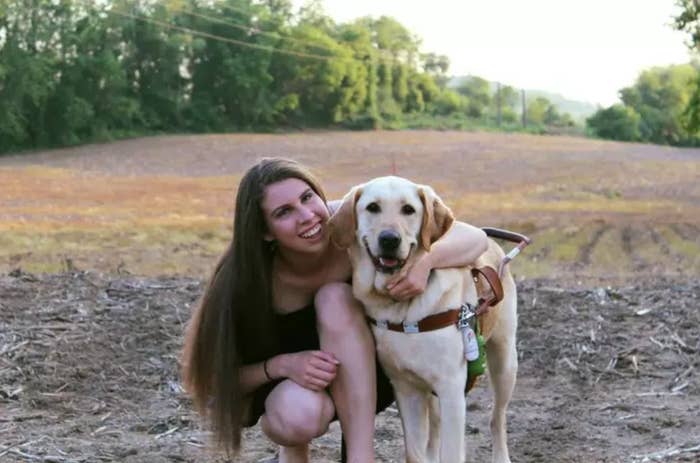 Enter your email below to sign up for the BuzzFeed News newsletter: