The Michael Cohen investigation took a turn for the dramatic
Yesterday, a judge demanded President Trump's longtime personal lawyer Michael Cohen make public the names of his clients. The client revealed? Fox News host Sean Hannity.
Here's how we got here:
First, the background: Last week, the FBI raided Cohen's office, home, and hotel room and seized materials for an investigation.
Right, but why did Cohen appear in court? A judge ordered him to. There is a fight about who gets to see the seized material first: Would it be prosecutors or Cohen's lawyers?
Why did Cohen have to reveal his clients? Cohen says he had only three legal clients since leaving his job at the Trump Organization last January: Trump, a major GOP fundraiser named Elliott Broidy, and an unnamed third client.
Cohen's lawyer argued that "thousands" of documents seized by the government would be protected by attorney-client privilege.
The judge pushed back and ordered Cohen's lawyers to reveal the identity of the third client, noting its direct relevance to their privilege claims.
And that client is…Sean Hannity, who is one of Trump's most vocal defenders. He also has private audiences with the president.
How was this news received? In the courtroom, with literal gasps. Outside the courtroom, Hannity downplayed the connection: "We have been friends a long time. I have sought legal advice from Michael."
What happens next? Judge Kimba Wood denied Cohen and Trump's request for a temporary restraining order to block prosecutors from seeing the evidence.
Wood said the government will put all the documents seized from Cohen in an electronic database, and that Cohen will be given copies.
Quick brief:
This village banned assault weapons. The residents don't want to talk about it.
In the wake of the school shooting in Parkland, Florida, the board of trustees of a small village in Illinois quietly decided to act.
Deerfield passed an ordinance that would ban all assault weapons beginning June 13. Anyone who does not forfeit the banned weapons could be fined up to $1,000 a day.
That decision thrust the village into the headlines of a national gun debate.
We traveled to Deerfield to ask residents about the gun ban. What we encountered was a community very much on edge.
From Tanya Chen's tense and excellent story: "Many residents declined to speak, fearing backlash. Few who did talk wanted to use their full names. Several parents sent repeated messages or emails marked 'URGENT' following interviews with their children, asking with an increasing level of concern that their names not be used."
It's raining so hard in New York City it's pouring into the subways
I don't live in New York, so as a rule, I don't pass up an opportunity to take a little jab at the city.
Luckily, today I don't have to work very hard for it: Amid intense rain in New York, it started pouring underground in subway stations, and in some cases inside subway cars.
The videos of the downpour make it look like there is a waterfall above the subway doors. It's a sight to behold.
Quick brief:
These teens are taking a class on drugs that is definitely not what Trump had in mind
"If you're choosing to use, make sure you're in a good place, and with people you trust and a safe location."
That's how a health teacher in New York begins his class on drug use.
The high school class is a prototype drug course focused on making safer choices and reducing harm — things like "If you're taking it, start with a small dose."
Out in the real world, this may seem like common sense, but as our reporter Dominic Holden describes it, teaching these ideas is "a fairly revolutionary act in American public schools." It runs counter to what anti-drug programs like D.A.R.E. tell kids — to "just say no."
Holden's piece is a fascinating look at colliding narratives in drug education. I highly recommend it.
This dog was detained for chasing a deer and his reaction is everything
Let's get one thing clear: Finn is a good boy.
Finn and his person were out for a walk in Ontario when the pup suddenly took off running. A short while later, he was found by police — after he caused some chaos chasing a deer along a road.
He was briefly detained in the back of the cop car, and his owner took this picture of him that has now gone viral.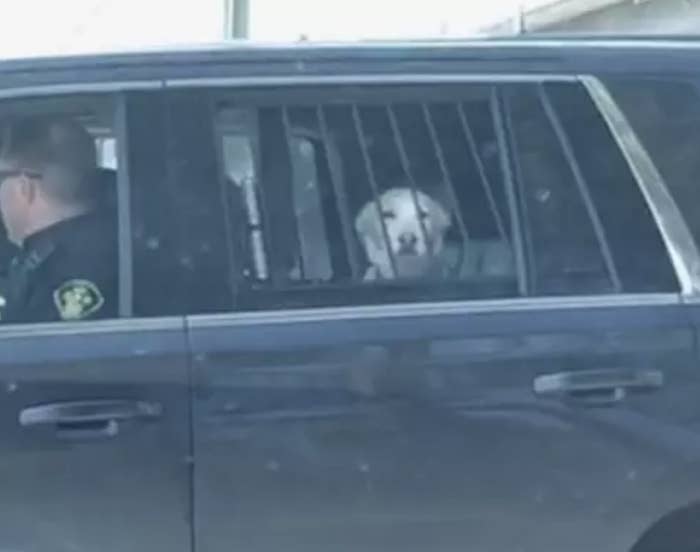 Enter your email below to sign up for the BuzzFeed News newsletter: