Hundreds of thousands turned out to protest gun violence at the March for Our Lives
Across the US and around the world, masses gathered in an outcry against gun violence. A remarkable thing: They all turned up to answer the call of the Parkland school shooting survivors, who made #NeverAgain their banner.
Who went? All in all, an estimated 800,000 people took to the streets of Washington, DC, making it one of the largest rallies in the history of the city. They were joined by swells of people elsewhere: 175,000 marched in New York, 45,000 in San Francisco, 50,000 in Boston, 30,000 in Atlanta. Austin brought out 20,000, and another 15,000 took part in Houston, 15,000 in Phoenix, and 18,000 in St. Paul. I really could go on.
One that's quite noteworthy: Parkland, Florida, where a shooter killed 17 people last month, is a city of 35,000 people. About 20,000 people marched.
What did they want? "I should be worrying about APs and finals, not AR-15s in school." We gathered the most powerful reasons that people marched for their lives.
What happened at the rally? Some powerful stuff. Emma González, who was one of the movement's most visible faces, stood on stage in silent protest and people stood with her.
In an emotional moment, a Parkland survivor led the march in singing "Happy Birthday" for one of her classmates who was killed.
People couldn't stop talking about this passionate speech by 11-year-old Naomi Wadler, standing up for the black girls and women who have been victims of gun violence.
We rounded up all the powerful moments from the rally here. There are many.
So what happens now? Amid this groundswell, it seems like there is little to no political will to change any gun laws in the US. One way to change that: Organizers of the March for Our Lives made a huge push to register teen voters across the US.
Where was Trump? Thought you'd never ask. He went to Mar-a-Lago this weekend, and March for Our Lives protesters turned up there, too — about 2,000 of them.
Anything else? Yeah. Hundreds of veterans showed up to tell students, "We've got your back." Also Super Bowl champs the New England Patriots lent their team plane to Parkland students so they could fly to the rally.
A rally like this was bound to have some powerful, clever signs. We rounded up the best ones for you.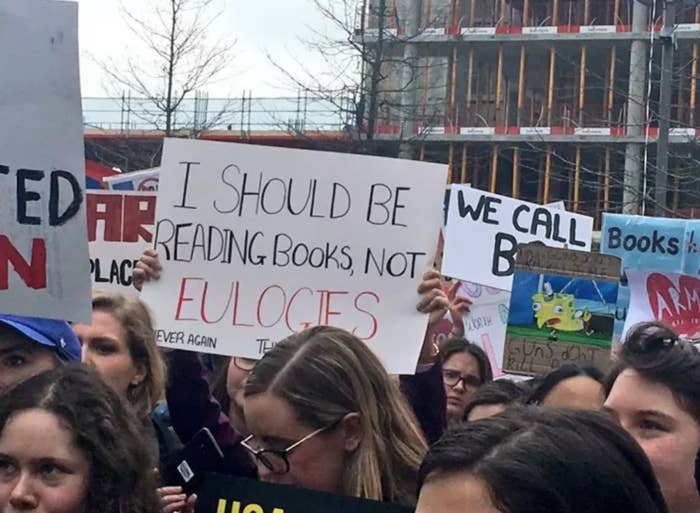 Stormy Daniels says she was threatened to stay quiet about her relationship with Trump
In a highly anticipated interview on 60 Minutes, Stephanie Clifford, the adult entertainment performer better known as Stormy Daniels, claimed she was approached by a man in a parking lot who threatened her to stay quiet about her alleged sexual encounter with Donald Trump.
Following the incident in the parking lot in 2011, Clifford said she ardently denied the affair out of fear.
Clifford's alleged encounter with Trump became public earlier this year after the Wall Street Journal revealed that Trump's lawyer Michael Cohen had paid Clifford to stay silent about the affair.
More context:
Five big questions remain unanswered after the 60 Minutes interview. Top question: Is the nondisclosure agreement valid?
Quick catch-up
Shopping center fire: A fire tore through a Russian shopping complex and killed 64 people, with another 10 people still missing as of early Monday, according to state media reports. The mall is in Kemerovo, an industrial city known for its coal production, located about 2,000 miles east of Moscow.
French hostages: A police officer who was shot after taking the place of hostages in a supermarket siege in France has died from his injuries. French President Emmanuel Macron said Lt. Col. Arnaud Beltrame died a "hero." Three other people died Friday and 15 were injured after a shooter began an assault on a supermarket in Trèbes. The attacker was shot dead by police at the scene.
Family tragedy: An Iowa family of four was found dead in a vacation condominium in Mexico. Kevin and Amy Sharp and their two children, Sterling, 12, and Adrianna, 7, were reported missing just after midnight Friday. Mexican authorities conducted a welfare check in the small coastal town where they were staying and found all four family members deceased. Officials say the cause of death was asphyxiation by toxic gases.
"Gut Makeover" diet: A science journal has retracted a study claiming that the "Gut Makeover" — a trendy four-week diet that recommends lots of vegetables and chewing — helps people lose weight and feel better. The journal cited "methodological concerns" over the study. The author called the retraction "disappointing and somewhat bizarre."
Rich people will soon be able to buy fake meteor showers on demand
Hey, maybe you're planning to propose to someone you love, or you're having a big birthday party, or whatever the occasion, and you think to yourself, This moment could use the magic of shooting stars.
Up until now, you had to let the universe take care of that for you. But no more: In the latest scheme of the booming private space industry, a Japanese company proposes to light up the night with made-to-order shooting stars.
It's an ambitious idea, to be sure. It has also made some experts worry about space clutter, and the scary consequences of these artificial meteors hitting important satellites.
Either way, the effort is fascinating. Read Dan Vergano's report on it.
We talked to the original cast of Queer Eye about the show's reboot
Have you been watching the new Queer Eye reboot? If you haven't, you should because it's so good. We had a chance to chat with some of the members of the OG Queer Eye cast from 2003, and they fangirled about the new look for the show.
One part that caught my attention was this quote from Jai Rodriguez: "We were talking to the guys of the new cast and they were like, 'Were any of you married on the show?' And we were like, 'Are you kidding? We weren't legally allowed!'"
The whole thing is a delight and you should read it.
Enter your email below to sign up for the BuzzFeed News newsletter: