President Trump is spreading false information to justify separating children from families at the border
First, the background: Since April, about 2,000 children have been separated from their families at the US–Mexico border. This happened after the Trump administration introduced a "zero tolerance" policy, charging all people caught crossing the border illegally.
What's going on now? This story is not going away, and rightfully so. It seems people have questions about the legality and morality of separating children from parents.
Are people speaking out? You bet. Former first lady Laura Bush wrote an op-ed calling for an end to the policy, which she described as "cruel" and "immoral." Michelle Obama retweeted the op-ed, adding "Sometimes, truth transcends party."
What about Republicans in the Senate? Well, they say that they, too, don't like Trump's family separation policy — but it's not clear what they'll do about it.
Governors have been quite silent on this. Not anymore. At least three state governors are rescinding their promise to deploy National Guard troops and other resources to the US–Mexico border in protest.
What is Trump saying? Trump again repeated the false claim that Democrats were to blame for his administration's own policy of separating immigrant children from their parents at the border.
Enough politics. Let's talk about the children. Will they be reunited with their families? The US currently has no plans for reuniting children with their families after separation. Even after a parent has completed their sentence for illegal entry, the US has no way to ensure that they are reunited with their children.
How are the kids coping with being detained? Yesterday, ProPublica published audio of 10 Central American children held in a US Customs and Border Protection detention facility. The children can be heard sobbing. It's hard to listen, but it's something you should do.
What are these facilities like? Well, the government released a video showing the children being held in cages at the border.
Anything else I need to know? Yes. Trump keeps saying there's a crisis at the border. The numbers actually tell us that's not true.
Rapper XXXTentacion has died after being shot in Miami
XXXTentacion, born Jahseh Dwayne Onfroy, had been shopping for motorcycles and, as he was leaving, two men drove up to his vehicle and opened fire in what appeared to be a robbery, though it was unclear what was stolen, authorities said.
Police say XXXTentacion was transported to a hospital, where he was later pronounced dead. He was 20.
The rapper's album ? reached No. 1 on the Billboard charts even as he faced a slew of criminal charges for domestic violence, including aggravated battery of his pregnant girlfriend.
Spotify and Apple Music had removed him from their promoted playlists last month, but later reinstated him after backlash from other rappers and record labels.
SNAPSHOTS
The president has once again directed the Pentagon to create a "space force." President Trump announced his intention to form a new branch of the US military to establish "American dominance in space," calling it "Space Force." John F. Kennedy gave the famous "We choose to go to the moon" speech. This...isn't that. Trump: "We are going to have the Air Force, and we are going to have the Space Force. Separate but equal."
An American grad student has been jailed in Vietnam after attending a protest. William Nguyen, 32, from Houston was beaten and jailed at a demonstration in Ho Chi Minh City during a pregraduation trip. Vietnamese police haven't formally charged Nguyen with any crime, but they have accused him of "disturbing the social order," according to state news reports. His family is campaigning for his release.
Your iPhone will soon share your location automatically with 911. The new feature will be part of the next version of Apple's operating system, iOS 12, which will be released in the fall. Apple stated that a user's location data will be private and available only to the responding 911 center in an emergency situation.
Will Ferrell is making a movie about the Eurovision Song Contest. Everyone knows Eurovision is the most absurd, inspiring, confusing television event in the world. Netflix announced that Will Ferrell will make a comedy movie about the contest, and it will be called Eurovision. This explains why Ferrell was at this year's Eurovision. Anyway, I. Can't. Wait.
Movie theaters are warning people that Incredibles 2 could trigger seizures or migraines. The film just set box office records, but the movie's flashing lights may be a problem for people with photosensitive epilepsy or migraines.
The ACLU says Amazon should get out of the facial recognition business
A few weeks ago, an American Civil Liberties Union investigation found that Amazon had been pitching its facial recognition technology, known as Rekognition, to law enforcement agencies as a way to surveil citizens.
Now the ACLU is calling on Amazon to get out of the business of facial recognition altogether. An ACLU director told us, "We need a better deal where large tech companies like Amazon actually start with communities and ask about the impact of their technologies before they start wholesale rolling them out."
A quick refresher on what Rekognition can do: it can recognize celebrities, make out text in images, and conduct an analysis of things like movements within a video frame to tell whether someone was entering or exiting a building.
Amazon bragged that it can quickly scan information it collects against databases containing tens of millions of faces.
This guy RSVP'd to his ex-girlfriend's wedding with a joke, and people have THOUGHTS
Hayley Stamper is getting married in a month and she's really excited.
As the RSVPs rolled in from her wedding guests, one stood out in particular. It was from her first high school boyfriend.
You should know that his RSVP has invited so many feelings from people. And that's because this is what he wrote: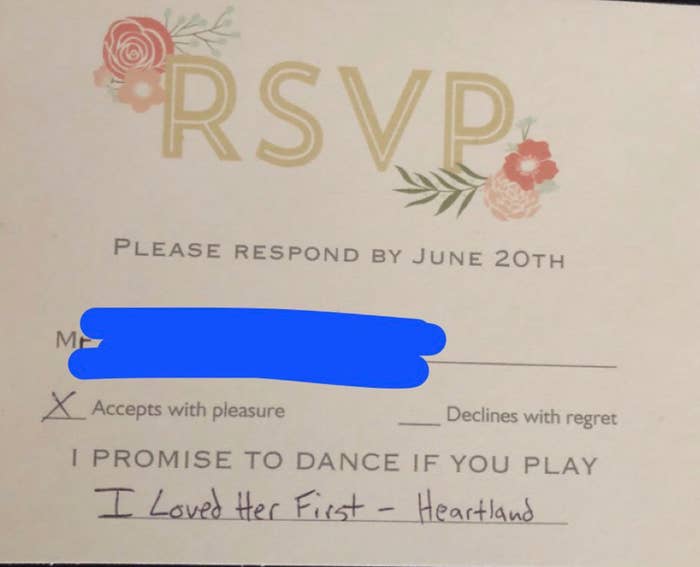 He says he did it as a joke. I say denial is not just a river in Egypt.
Do not throw away your shot,
Elamin
Enter your email below to sign up for the BuzzFeed News newsletter: