Good morning,
I hope your long weekend has been relaxing. This is a slightly shorter edition of our newsletter today — tomorrow, we'll return to the full swing of news.
Ireland has made history and voted to repeal its strict abortion laws
In the end, it wasn't even close. Ireland voted by a landslide to undo the law that gave the unborn and the mother equal rights to life, which has until now meant that abortion was illegal in almost all circumstances.
After a record turnout of 64.5%, officials said two-thirds of voters were in favor of repealing the law.
The vote wasn't won only in liberal urban centers like Dublin, as had been expected — rural voters also backed the repeal. Roscommon — the only county in Ireland to vote against same-sex marriage in 2015 and widely considered to be the country's most conservative county — also backed getting rid of the law.
Women in Dublin are relieved abortion laws have been relaxed, and proud of Ireland. A stand-out quote: "Old Ireland is dead and gone. Ireland is moving forward. UK votes Brexit and America has Trump, but we're over here making changes."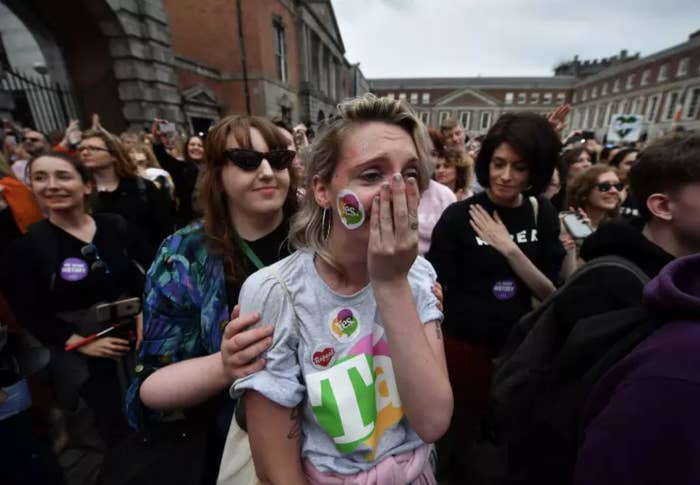 PSST
Because I'm a nerd about these things, I sometimes wonder what it would've been like to experience news of past historic events on my phone. Lucky for me — and you — we have a fantastic new series that lets us do exactly that.

Future History 1968 brings to life an eventful year in news (and it looks so cool!). The most recent episode features a story I didn't know about: the time protesters shut down the 1968 Cannes Film Festival. You should watch it.
Here's how the US managed to lose nearly 1,500 immigrant children
The US government has lost track of 1,475 immigrant children, but officials say they are not "legally responsible" for them.
I have several questions. Yeah, that's fair.
First, the background: Unaccompanied child immigrants who are detained trying to cross the border are transferred from one government agency to another, from US Customs and Border Protection to Health and Human Services' Office of Refugee Resettlement.
What happens after that? The child is placed at the home of a sponsor — a parent, relative, or close family friend who can show ties to the child. After that, the government says it's not "legally responsible" for children.
Do we know what happened to the kids? No, officials couldn't determine what happened to the 1,475 children who were placed in sponsors' homes between October and December 2017.
How did the government discover it had lost track of them? An official told Congress that the Office of Refugee Resettlement attempted to contact 7,635 minors and their sponsors, as part of a routine safety checkup. More than 19% of them, however, were unaccounted for.
What happens now? Health and Human Services did not immediately respond to our questions about whether the agency will continue to try to locate the children, or what the agency's next steps will be.
Quick brief:
The Korean leaders have met to discuss Trump's summit with Kim Jong Un
This was a surprise move. On Saturday, the leaders of North and South Korea met to discuss the possible meeting between Kim Jong Un and President Donald Trump.
You'll remember that just a few days ago, Trump canceled the meeting citing Kim's "open hostility." But it's a new week, and the White House says US officials were still preparing for the summit — just in case.
Listen up
How much does Facebook know about you? How much does it matter? We talk it over on the latest episode of our new podcast, The News. It's a smart show where we aim to discuss the news without being stuffy.
It's such a good conversation. You can find it on Apple, Google Play, Spotify, or wherever you get your podcasts from.
This video of a man climbing a building to save a child's life is incredible
The weirdness of the internet has set the bar high for being surprised by anything, but even with that context, this is unbelievable.
In Paris, a man heard people shouting and honking their horns and noticed they were all looking at a 4-year-old boy who was dangling from a fifth-floor balcony.
The man, Mamoudou Gassama, did not hesitate — in 40 seconds, he scaled the facade of the building and rescued the child. The whole thing is on video and it's jaw-dropping.
Reach higher,
Elamin
Enter your email below to sign up for the BuzzFeed News newsletter: