Revisiting the story of the migrant caravan
The biggest story this week has undoubtedly been the family separations at the US–Mexico border. Though people's attention is turning to this, it comes at the tail end of another huge story: the migrant caravan that traveled from Central America to the border.
The story of the caravan lasted a few months, and many people expressed interest in it but didn't have a chance to follow it closely. We'll spend time explaining it today.
The context
First, the background: A huge caravan of Central American migrants, organized by a group of volunteers called Pueblo Sin Fronteras, or People Without Borders, traveled through Mexico to get to the US border.
Why would the migrants travel in a caravan? Traveling in a large group like this allows them to bypass not only authorities who would seek to deport them, but gangs and cartels who are known to assault vulnerable migrants.
Where were they from? Mostly from Honduras. We did extensive reporting on why they would want to flee the country. One expert said: "Honduras is a pressure cooker in every single aspect. We are seeing an unprecedented violation of human rights."
And why did the migrants want to come to the US? We asked this very question to many people in the caravan. The answers we got included "extortion," "domestic violence," "political unrest," and "gang threats."
The journey
We sent photographer Luc Forsyth to join reporter Adolfo Flores to ravel with the caravan. Forsyth documented the experience with some incredible photographs. He also said: "None of these people had any illusions about what was waiting for them. ... They knew the US didn't want them, but given the choice of being unwelcome or having your whole family murdered, they obviously had to try."
Here's one of Forsyth's many incredible photos: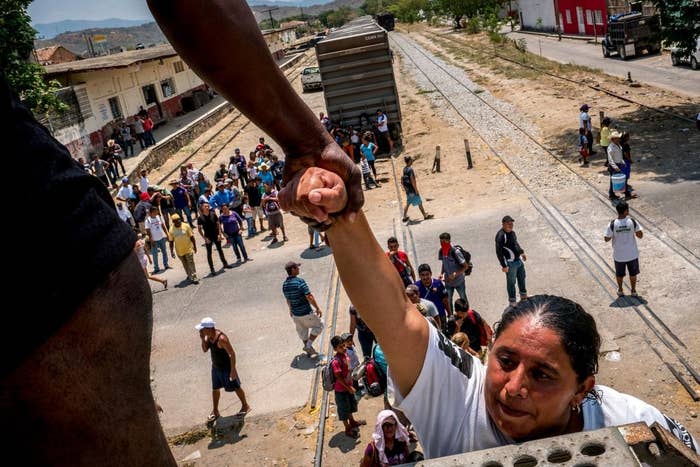 What was President Trump's response? At more than 1,000 strong, the caravan caught the president's attention, especially since no one in Mexico would dare stop it. He tweeted: "The big Caravan of People from Honduras, now coming across Mexico and heading to our 'Weak Laws' Border, had better be stopped before it gets there."
Why was Trump so vocal about his opposition to the caravan? Our reporter Tarini Parti wrote a smart piece about how the caravan gave Trump exactly what he needed: a direct line to his frustrated base.
What did Trump do about it? Well, he asked states to deploy more National Guard troops along the border. Some obliged. California agreed to deploy 400 troops, but the governor warned the troops will not "round up women and children."
The president also leaned on false information — he said an unprecedented number of rapes are occuring during the caravan. That was not true.
The aftermath
What happened after the caravan made it to the US border? Well, first asylum-seekers ran into a massively backlogged US system.
Eventually, though, members were allowed to apply for asylum, and a total of 228 people did apply as the caravan officially came to an end.
At least one mother who traveled with the caravan and was seeking asylum said immigration agents took her children. A transgender woman died in ICE custody.
The caravan raised an important question: Can the law be a loophole? As one expert put it, "Seeking asylum is not a loophole. It is an international right and a right guaranteed by our own domestic laws."
You should really spend some time with Adolofo's wrap-up story about how all the attention that the caravan attracted changed the long and grueling journey that's usually unseen.
SNAPSHOTS
A 17-year-old immigrant wasn't allowed to attend high school, even though he's a US citizen. And he's not the only one: Older students have the right to a public education, but we found that immigrant teens are being excluded from schools in several states.
A Florida man has been arrested over the fatal shooting of rapper XXXTentacion. Dedrick Devonshay Williams was taken into custody shortly before 7 p.m. following a traffic stop in Pompano Beach two days after the 20-year-old rapper was gunned down near Miami.
Melania Trump wore a jacket that said "I REALLY DON'T CARE, DO U?" while boarding a plane to Texas Thursday to visit immigrant children at the border. A spokesperson for the first lady said, "It's a jacket. There was no hidden message."

ABC is replacing Roseanne with The Conners, a 10-episode spinoff that will feature every lead actor except Roseanne.

Some thoughtful essays to spend time with this weekend
It's incredibly hard to imagine the chaos of children trying to cross the border illegally. We published a difficult and worthwhile piece from Reyna Grande, on the trauma of crossing and family. The piece is incredibly moving, and I was hit hardest by this line: "It is the central irony of my life that my parents emigrated to try to save our family, but by doing so, they destroyed it." The piece is an excerpt from the book The Displaced: Refugee Writers on Refugee Lives
Beyoncé and Jay-Z did the thing again, and by that I mean they managed to drop a surprise album on all of us. Niela Orr wrote a great deep dive into the Carters' record Everything Is Love, describing it as "a symbolic re-exchange of rings, a symphonic take on #blacklove in a moment suffuse with it." She argues that this album is the coolest marriage has looked in a while. I'm inclined to agree.
I also recommend you spend time with this heartbreaking essay from Dana Schwartz that somehow manages to make you laugh along the way. It's about a breakup, but it's also about loneliness and connection and vulnerability. From the essay: "You are still sitting in the random conference room, with two strangers, pretending to be a cool, competent, funny millennial, and you start to cry. Real, heavy tears, building and dropping, heavy as water balloons. 'Ugh, allergies,' you say to the room."
Enter your email below to sign up for the BuzzFeed News newsletter: