Morning Update: Donald Trump Will Meet The Queen Today
Good news in the fight against opioid addiction, Emmett Till investigation reopened, and your weekend longreads. Your BuzzFeed News newsletter, July 13.
Donald Trump is in the UK, and it's going exactly how you'd expect
The president touched down in the UK yesterday for his first official visit. The trip comes on the heels of a two-day NATO summit where Trump said his commitment to the international organization is "very strong," but also he could still pull the US out if he wants to.
Trump's visit to the UK will last four days and will include meetings with Prime Minister Theresa May and the Queen.
At a press conference, Trump suggested the current "soft" Brexit plan was not what people voted for, prompting the UK government to dismiss that claim. Also, hundreds of protesters gathered outside the venue for a black-tie dinner that Trump and May were attending.
May used the dinner to urge Trump to enter into a trade deal with the UK.
Then, because what even is diplomacy, Trump blasted May in the British press. While in Britain. The president criticized May's handling of Brexit and complained that "I actually told Theresa May how to do it, but she didn't listen to me."
He also said Boris Johnson, one of May's rivals, "would make a great prime minister" and that Europe was "losing its culture" because of immigrants.
To be clear: That is unprecedented. The UK government is in damage-control mode, trying to contain the effects of the president's comments.
Finally, because politics is theater, protesters are flying a balloon depicting the US president as a giant orange baby. It looks like this: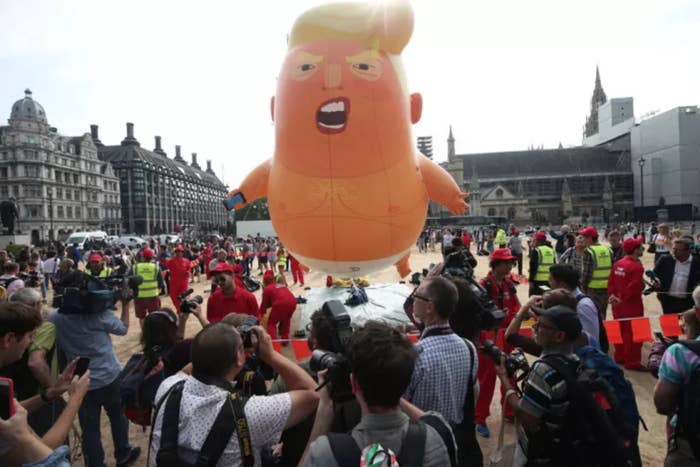 A new report found a 5% drop in opioid addictions and experts are optimistic
Blue Cross Blue Shield insures 1 in 3 people in the US. The organization reported that new opioid addiction diagnoses dropped among its members for the first time on record, in what could be a turning point in the overdose crisis.
An estimated 2 million people in the US have an opioid use disorder, typically driven by prescription painkillers or illicit heroin and fentanyl. Blue Cross's report found a 5% decline in these diagnoses in 2017.
Opioid prescriptions are also on the decline, falling 29% since 2013 for the drugs Blue Cross paid for, the report found.
Addiction policy expert Andrew Kolodny told us, "It means that there's light at the end of the tunnel." He attributed the drop to more cautious prescribing and greater public awareness of overdose risks.
Kolodny warned, though, that "unless we do a better job of increasing access to effective treatment, overdose deaths will remain at record high levels and we'll have to wait for this generation to die off before the crisis comes to an end."
SNAPSHOTS
The US government has reopened its investigation into the brutal 1955 murder of Emmett Till. The killing of the black teenager became a watershed moment in the country's history of racial violence and helped spark the civil rights movement. Till was abducted, beaten, shot, and killed while visiting relatives in Mississippi. Two white men, Roy Bryant and J.W. Milam, were charged with his murder, but an all-white male jury acquitted them. The men later admitted to a journalist that they killed Till, but they were not retried. The Department of Justice said it had received "new information" about the murder.
Police pointed a gun at four black boys after a 911 caller falsely claimed they were armed. A witness who filmed the incident said she'd previously seen a white male "spouting racial slurs at them and aggressing them with a metal trash can lid and saying he had a knife." The witness said the white male was with a woman who was using her phone and believes that that woman later made the 911 call. Police showed up and handcuffed the four boys, two of whom were 13, the others 14 and 16.
The internet was furious with Henry Cavill after he conflated flirting with rape in a recent interview. The actor expressed his reluctance to go about courting the "old-fashioned" way in the wake of #MeToo, saying: "It's very difficult to do that if there are certain rules in place. Because then it's like: 'Well, I don't want to go up and talk to her, because I'm going to be called a rapist or something.'" People were absolutely not having it. Cavill has since apologized.
You can ask questions on Instagram now, and lots of people don't like it. The new feature was rolled out on Instagram Stories, allowing followers to ask questions in a sticker format. I think it's kind of cute, but the People have feelings about it.
Time for you to get happy and get mad at the Emmy nominations
It's your favorite time of year, where you get to say "what about the show I like?!" as you read the 2018 Emmy nominations. You'll get indignant because only you know good television, and you know what? I believe you.
Highlights of the nominees:
Game of Thrones had the most nominations with 22, because of course.

Saturday Night Live and Westworld followed closely, which probably means you have to start watching Westworld now.

Netflix leads the pack with the most nominations for any platform, ahead of HBO and NBC, to which I say whaaaaat.

Issa Rae received her first ever nomination for Insecure, because justice is real.

Sandra Oh was nominated for Outstanding Lead Actress, because justice is real.

Modern Family wasn't nominated for the first time in its history, because justice is real.

Netflix's Queer Eye reboot picked up four nods, and Jonathan Van Ness's reaction is the purest thing.

Anthony Bourdain received posthumous Emmy nominations for Parts Unknown.
Here is the full and complete list of Emmy nominees. Let me know what makes you maddest about it.
It's Friday, which means you get longreads to restore your health
I have a deep love for Bo Burnham, one of the most thoughtful and interesting comedians working at the moment. I was thrilled to hear he was working on his feature directorial debut, and now it seems it's here! Alanna Bennett wrote a great essay on Eighth Grade, Burnham's film about one 13-year-old's final week of middle school. Bennett calls it 2018's "rawest, realest portrait of an anxious teen girl."
Russia's record on LGBT rights is extremely poor. But in the 1970s, the USSR witnessed a pioneering moment in transgender history. We found the surgeon who carried out the world's first full female-to-male gender affirmation surgery. He's now in his nineties, and he tells an extraordinary story of his patient Innokenty, who upon meeting him said: "I know you're going to try to talk me out of it, but don't bother. I am convinced that nature has made a mistake and that you can fix it." The surgeon would risk the anger of Soviet authorities and being shunned by the medical community to carry out an unprecedented surgery that remained a state secret for decades.
In celebration of Sandra Oh's Emmy nomination, it's worth revisiting this thoughtful piece from Alison Willmore on how, after years of playing the bestie, Oh finally gets to become the star. Oh — and I am legally obligated to say her full name, Canada's Own Sandra Oh — plays the lead character in Killing Eve, and Willmore's essay explores her journey to getting there. Killing Eve itself is a boundary-expanding show, and Willmore notes it's particularly satisfying to see Oh as its lead, writing: "There's never really been any doubt that Oh could hold the screen when given a chance at the lead, and that audiences would show up to watch her. What's changed is that there are people willing to give her that opportunity, and roles that aren't written to an older, narrower idea of what a leading lady is like."