The caravan of Central American migrants is shaping how Trump reaches his base
The background: Hundreds of Central Americans are currently coursing through Mexico, on their way to the US border.
What's President Donald Trump's response? He has been tweeting about the caravan of migrants so much, and here's the reason: It gives Trump something he needs — a clear talking point to get back into the good graces of his political base.
Is it all talk? The Trump administration says it's "exploring all options" to address the situation. The secretary of homeland security says her agency is "working with Mexican officials to address the yearly illegal alien caravan."
And what's Mexico's response? Last night, Mexico said it will disband the caravan. Mexican authorities say they will let pregnant women and people with disabilities stay while others must leave.
Is that going to work? Yes and no. Hundreds of the migrants are expected to accept Mexico's offer to allow the most vulnerable to stay. Organizers of the caravan told us migrants would keep moving but in smaller groups.
What happens now? For now, the caravan rolls on. Our reporter Adolfo Flores is traveling with them, and his tweets have been incredible. Seriously. Follow him.
Oklahoma teachers just went on strike over pay and student spending
We're talking tens of thousands of teachers, from over 200 schools. They went on strike to protest their low pay and the subpar conditions for students.
About 30,000 teachers were expected at the state capitol in Oklahoma City, where they formed long picket lines. Our reporter shot a video, and you could not see the end of the crowd.
Lots of teachers in Oklahoma work second and third jobs to make ends meet. We also spoke to some who had to buy textbooks and supplies for students out of their own pockets.
Thanks to years of austerity budgeting, Oklahoma teachers haven't had an across-the-board raise in 10 years, while funding per pupil has been slashed by 28% since 2008.
The larger context:
Teachers are learning from one another. Technically, the Oklahoma protest is a "wildcat strike," meaning it wasn't authorized by the union.
Sound familiar? It should: A wildcat strike by teachers shut down every school in West Virginia last month until they got a 5% raise.
That strike lasted nine days and is shaping up to be a new model for the left.
Also, we gathered the best signs at the Oklahoma protest. I really liked this one: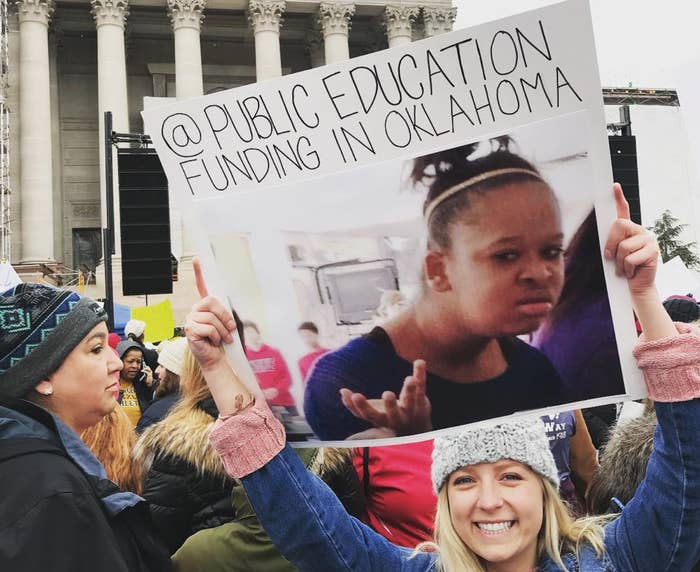 Quick brief:
Winnie Madikizela-Mandela has died at 81. She was a South African anti-apartheid campaigner and wife of Nelson Mandela.
Teens at Marjory Stoneman Douglas High School, where the Parkland shooting took place, are making jokes about the new clear backpacks they're required to use.
Arnold Schwarzenegger, who is recovering from open-heart surgery, is now in stable condition. He tweeted about his recovery, saying, "It's true: I'm back!"
What's making news in your part of the world?
The BuzzFeed News newsletter community is spread all over the world. I'd love to know what's making the headlines in your city or town (or even neighborhood!) that isn't likely to get national or international attention.
Send in an underreported story from where you are — I'd like to start featuring them in this space.
Grindr shared the HIV status of its users with two other companies
A data analysis done by an outside research firm and independently verified by BuzzFeed News shows that the popular gay dating app is sharing sensitive information about its users' HIV status with two other companies.
The companies, which help optimize apps, receive some of the information that Grindr users choose to include in their profiles, including their HIV status and "last tested date."
The app has more than 3.6 million daily active users globally.
Because the HIV information is sent together with users' GPS data, phone ID, and email, it could identify specific users and their HIV status.
Late last night, Grindr said it would stop sharing information about its users' HIV status with the third-party analytics companies.
Quick brief:
Fox News is defending conservative commentator Laura Ingraham after she ridiculed a Parkland shooting survivor in a tweet.
The Florida middle school teacher who hosted a white supremacist podcast and tweeted about eradicating Muslims has resigned.
For the second time in a month, the federal government is suing California. This time it's about the state's ability to block the transfer of federal property into private hands.
A woman used social media to convince her mom to go back to school
Trina Dye confessed to her daughter that she's nervous about going back to school to get a PhD at 53: "Do you think I'm crazy to be considering a doctorate at my age?"
Her daughter Morgan wanted to show her mom that her dream was valid and possible. So she asked people to retweet her if they thought her mom should pursue a PhD.
What she got was an overwhelming outpouring of support, and stories of so many people who had found the courage to do it.
The best part: Dye has since submitted an application to a local graduate school.
Go get yer dreams.
Happy Tuesday.
Enter your email below to sign up for the BuzzFeed News newsletter: