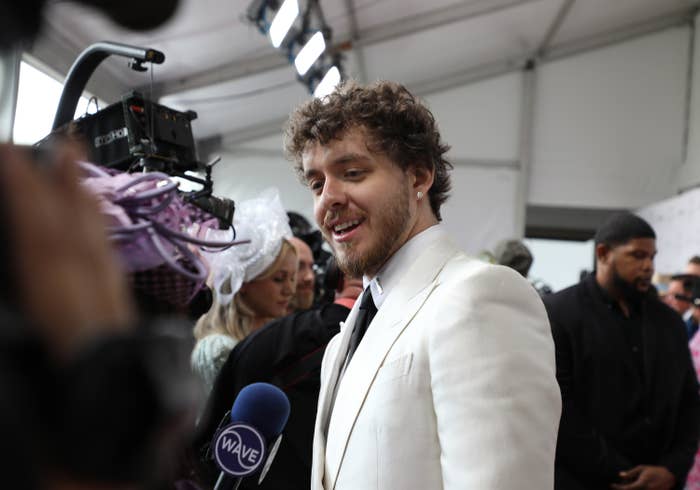 Jack Harlow is inevitable. At this point, there is nothing you or I can do to stop him. I do not say this with malice or discontent — it is as factual as the weather that the 24-year-old is going to be the biggest rapper on the planet soon, and possibly very soon. Last week, the Kentucky rapper released his second album, Come Home the Kids Miss You, and with it declared such ambitions. Its first single, the Fergie-sampling "First Class," went straight to No. 1, after it went viral on TikTok off a Twitter snippet.

In countless interview videos, Harlow is relaxed and charismatic. On talk shows and IG Lives and onstage, his easy and mischievous demeanor makes him immediately magnetic. It's hard not to be won over by him. And the internet is responding to the pull — the hunger for Harlow seemingly can't be tamed. Compilations of his flirtatiousness go viral; sometimes, he tells interviewers he loves them; there are accounts dedicated to documenting his manicures and his outfits; there is a cottage industry of Harlow meme accounts compiling the candid, funny moments he can't stop giving. There are also deep investigations into why Black women love him so much. A few weeks ago, he was cast in the upcoming reboot of White Men Can't Jump, taking over the role once played by Woody Harrleson. It's a Harlow love affair out here.
Harlow is competitive and hungry, with an explicit desire to dominate a Black art form. This immediately invites a deeper level of scrutiny.
It's a shame, then, that the boundless charisma and magnetism are only haphazardly present on his sophomore record. Come Home is a self-serious and generic offering, filled with excellent delivery, expensive beats, and killer flows all marshaled in the service of having little to say. His technique may be competent, his skill is undeniable, but Harlow's point of view is nowhere to be found.
The absence of a point of view is curious. It's not a career-ender by any measure — Big Sean has squeezed five albums out of being basically the guy with dad jokes — but rappers who claim an ideological or emotional turf give audiences something to grab onto. Which brings us to the fact that Jack Harlow is also white, and there is nothing we can do about that either, but its consequences are significant: While there have been plenty of white rappers over the last decade, Harlow is the first one since Eminem with world-conquering ambitions that look like they might come true. Harlow is competitive and hungry, with an explicit desire to dominate a Black art form. This immediately invites a deeper level of scrutiny: What do you have to say, and why is rap your way of saying it? What is your business here?
But Harlow artfully dodges the questions. In his work, it shows up sparingly, something that makes him somewhat of an anomaly: White rappers have a long tradition of explaining — sometimes even apologizing for — their claim to rap. By all measures, Harlow is inoffensive, even pleasant to listen to. None of this accounts for his rapid ascendancy, and perhaps more importantly, doesn't explain why he belongs here. If Harlow is hip-hop's current answer, what is the question? What does Harlow offer the moment?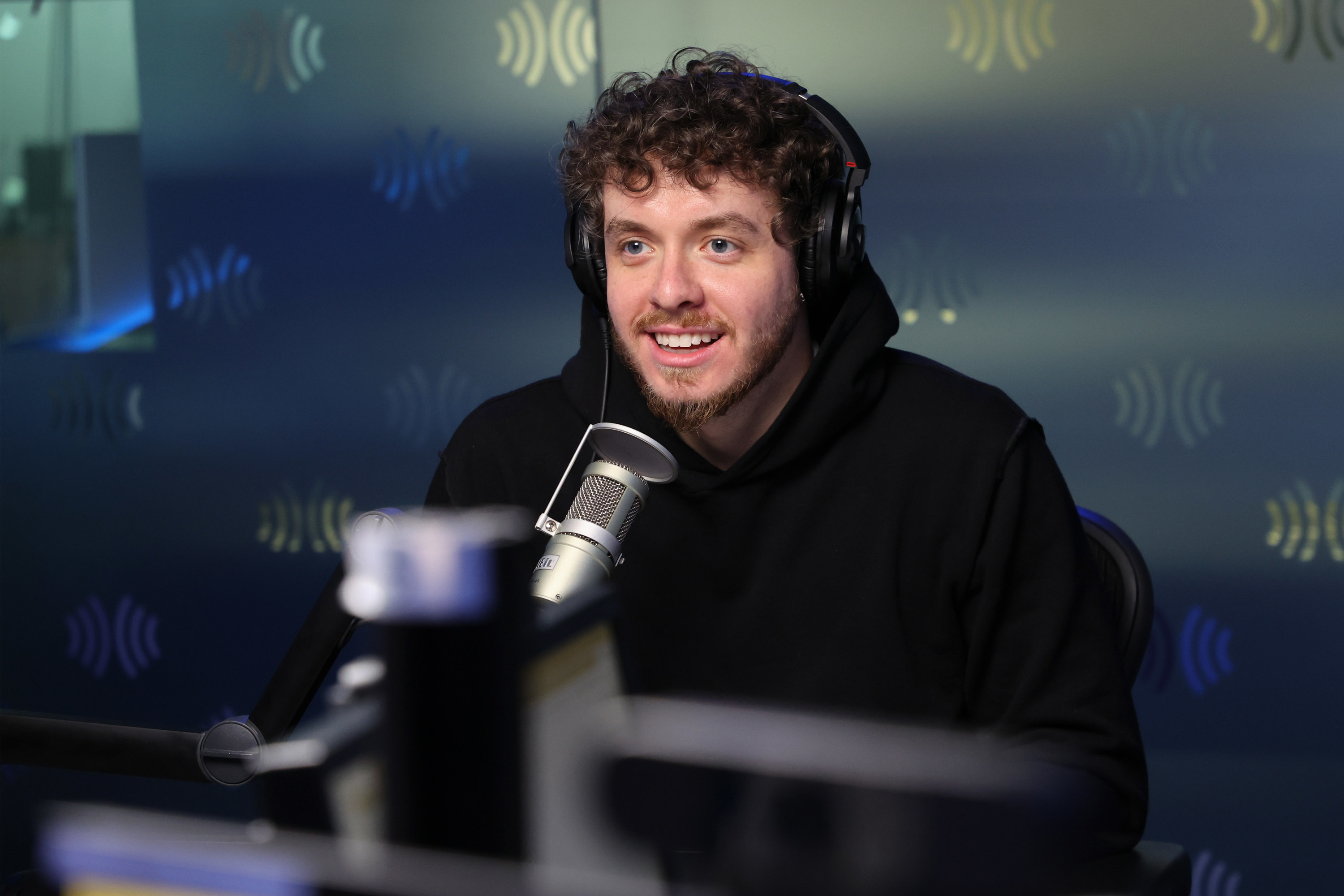 The broader points of Harlow's biography are familiar at this point: He grew up in Louisville. He revealed in a local magazine profile that as a preteen, he asked his mom for advice on how to succeed as a rapper. She had just read Malcolm Gladwell's Outliers, the pop psychology book famous for its 10,000 hour-rule: If you want to get good at something, spend 10,000 hours doing it.
So Harlow started clocking in. He told Rolling Stone he recorded an album at 11, using a Guitar Hero microphone, and sold it to his middle school peers for $2. He kept working and raising his profile in Louisville, and by the time high school rolled around, there was interest from labels, but much of it led to nothing until his single "Dark Knight," which got him signed to DJ Drama's Generation Now label.
In January 2020, he went positively colossal on the strength of "Whats Poppin," an infectious and punchy song that went viral on TikTok. He got an even bigger boost from a stellar remix to "Whats Poppin", with outstanding verses from DaBaby and Lil Wayne (Tory Lanez was also there). The credibility of the cosign from established rappers propelled the remix to No. 2, and Harlow was suddenly on a new trajectory. His debut album, the end of 2020's Thats What They All Say, peaked at No. 5 on the charts. It had hints of promise, and a handful of hits, including "Tyler Herro," named after the white Miami Heat shooting guard, and "Way Out," which cracked the top 100.
Now, true to the 18-month album cycle, Harlow has returned with Come Home, an album that has little to offer except for harmless posturing. Pitchfork called it "one of the most insipid, vacuous statements in recent pop history." There he goes on "Side Piece," a song with the irritating premise that he has already written a song for his main love interest but the women on the side deserve one too, rhyming Margot Robbie with Abu Dhabi. Sure, man. "I'mma fuck the earrings off of you," he declares in "I'd Do Anything to Make You Smile." Much of Come Home lands as rap simulacra, an attempt at replicating something with heft but falling flat.
The frustrating thing about Harlow is that he is objectively good at rapping, but still not sure what he wants to rap about. None of this would be a problem, if he hadn't declared his sky-high ambitions to be among the greats, to be "the face of my shit, like the face of my generation, for the next 10 years," as he told Rolling Stone. And even that wouldn't be annoying, if he wasn't regularly touted as the next big thing. The Drake feature on the album notwithstanding, Diddy said Harlow is his favorite rapper, while Kanye West reacted to Come Home's lead single, "Nail Tech" by declaring on Instagram, "This nigga can raaaaaaap bro And I'm saying nigga as a compliment." Ye hailed Harlow as "top 5 out right now."
It is here that we have to linger on the question of the white rapper. Plenty of white rappers come and go, adopting the aesthetics and signifiers of hip-hop to create party music for a brief stretch and then keep it moving. I am pleased to say I know nothing about G-Eazy, and I supremely intend to keep it that way. Remember Asher Roth? Of course you don't, but you probably remember "I Love College." My editor forced me to redact a sentence about Chet Hanks.
All of this is to say: White rappers can become big for a variety of reasons, whether it's luck, novelty, a funny gimmick. Some use rap as a convenient pitstop on the way to another genre — Machine Gun Kelly is having the time of his life in the pop-punk arena, while Post Malone was happy to throw the genre under the bus while still profiting off its vibes.
But white rappers stay relevant when they disengage from the myth of their own universal whiteness by attempting to locate themselves somewhere specific, and give that place meaning. Eminem painted extraordinary images of Detroit poverty; Macklemore was first criticized for trying to distance himself from the typical image of a rapper, but he addressed that in spades by writing personally and evocatively about how his whiteness has helped him sell records in a primarily Black art form (though has at times overcorrected into the cringe territory). Mac Miller started in the party lane, but he got wiser and weirder and more compelling and started indulging his own offbeat sonic interests. He even spent time and money cultivating Black artists who otherwise wouldn't have had a chance without his cosign.
Harlow seems to want it both ways. He wants to make the universal party record, the Rap Caviar supremacy, but also wants the reverence of the greats. "I want respect, I don't want flowers," he raps on Come Home's closer "State Fair." In fact, he told Rolling Stone about his discomfort that people spend a lot of time with the party records. "I can't believe people love to listen to 'Tyler Herro' on repeat and 'What's Poppin' on repeat," he said. He called "Nail Tech" his least favorite song on the album. Clearly, he worries about being tagged as just a rapper with big pop hooks. But puzzlingly, he has done little to address the problem.
But fine, let's talk about what Harlow has done. To his credit, he has spent a great deal of time perfecting his flow. It's immediately obvious that he has technical talent — his cadence is exhilarating, he can rap quickly and clearly, and he has mastered the nonchalant flow that made Drake famous. It's important to note that he wasn't an overnight success, either. On "Young Harleezy" (sigh), Harlow, who is sober, raps that he's "10 years in, took me eight to start eating / Six to start to drinking, nine to give it up." I am sure that if you check the log, it'll account for each of the 10,000 hours. But somewhere along the road to perfecting the medium, he forgot to bring the meaningful stuff that will populate it.
Come Home is a forlorn record. It is obsessed with Drake's hues of being overwhelmed by the fame and having many, many women. But it is easy to forget that Drake earned the right to rap about these things after years of being doubted and publicly clowned. There is catharsis and tension in Drake's sadness — a story of a woeful lothario who overcame obstacles only to find that what he wanted was not fulfilling. By contrast, Harlow's is unearned.
Harlow told Rolling Stone that one of his challenges is that "street artists can … just jump to a gun line. There's weight on a gun line, no matter how frivolously or nonchalant they say it." By contrast, his background is not particularly hard. Fine. But no one said he had to find something hard, he could opt for finding something real.
Clearly, he worries about being tagged as just a rapper with big pop hooks. But puzzlingly, he has done little to address the problem.
On occasion, there are brief flashes of a sentiment that is significantly personal and revelatory that could anchor a whole career. On "Baxter Avenue," the closer of Thats What They All Say, he thoughtfully ponders: "Always wondered to myself if I could really be a leader / Of a group of brown-skinned boys when I'm not brown-skinned." He gives the thought shape: "Certain things they grew up on that they get but I don't get / Differences in how we raised make me feel like I don't fit / Not to mention the distance between our parents' houses." On Come Home, at the top of an unnecessary song with Justin Timberlake, a brief moment of pathos: "Paranoid, even out in paradise / Terrified to see my parents pass." He is clearly capable of pushing himself, but he just isn't doing it frequently enough.
The day after Come Home dropped, Harlow turned up at the Kentucky Derby in a fresh white suit, because of course he did. He brought Drake along with him, and they seemed to have a blast. But the moment that went the most viral from his showing is a short video of him being carried by two Black bodyguards so he doesn't dirty his shoes. The visual was cringeworthy and showed that he's not thinking too much about the optics of these things.
Harlow told the New York Times, "I'm not preoccupied with my whiteness." He sees it as neither a boon nor a hindrance. "I am aware of it, but it's not something that I'm battling against or lifting up. I just let it be." Fair enough. But by scarcely addressing it in his music, he eschews one of the most valuable questions he could be exploring. One wonders how long he can avoid it. ●