The government is open again — for at least three weeks
Members of Congress reached a deal to keep funding the federal government through to Feb. 8, bringing the three-day government shutdown to an end. President Trump signed a bill last night, allowing the government to officially reopen for three weeks.
The stalemate ended after Senate Majority Leader Mitch McConnell promised to allow a Senate vote on a bill to save DACA, the program that protects undocumented people who came to the US as children. The Democrats say McConnell's promise is "a way forward." Trump has set DACA to expire in March.
The US is now working with Europe to try to save the Iran nuclear deal
On a visit to London, Secretary of State Rex Tillerson said the US is working with the EU on "fixing" Donald Trump's concerns with the Iran nuclear deal. Tillerson suggested the E3 — the UK, France, and Germany — shared US concerns about Iran's ballistic missile activity.
Tillerson said a working group had been set up to look into "how we might fix those through some type of another side agreement perhaps, or a mechanism to address the concerns that we have."
Why does this matter?
Tillerson's comments were a significant softening of language on the Iran nuclear deal — Trump previously called it "an embarrassment to the the United States."
QUICK CATCH-UP
Alaska: A powerful 7.9 magnitude earthquake has struck just off the coast of Alaska. A tsunami warning has been issued for Alaska and British Columbia in its wake.
USA Gymnastics: The top three board members of USA Gymnastics, the sport's governing body, have resigned over the organization's widening scandal concerning sexual abuse against young female gymnasts.
Delayed reaction: When asked why it took him so long to alert the public that the Hawaii missile alert was false, Hawaii Gov. David Ige said, "I have to confess that I don't know my Twitter account log-ons and the passwords."
Amazon Go: After a long delay, Amazon has finally opened the doors to its first cashier-less convenience store in Seattle. Amazon Go is the company's long-promised convenience store of the future: You walk in, grab the items you want from the shelf, and walk out — Amazon charges you after you leave and you get an electronic receipt.
Facebook might not be good for democracy, according to Facebook
Facebook is in the middle of a reckoning over its role in modern society. The company has faced strong criticism for its mismanagement of violent content, misinformation, and fake news. As the soul-searching continues, Facebook executives have admitted in a series of blog posts that the platform might not be good for democracy.
One executive wrote that although Facebook "excelled" at connecting people to family and friends, the company didn't predict how users might "channel their political energy." He admitted the platform is "being used in unforeseen ways with societal repercussions that were never anticipated."
A small village in Nova Scotia doubled its Women's March attendance this year
Last year, we reported on Sandy Cove, the fishing village in Nova Scotia that had a small but mighty Women's March — 16 people turned up, a big turnout for a community of just 65.
Well, this year, the same village doubled its attendance! Thirty-two participants, ranging in age from 3 to 76, took to the streets. The atmosphere was described as "jubilant and joyous." March on.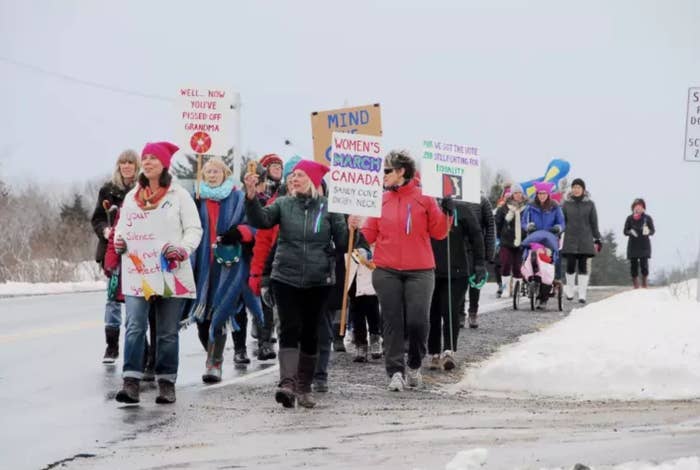 Enter your email address to sign up for the BuzzFeed News newsletter, delivered every morning to your inbox: