After Yang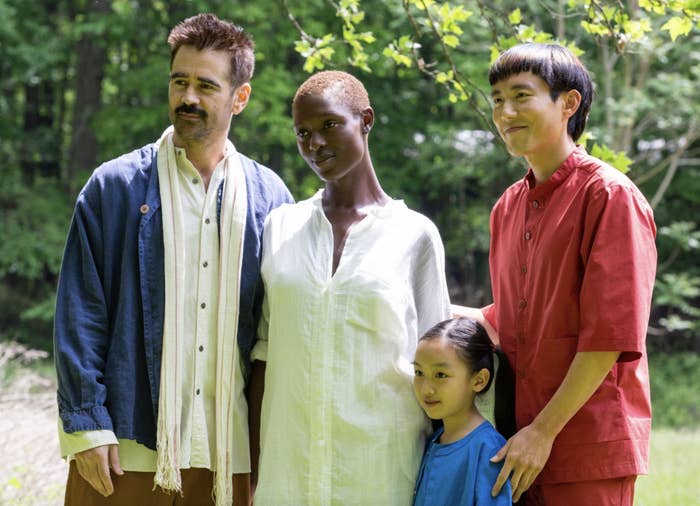 This sci-fi drama boasts the best opening credits sequence in recent memory (maybe ever?): Families of four bop around in unison, competing in a colorful, choreographed virtual dance-off. Jake (Colin Farrell); his wife, Kyra (Jodie Turner-Smith); their adopted daughter, Mika (Malea Emma Tjandrawidjaja); and her "techno-sapien" sibling, Yang (Justin H. Min) give it their all, only to get eliminated, but something more pressing becomes apparent: Yang is glitching. Adapted from a short story by Alexander Weinstein, After Yang switches tone drastically at this point. It follows Jake as he attempts to get Yang — a refurbished purchase originally meant to help Mika connect to her Chinese heritage — fixed. Meanwhile, the family must contend with what it may mean to live without him.
In this elegiac journey, directed by the mononymous Kogonada, we witness a gentle, philosophical look at the nature of attachment and memory as well as the meanings we assign to both. Though largely an achingly beautiful exploration of grief, loss, and mortality, the film explores other ideas too. We learn that Yang had struggled to understand what it means to be Asian (can race and other social constructs really be programmed?). Meanwhile, Jake discovers that Yang had secretly become close with a stranger (Haley Lu Richardson), challenging notions of the emotionality and consciousness of artificial intelligence. With supporting roles filled by Clifton Collins Jr. and Sarita Choudhury — the casting director had taste — and a movingly melancholic score, there's so much that After Yang gets right. Be warned: It's an emotional slow burn, feeling almost like a guided meditation. You need to be in the mood for it, but you might just love where it takes you. —Sandi Rankaduwa
After Yang will be released by A24 sometime this year.

Good Luck to You, Leo Grande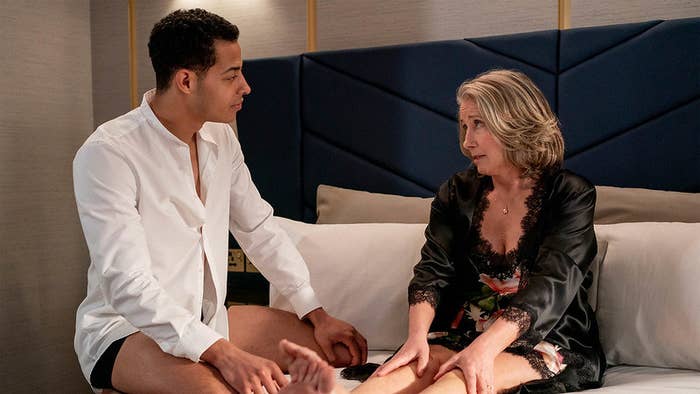 What if you suddenly realized in your 60s that you spent your life accommodating others, never expressing your own needs? That you've made yourself small in the service of prioritizing other people's needs? In Good Luck to You, Leo Grande, we meet Nancy Stokes (Emma Thompson) just after this realization. Retired and widowed, Nancy gets a hotel room and hires Leo Grande (Daryl McCormack), a male sex worker, to fulfill her small sexual bucket list.
Nancy is not after a lot, but after decades of routine sex in one position, she resents her sheltered life ("There are nuns with more sexual experience than me," she quips anxiously). What unfolds between Nancy and Leo is a delicate tale of making yourself vulnerable, and a profound examination of the intimacy that follows. Director Sophie Hyde lets the lovely chemistry between Thompson and McCormack carry the film, which mostly takes place inside one hotel room. Thompson stuns as Nancy, in a moving performance that captures the heartbreak and urgency of trying to make up for lost time, and the horror of overstepping boundaries. Meanwhile, McCormack's turn as Leo goes from sexy to emotionally devastating in the span of seconds.
Leo Grande is a compelling coming-of-age tale that lets us peer into the fragile, fractious process of confronting shame about sex, and a woman's journey to clearly hear the quiet inner voice that says she deserves to let the shame go. —Elamin Abdelmahmoud
Good Luck to You, Leo Grande will be released by Searchlight Pictures on Hulu later this year.
Honk for Jesus, Save Your Soul
Is there anything Regina Hall can't do? Not according to Honk for Jesus, Save Your Soul. In Adamma Ebo's spirited mockumentary, Hall kills it with an impressively layered, tour de force performance as Trinitie Childs, a ride-or-die first lady to egomaniacal pastor Lee-Curtis (Sterling K. Brown). A satirical look at Southern Baptist megachurch culture, the film follows the ostentatiously dressed, former power couple as they attempt to regain congregants in the aftermath of a scandal.
Though Honk for Jesus, Save Your Soul is a fun ride, it's debatable whether its themes dive quite as deeply as they could. The film rightly flags the narcissism and double standards that surface too often in organized religion, but such messaging can sometimes feel like it's preaching to the choir; these phenomena aren't exactly surprising or unearthed dynamics. Nevertheless, Ebo's full-length debut contains astute metaphors and draws some wonderful moments — comedic and otherwise — from her cast. As usual, Hall and Brown are divine onscreen, both alone and when playing off each other. Come (honk?) for their fantastic chemistry — including a "Knuck If You Buck" rap-along — but stay for the intense tragicomedy of Hall's final monologue. —S.R.
Honk for Jesus, Save Your Soul is seeking distribution.
Sharp Stick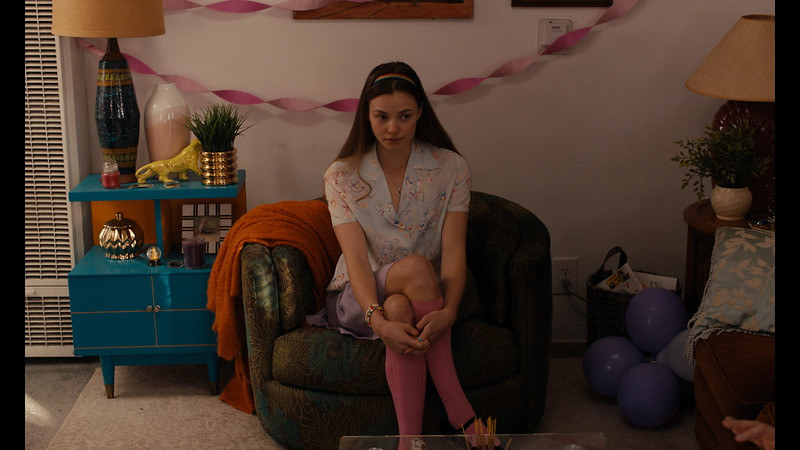 You've kinda gotta hand it to Lena Dunham, one of the most reviled and divisive pop cultural figures of the past decade, for coming out of a long hiatus — Sharp Stick is her first feature film in over a decade and her first major undertaking since Girls ended in 2017 — with a project guaranteed to get people freaking out, yet again, about her depictions of young women's sexuality.
Watching Sharp Stick, I felt very much as I did watching the first season of Girls a decade-plus ago: often annoyed and a little bit scandalized, but also intrigued, and sometimes in awe. For better and for worse, Dunham directs and writes about sex in a way that I don't think I've seen from anyone else in her (our) generation.
This is the story of Sarah Jo, a 26-year-old who both looks and acts as if she could be 10 years younger. When she was a teenager, Sarah Jo had to get an emergency hysterectomy, sending her into an early menopause. Now she's still a virgin, naive about sex to such an extent that her ignorance, in the age of the internet, seems pretty much impossible. Nevertheless, Kristine Froseth sells the hell out of it, and her chemistry with Josh (Jon Bernthal) — the clueless but very hot father of a child with an intellectual disability, with whom Sarah Jo volunteers as a caregiver — is absolutely off the charts. Their affair will definitely disturb and upset some viewers: It can be hard to remember that Sarah Jo is an adult in charge of her sexuality when she seems so strongly like a child. But Dunham, of course, crafted her intentionally as such, some audiences' discomfort be damned. Because other viewers will find that, with its explicit age play in service to daddy lovers everywhere, this is a strange, sexy, strangely sexy movie. And thank goodness; some people think they're all too rare these days. —Shannon Keating
Sharp Stick will be distributed by A24.
The Territory
Alex Pritz's gripping documentary provides an intimate and intense look at the Uru-Eu-Wau-Wau of Brazil — an Indigenous people with only 180 remaining members whose territory lies within the ever-dwindling Amazon rainforest. With the looming threats of climate change and cultural genocide, we see them strive to protect their land, which has long — and, for what it's worth, legally — been promised to them. The film presents different sides of the story, centering five voices: Bitaté, Uru-Eu-Wau-Wau's appointed leader; Ari, their young chief of surveillance; Neidinha, an impassioned outsider activist; Sérgio, a farmhand who dreams of working for himself; and Martins, a self-assertive settler. Pritz also subscribes to a participatory model of filmmaking — giving camera and coproduction credit to members of the Uru-Eu-Wau-Wau— and we see the value of that collaboration here. It increases access, sure, but also integrity in the final product. Most importantly, it becomes a tool of empowerment; the Uru-Eu-Wau-Wau are now able to document evidence of the invasion and destruction of their land.
Pritz's docu-thriller — which names Darren Arronofsky as a producer — is hard to tear away from, with moments of beauty, but also of heart-racing dread; the aftermath of a sudden act of violence is especially shattering. The film also touches on instability escalated through the election of a far-right president as well as the devastating threat of COVID being introduced to the Uru-eu-wau-wau by invaders. To watch The Territory is to be angered and frustrated, but it also makes clear that we don't have the luxury of time to despair. The urgency is potent. —S.R.
The Territory has been snatched up by National Geographic, with plans for a theatrical release later this year.

When You Finish Saving the World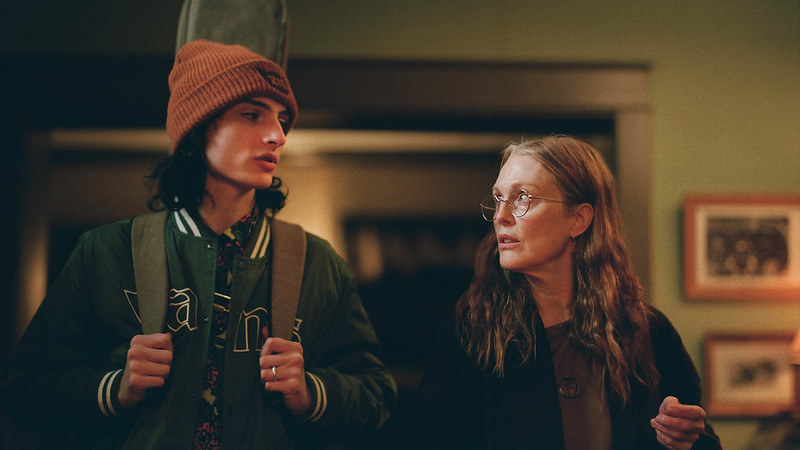 Most of us avoid spending time with narcissists. Jesse Eisenberg went and made a movie that follows two of them around. When You Finish Saving the World, Eisenberg's directorial debut, stars Finn Wolfhard as Ziggy Katz, a teenager with a guitar-god complex who sings anodyne folk songs on the internet, and Julianne Moore as Evelyn, Ziggy's mom, who runs a women's shelter and wants to be recognized for every virtuous decision she makes: the car she drives (a smart car), the music she listens to (classical), the worldly foods she eats (Ethiopian).
Saving the World is a cutting social satire of the anxious hyper-focus on appearing to be "good," at least as it's defined in the context of a liberal bubble in an unnamed Indiana town. Evelyn is disappointed that Ziggy is concerned with online fame and attention — in her world, one can't be good unless one suffers. But when Ziggy falls in love with Lila (Alisha Boe), a poet who's "political and stuff," he comes to his mother for help in understanding global geopolitics to impress her. "Do the work," Evelyn scolds him, with some exasperation and a metric ton of smugness.
The film, which Eisenberg also wrote, is uneven at times, but somehow he manages to find empathy for Evelyn and Ziggy as their self-obsession leaves a trail of destruction around them. At the center of the film, Eisenberg's fundamental question seems to be: It shouldn't be this hard to be good, should it? It's a question worth asking. —E.A.
When You Finish Saving the World will be distributed by A24 in 2022.

Nanny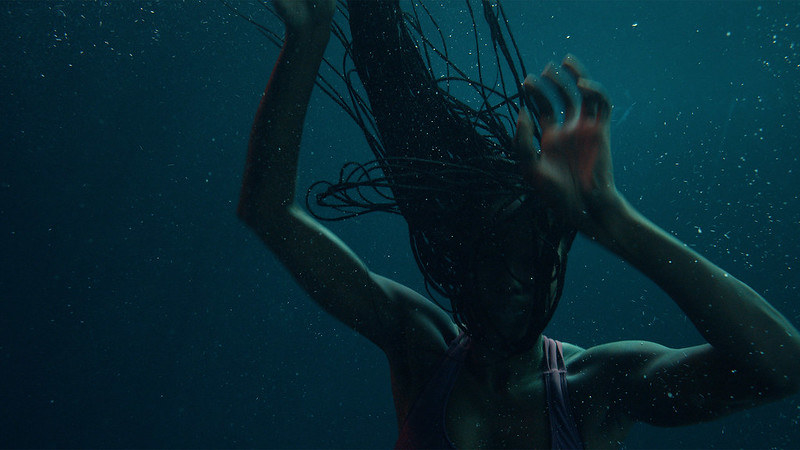 In this beautifully haunting film, Aisha (the stunning Anna Diop) is an undocumented Senegalese immigrant in New York City who wants nothing more than to earn enough money to bring her young son from Senegal to live with her in the US. She lands a promising job with a wealthy Manhattanite couple, nannying for their daughter, but what once seemed like her best chance at reuniting her family quickly turns sour. The mother (Michelle Monaghan) is controlling and neurotic, and worst of all, she falls behind on Aisha's overtime payments. Then Aisha begins having disturbing dreams whenever she sleeps in the couple's home — dreams that seemingly begin to spill over into her reality.
Writer-director Nikyatu Jusu has infused this gorgeously shot film with supernatural forces from West African folklore, including a particularly mesmerizing, terrifying creature I won't soon forget. Aisha, though, is the film's heart: a fiercely determined self-advocate who embodies both the joys and the terrible pains of motherhood. —S.K.
Nanny is currently seeking US distribution.
Cha Cha Real Smooth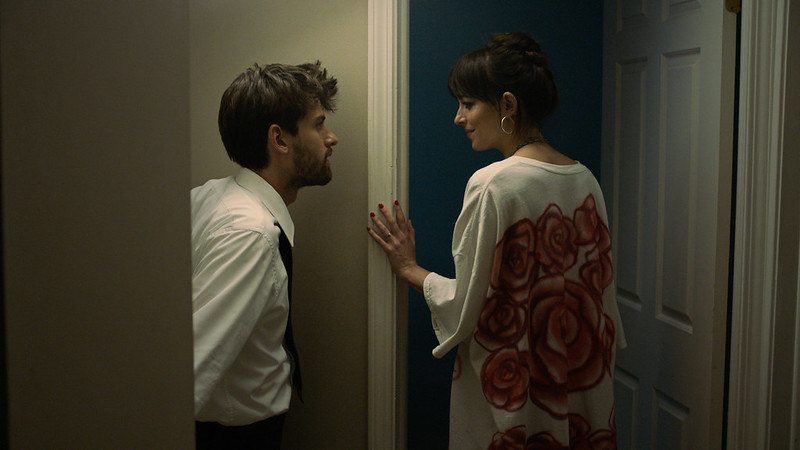 A quintessential Sundance darling at this year's festival, Cha Cha Real Smooth oozes charm. Earnest, funny, and sweet without being cloying, it's the second feature from writer-actor-director Cooper Raiff (whose first feature, Shithouse, won the Grand Jury Prize at SXSW in 2020). Turns out the multi-hyphenate is also a good dancer; in Cha Cha Real Smooth, he plays Andrew, a charismatic but aimless recent college grad who can persuade even the most reluctant movers and shakers to join him on the dance floor. This is how he meets Domino (Dakota Johnson) and her autistic daughter, Lola (Vanessa Burghardt). The three develop a quick and sweet kinship at a lackluster bar mitzvah, while a slew of Jewish moms take notice of Andrew's innate charisma. Suddenly, he's New Jersey's most booked and busy party starter (or, for marketing purposes, "the jig conductor").
As Andrew blazes through the bar mitzvah circuit, his undeniable chemistry with Domino steadily builds despite the red flags encircling them. Thankfully, though, Cha Cha Real Smooth doesn't really revolve around a will-they-or-won't-they dynamic. It's more about what Domino and Andrew's connection unearths within them — how it clarifies who they really are as individuals and where each of them wants to go. Johnson's a revelation, giving an alluring performance that's equal parts grounded, wistful, and tender. Meanwhile, Raiff is a breath of fresh air as a male lead in a coming-of-age rom-com who's unabashedly outgoing, goofy, and kind, not to mention emotionally intelligent (if sometimes immature) and vulnerable. With all of its warmth and bittersweetness, Cha Cha Real Smooth made me feel so many things, not least of which is eagerness to see what Raiff might come up with next. Fingers crossed, the party's just getting started. —S.R.
Cha Cha Real Smooth has been scooped up by Apple for $15 million — the biggest sale from this year's Sundance so far.
A Love Song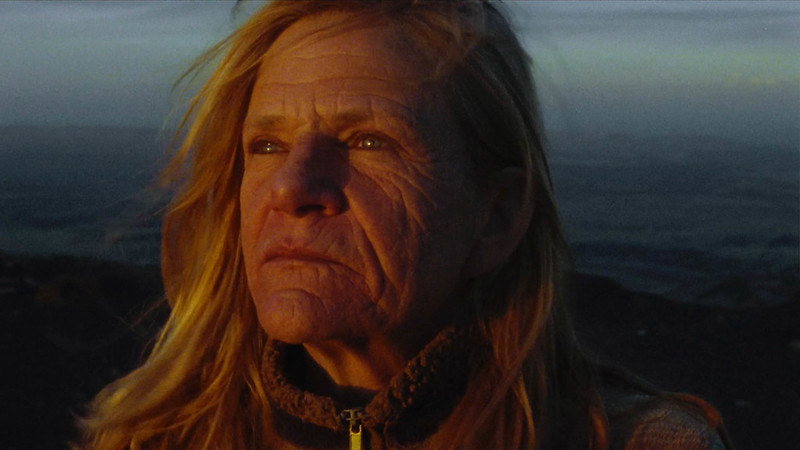 Max Walker-Silverman's debut feature is a resplendent love letter to the American West. He grew up, and now lives and works, in rural Colorado, where he shot A Love Song on a micro budget. Dale Dickey, a character actor you'd recognize for her roles in crime TV dramas and indie features like Winter's Bone, takes center stage here; it's a marvel just to see the face of an older woman — wrinkles, roughness, and all — take up so much screentime, especially against the gorgeous backdrop of the Colorado mountains.

Her character, Faye, has set up her camper on a remote lakeside, where she spends her days catching crawfish and listening to the radio. She waits at a specific campsite, where she and a childhood sweetheart she hasn't seen in decades have planned to meet up. When he arrives, Lito (Wes Studi) encourages Faye to play guitar and sing with him the way they did when they were young. Both widowed now, the reunited lovers of long ago reminisce about what they've lost and comfort each other about life yet to be lived. This is a quiet, lovely film about the kinds of people rarely afforded such a humanistic portrayal in cinema. —Shannon Keating
A Love Song is currently seeking US distribution.
Framing Agnes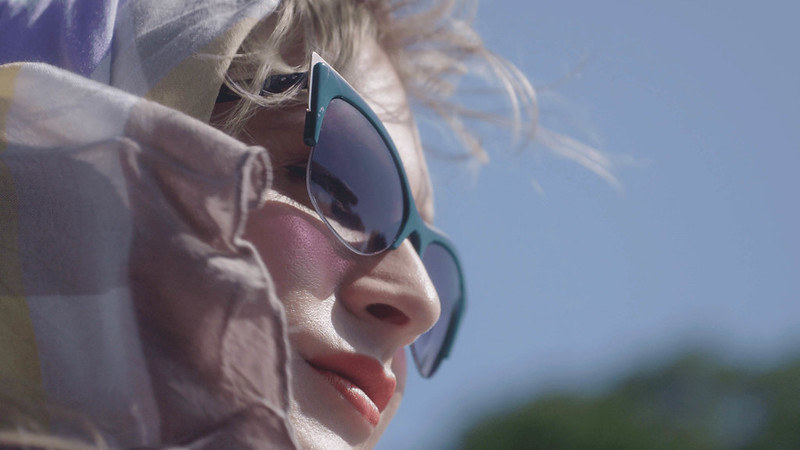 In this formally inventive and wonderfully collaborative documentary, director Chase Joynt and his cast of actors and academics interrogate what it means to document, and attempt to relate with, figures of trans history. Their entry point is the pseudonymous Agnes, one of Harold Garfinkel's patients in gender health research at UCLA in the 1960s. If you're vaguely familiar with the history of trans healthcare, you've heard of Agnes, famed for tricking researchers into giving her gender-affirming surgery (by claiming she was intersex and seeking corrective intervention). But what about all the other trans people of Agnes's time whose stories we've never heard? Joynt and his collaborator, Kristen Schilt, unearthed never-before-seen archival documentation of some of Garfinkel's other trans patients, who are brought to life by trans stars like Zackary Drucker and Angelica Ross. The actors relay their subjects' interviews not in a medical office, where they'd probably taken place, but in the form of a midcentury talk show. It's a smart and inventive method of storytelling that nods to the reality that, until very recently, most trans people in pop culture have been relegated to trashy daytime TV, where they've tended to be cruelly depicted as aberrations.
By blending reportage and fiction — Joynt interviews his cast in character, then asks them what they think about the historical figures they're playing — the film becomes a brilliant and enlivening investigation into the role of trans history and the limits of visibility. —S.K.
Framing Agnes is currently seeking US distribution.

All That Breathes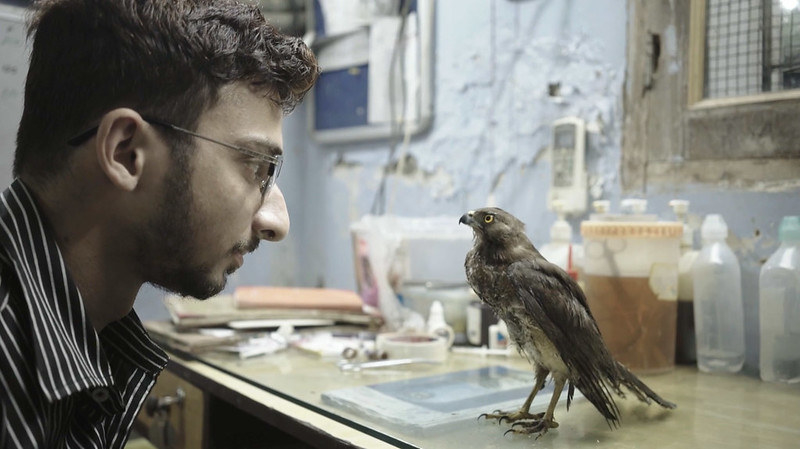 Shaunak Sen's All That Breathes is one stunner of a documentary, not to mention a persuasive reminder to look up into the sky. It tells the story of Nadeem and Saud, two Muslim brothers in New Delhi, and their cousin Salik. Together, the three of them rescue and rehabilitate birds — predominantly black kites — in the cramped garage-basement of their home. Toxicity surrounds them, both in the form of rising anti-Muslim sentiment as well as literal pollution (Delhi's air quality made it the world's most polluted city in 2016). And yet, like all entities put under stress, they adapt and forge ahead. The brothers' dedication to the birds — despite challenging working conditions and a lack of resources — is touching to witness, as are their occasional moments of levity.
Too many films set in India emphasize (and often exoticize) an idea of messiness — the chaos and color of its people and their surroundings — but All That Breathes presents each moment (and life-form) with a poetic sense of balance, beauty, and respect. Even the smallest and least likely of creatures — rats, snails, insects — are given the cinematic treatment. —S.R.
All That Breathes is seeking distribution.
Call Jane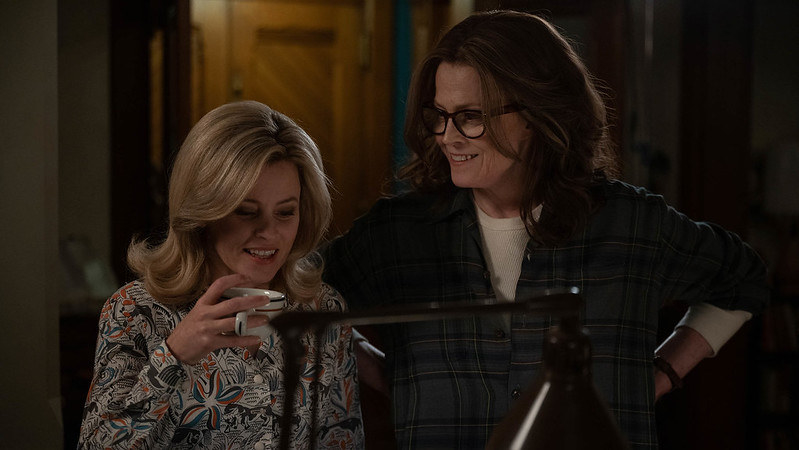 The directorial debut from Phyllis Nagy, the screenwriter who brought us 2015's Carol, once again returns to the past — this time, for a fictionalized account of "the Janes," a real-life underground organization that provided women with secret abortions in the volatile late '60s, before Roe v. Wade struck down the country's most egregious bans on the medical procedure. Joy (Elizabeth Banks) is the audience's proxy, a housewife whose life is upended when a board of male doctors and directors rules she's ineligible for an abortion despite a life-threatening pregnancy. In her desperation, she finds the Janes, who've risked their freedom to help women like her get safe abortions. Their charismatic leader, Virginia (Sigourney Weaver), ropes Joy into helping out the collective (what else has a housewife got to do all day?), and eventually — remarkably — she realizes that the Janes' clients wouldn't need to pay shady doctors' exorbitant fees if she learned to do the procedure herself.
This isn't a perfect film. It's a strangely simplified version of a complex movement during an incredible era in American history — though its straightforward accessibility can certainly be a strength when considering the widest possible mainstream audiences. I was very moved by these heroes, particularly Weaver's Virginia, but I wanted to know much more about them. Call Jane is way too focused on Joy, to the extent that the film is more a celebration of one woman (who's a composite of multiple real people) than it is a celebration of this extraordinary, radical collective. Still, at a time when Roe v. Wade's protections are in dire jeopardy, I'm grateful for this solid, serviceable tribute to activists who provided a blueprint for mutual aid and community care. We can really use it right now. —S.K.
Call Jane is currently seeking US distribution.●