Congressman Didn't Know He Invited Kim Davis To The State Of The Union
Rep. Jim Jordan confirmed tickets from his office made it to Kentucky county clerk and her attorney by way of the anti-LGBT Family Research Council.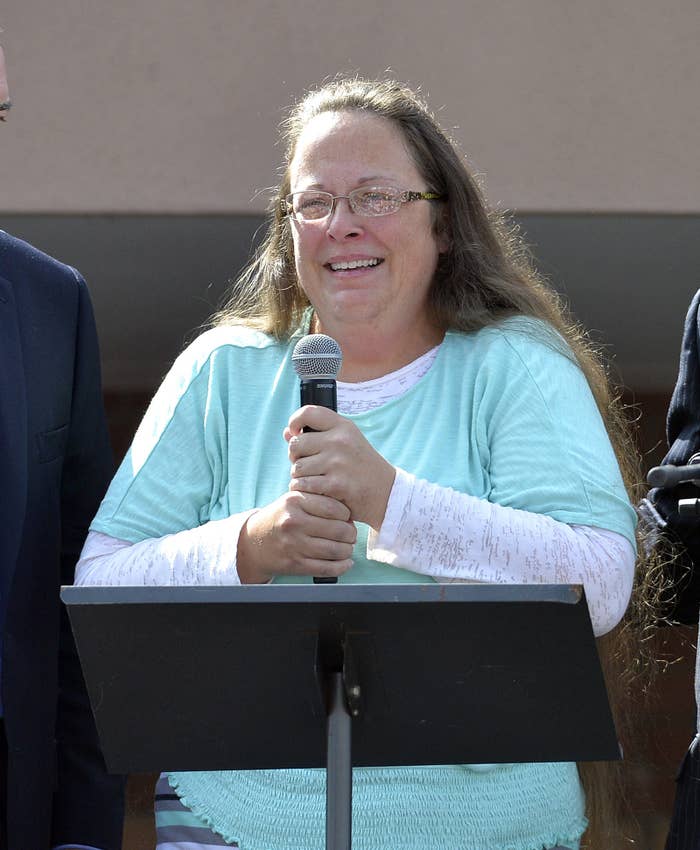 Lawyers for Kim Davis announced Tuesday that the Kentucky clerk who is slogging through a legal battle over denying marriage licenses would attend President Obama's State of the Union address.
It was news that took many by surprise, including, apparently, the congressman whose office supplied the tickets.
After the announcement, the Christian advocacy law firm Liberty Counsel refused to tell BuzzFeed News which member of Congress actually invited Davis and her lawyer, Mat Staver.
But by mid-afternoon, rumors emerged that Davis had secured her ticket through Rep. Jim Jordan, a Republican from Ohio.
Jordan told BuzzFeed News that his office provided the ticket through a third party, but he did not know until after the announcement on Tuesday that it had gone to Davis.
"Kim Davis used our ticket," he said Tuesday evening. "Our staff heard from the Family Research Council that Ms. Davis and her family hoped to attend the State of the Union address and so I offered a ticket."
However, Huffington Post reporter Matt Fuller's reports painted a less clear pathway for the invitation.

In the first of two interviews, Jordan initially told the Huffington Post he "didn't invite anyone." He also said he gave his gave tickets to the Family Research Council, a conservative group that opposes LGBT rights, but would have to check with his staff to find out if the tickets went to Davis.
Jordan later told the Huffington Post: "Yeah, so we gave a ticket to — at the request of the Family Research Council — we gave the ticket to Kim Davis' family."
"I found out today," he added.
Rep. David Cicilline, Democrat from Rhode Island, on Twitter called Davis's invite "an insult to every LGBT American."

The news release from Davis's lawyers on Tuesday trumpeted the pair's attendance as an affront to an administration that has been hostile to people who oppose LGBT rights on religious grounds.

"While the President will be extolling his 'accomplishments' of the last seven years, Kim Davis and Mat Staver will be a visible reminder of the Administration's attack on religious liberty and an encouragement for people of faith to stand," the announcement said.

In contrast to Davis, Jim Obergefell, the lead plaintiff in the court case that led the Supreme Court 's marriage equality ruling, will be sitting by First Lady Michelle Obama.

Davis's stratospheric rise to national fame came after the Supreme Court ruled in June that state bans on same-sex marriage violated the U.S. Constitution. Davis responded by refusing to issue a marriage license to anyone — claiming that her name appearing on the licenses of same-sex couples infringed on her religious liberty.
Elected as the Rowan County clerk, Davis was soon jailed for disobeying a federal court order to issue the marriage licenses, making her a cause célèbre for anti–LGBT-rights activists and politicians. Davis met with Pope Francis after her release, but Davis and Liberty Counsel — a self-proclaimed Christian ministry — never produced evidence for their repeated claim that Davis and pope had met privately.
Liberty Counsel was elevated to notoriety along with Davis's case, and it used the invitation to the president's congressional address Tuesday to grind an axe on a wide range of conservative causes.

"The Obama Administration has trampled religious liberty over and over," the press release said, "including denying applications for tax-free status to conservative organizations, requiring Christian-owned businesses and nonprofits to pay for abortion-inducing drugs, opposing the amendment to the National Defense Authorization Act that would have protected the religious rights of our military, and supporting same-sex marriage, just to name a few."

Kentucky voters elected a Republican governor who issued an executive order stating that county clerks need not include their name on marriage licenses, but the case against Davis is proceeding in federal court. A federal appellate court and the Supreme Court had refused to intervene in summer.