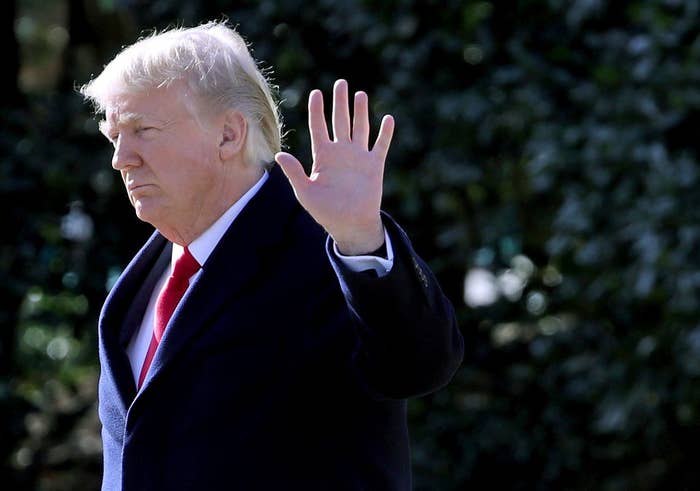 When the Trump administration issued new rules on Friday for transgender prisoners, the policy said "biological sex" should be the main deciding factor on where to house transgender inmates — not gender identity. Those rules, which rolled back an Obama-era policy, suggest transgender women should live in cells with men.

But this creates a problem, in addition to promoting conditions that increase the likelihood of rape for transgender women. Trump's new policy doesn't define what "biological sex" actually means.
The Bureau of Prisons refused this week to tell BuzzFeed News how officials will define "biological sex," or how they will, in turn, determine who is transgender and who isn't.
After initially saying in an email, "We are looking into your questions, now, thanks," a Bureau of Prisons spokesperson followed up Tuesday: "We decline to comment further." Officials also refused to say if transgender inmates will be transferred to other prisons because of the new rules, or how the directive will be disseminated to prison officials.
If officials can't define who isn't transgender, it's unclear who will be classified as transgender — and on what criteria some inmates will be given a transgender designation while others won't.
If officials can't define who isn't transgender, it's unclear who will be classified as transgender
Where inmates are housed has serious consequences, LGBT advocates say. Transgender women imprisoned alongside men are raped at 13 times the rate of the general inmate population, a 2009 UC Irvine study of California prisoners found. The Justice Department reported in 2014 that 34% of transgender inmates suffer sexual assault.

ACLU attorney Chase Strangio, who represents transgender prisoners, told BuzzFeed News that "creating an entire policy around the concept of 'biological sex' but not including a definition of the term ... serves the misleading and false suggestion that one's 'biological sex' is somehow self-evident."
Instead, he said, the new policy lets Bureau of Prison officials use their "discretion to exclude transgender individuals from safer placements."

Although some may believe that assessing a person's "biological sex" is obvious, it's anything but. The term could be defined by a person's birth certificate, chromosomes, anatomy, or other factors. This uncertainty compounds when considering the "biological sex" of intersex people, those with updated sex markers on birth certificates, or people who have undergone gender transition surgeries. Absent clarity, the policy's application is potentially arbitrary, left to the discretion of prison officials.
"By not defining the term," Strangio said, "it can remain an ever-changing target that can always be redefined to mean 'the sex that a transgender person could never be.'"
For example, he said that school districts have used "biological sex" in policies, arguing that "the policy referred to a student's birth certificate, but then, when students would update their birth certificates, the definition would shift to genitals, and then when students had surgery, the definition would shift again to chromosomes."
The Bureau of Prisons Transgender Offender Manual, it's official name, was first issued under the Obama administration in 2017 to reduce sexual assaults and abuse in accordance with regulations flowing from the Prison Rape Elimination Act.
The manual defined being transgender as "the state of one's gender identity not matching one's biological sex." It didn't then — and does not now — define what biological sex was. But before the changes last Friday, the term "biological sex" was less important, because the rules said gender identity should generally guide where transgender people are placed. Now that "biological sex" is the leading factor in making those decisions, the fact that it is not defined anywhere in the manual means the crux of the policy is ambiguous.
Strangio said the new manual violates regulations stemming from the Prison Rape Elimination Act, including a rule instructing prison officials to give "serious consideration" to the wishes of transgender and intersex inmates when assigning facilities.
The new rules declare it is "open season for disregarding" the PREA regulations, he said. "Transgender prisoners are already at such a dangerously high risk of sexual violence, it is catastrophic that the federal government would take such a significant step to increase that risk rather than mitigate it."
Bureau of Prison officials did not answer questions about whether the PREA regulations conflict with the new policy.