Indiana Governor Signs Revised Religious Freedom Bill
Critics had said the original law would allow LGBT discrimination, and Gov. Mike Pence later called for a "fix." On Thursday, Pence signed the revised version that states that the law cannot be used to discriminate.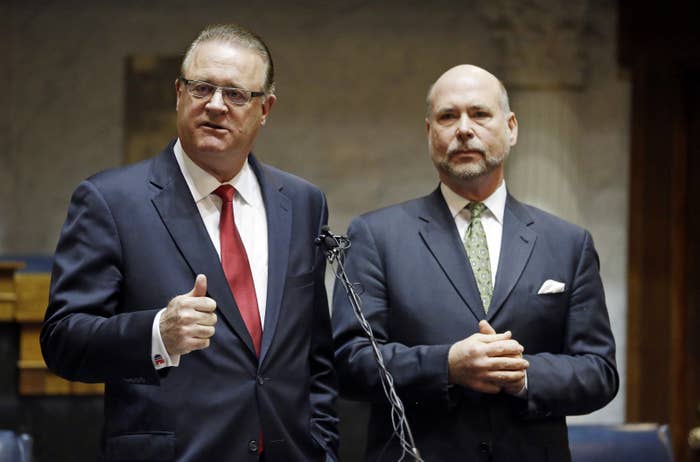 Indiana Gov. Mike Pence on Thursday signed a revised religious freedom bill that had been approved by lawmakers earlier in the day after language was added that says the law cannot be used to discriminate.
The House had voted 66-30 and the Senate voted 34-16 to pass the amended version.

Republican leaders in the Indiana legislature proposed changes to the Religious Freedom Restoration Act (RFRA) following fierce national criticism from opponents who said it would allow LGBT discrimination.

Indiana Senate President Pro Tempore David Long said in a news conference that the amendment, filed Thursday, will "unequivocally state in that the RFRA will not be able to discriminate against anyone, anywhere, at any time." The patch prevents the religious freedom law, passed last month, from being raised as a legal defense in cases where businesses turn away customers due to their sexual orientation or gender identity.
Pence, who called on lawmakers on Tuesday to "fix" the bill as protests swelled, had expressed support for the amendment prior to signing it. He took to Twitter to acknowledge that even the amended version of the bill likely wouldn't please everyone.
The revised law was a victory for Freedom Indiana, an LGBT advocacy group that had fought the RFRA. The group said in a statement on Thursday that "lawmakers finally heard us." The group argued the law passed in Indiana was broader than a federal religious freedom law, explicitly allowing businesses to refuse service by raising a religious objection.

Long said Republicans in Indiana "probably went through the most difficult time of their political career," but added that the national backlash against the religious freedom law was based "more on a misperception."
"Changes to the RFRA will put an end to misperception that people of Indiana discriminate, because I can tell you nothing could be further from the truth," said Long.
Pence also called on all parties in the controversy to now focus on moving past the political brouhaha and as Indiana attempts to recover from the bruising it took in the public opinion arena.
Following several business people who praised the legislative patch, Speaker Bosma said, "Indiana is open for business. We discriminate against no one."

In a message to supporters, advocacy group Freedom Indiana called the changes a won battle in a larger fight for equality. Discrimination against LGBT Indianans remained legal, the group said, even though the governor had taken steps to limit discrimination in some areas.
"If the last week has proven anything, it's that Hoosiers of all backgrounds believe discrimination is wrong—and we will stand together against divisive attempts to harm our friends and neighbors," the message said.
Other institutions that previously criticized the law said they endorsed the changes introduced Thursday:
Bosma added the legislature wants to "let every Hoosier know we value you — gay, straight, black, white, religious, nonreligious."
While Freedom Indiana relished the win in an email blast, the group said it now wants the state's civil rights law to include "nondiscrimination protections, prohibiting discrimination on the basis of sexual orientation and gender identity."

Asked why the legislature did not simply pass a law barring discimrination against LGBT people in all settings, Bosma said that would be unrealistic in the final days of the legislative session.
"You know, that's a huge policy change here," Bosma said. "Twenty-nine states don't have that category [of protected class]. So to expect lawmakers to have a major policy change on a dime and on the fly is unrealistic. That discussion has begun whether Hoosiers want to have it or not."

A legislative report says the RFRA will be amended to say the law "does not authorize a provider to refuse to offer or provide services, facilities, use of public accommodations, goods, employment, or housing to any member or members of the general public on the basis of race, color, religion, ancestry, age, national origin, disability, sex, sexual orientation, gender identity, or United States military service."
Here's the language of the fix:
Download PDF