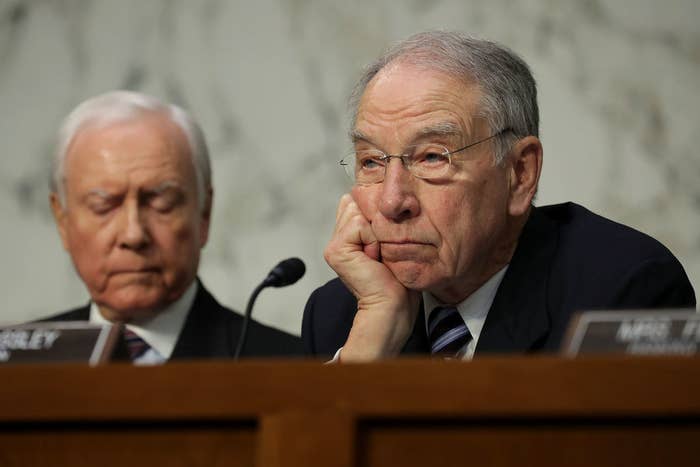 A bipartisan gaggle of lawmakers in Congress enthusiastically introduced a bill this month to leave pot alone in states where it's legal — and they enjoyed the president's endorsement and lots of press — but bipartisan leaders don't have their back, so the measure appears to be going nowhere fast.

Republican chairs of key committees in the House and Senate have no plans to schedule the bill for a hearing, officials told BuzzFeed News. And moreover, the bill lacks support from Senator Minority Leader Chuck Schumer, the Senate's top Democrat.
If the most powerful Democrat in the Senate isn't trying to advance the bill, it's hard to imagine why reluctant Republicans would take the dive, either.
"Schumer hasn't taken a position on this bill," a spokesperson for the New York senator said by email. And while Schumer is considering his own bill to decriminalize marijuana at the federal level, it's not clear what he plans to propose, or if it will have bipartisan support.
Republican Chuck Grassley of Iowa, chair of the powerful Senate Judiciary Committee, has no current intentions of considering the bill in committee, a committee aide told BuzzFeed News. "Sen. Grassley is not planning or considering hearings on any marijuana related legislation at the moment."
The bill, introduced June 7 by Republican Sen. Cory Gardner of Colorado and Democratic Sen. Elizabeth Warren of Massachusetts, could gain traction for its narrow scope that appeals to the left and right.
Formally titled the Strengthening the Tenth Amendment Through Entrusting States Act, or STATES Act, it would bar the Justice Department from interfering with state marijuana laws, underscoring a conservative value of promoting state sovereignty. Congress has repeatedly approved this approach with to respect medical marijuana laws, as a budget amendment, and a bipartisan group of lawmakers have rallied in the House already for a similar tactic on recreational pot.
Sen. Dianne Feinstein of California, the Senate Judiciary Committee's ranking Democrat, had not taken a position on the bill after it was filed. After this article was published, her office emailed to say Feinstein supported and would cosponsor the legislation.
In the House, meanwhile, Rep. Bob Goodlatte, Republican of Virginia and chair of the House Judiciary Committee, doesn't appear interested.
"No Committee action is planned at this time," a committee aide told BuzzFeed News.
Rep. Jerrold Nadler, the House Judiciary Committee's top Democrat, did not answer questions about whether he backed the bill or was trying to get a hearing.
But House Minority Leader Nancy Pelosi, the top House Democrat, supports the bill. "Leader Pelosi strongly supports this bipartisan legislation and hopes that it will continue to gain momentum," a spokesperson said by email. However, the spokesperson did not describe anything the California Democrat was doing to get a hearing.
Even without moving, the bill may still have influence.
Simply by demonstrating some bipartisan support — and Trump's endorsement — the legislation may warn Attorney General Jeff Sessions to keep his hands off pot. And if he does start making marijuana arrests in states where it's legal, Congress could begin to act, with Trump's blessing, to stop Sessions in his tracks.
Mike Liszewski, a policy adviser for the advocacy group Drug Policy Alliance, said the STATES Act was drafted because Sessions rescinded the Cole memo, an Obama-era policy that tolerated marijuana in states where it's legal. "If Sessions were to do anything else along those lines, whether it's implement a more severe policy or initiate a crackdown," he said, "that would only reinvigorate Congress to move the STATES Act along.
CORRECTION
Cory Gardner's name was misspelled in an earlier version of this post.