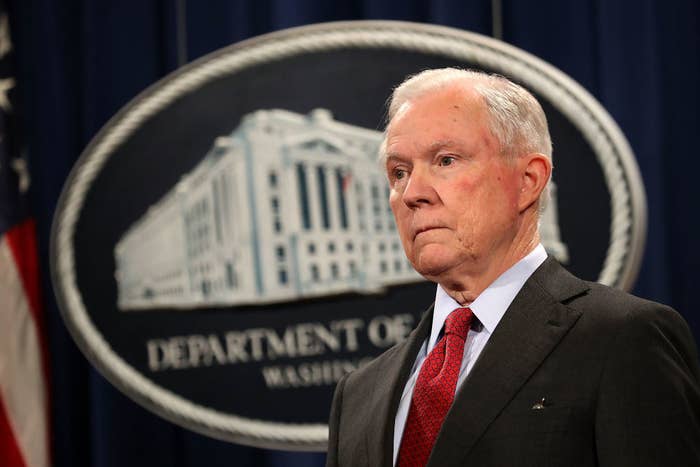 A Justice Department unit tasked with protecting workers employed by state and local governments hasn't filed a single lawsuit under Title VII of the Civil Rights Act of 1964 since President Trump took office in January, a department official told BuzzFeed News.
That breaks from nearly two decades of cases on record, raising questions from former department officials and civil rights activists about the Trump administration's plans to enforce workplace anti-discrimination laws.
The previous Republican and Democratic administrations filed a small-but-steady number of these lawsuits several times a year, making the absence of any new court cases in the first 11 months under Trump an anomaly. That has raised concerns from progressives that Trump's Justice Department may be pulling back on its most forceful civil rights enforcement tool against local governments — federal lawsuits — while possibly indicating it is more open to reaching settlements seen as better for employers.
Justin Levitt, a law professor at Loyola Law School who helped supervise the Justice Department Civil Rights Division's Employment Litigation Section (ELS) during the Obama administration, told BuzzFeed News the lack of litigation is unusual.
Levitt said that while hundreds of potential cases are referred each year to the ELS, many result in out-of-court resolutions or don't require a lawsuit for another legitimate reason. For instance, some lack sufficient evidence, and, in other cases, an employer vows to halt illegal activity.
"The cases, particularly against state and local governments, can be complex, and extended investigations are not uncommon," he said. "But zero lawsuits is surprising."
"Zero lawsuits is surprising."
A current Justice Department official did not explain why no Title VII cases were filed in court by the ELS this year, nor did the official cite any other year that was the case. But the official noted, historically, only a small number of referrals authorized for filing actually manifest in a lawsuit — around 3% — and the underlying facts of each case differ.
"Not every referral is meritorious or is pursued by ELS," the Justice Department official said, adding that political appointees do not attempt to influence career staff on whether a case should be filed in federal court.
The official said that five Title VII cases have been approved internally to be filed as a lawsuit in federal court; however, the official noted, those cases could be settled instead. A 1996 executive order requires the Justice Department to "to engage in efforts to negotiate a settlement, which can take months," the official said.
Records from the ELS show that between four and 13 of these types of cases were filed every year prior to 2017, dating back to 1998, the first year the Justice Department provided records for. An average of eight cases per year were filed by both the Obama and George W. Bush administrations.
The ELS also has also not filed any consent decrees under Title VII since Trump took office on Jan. 20. In those cases, such as one entered Jan. 17, the federal government sues a defendant, and then a pre-arranged settlement agreement is immediately entered into court. A federal judge then ensures the agreement is enforced.
Records from the Equal Employment Opportunity Commission (EEOC), which were provided to BuzzFeed News, show the number of Title VII cases being referred to the ELS has remained fairly steady. There were 249 such cases referred in fiscal year 2016, and 240 in fiscal year 2017 — indicating the number of potential new cases hasn't dropped off.
But since Attorney General Jeff Sessions took over the Justice Department early this year, none of those hundreds of referrals has resulted in a lawsuit.
Coty Montag, the deputy director of litigation for the NAACP Legal Defense Fund, told BuzzFeed News the absence of new ELS Title VII cases is "certainly concerning."
Montag, who was a lawyer in the Justice Department's Civil Rights Division from 2010 to 2015, noted it is impossible to know why they've dropped off — the cases are confidential and the Justice Department does not disclose internal deliberations.
"It's unclear what the section is doing once they get these referrals, and if they are following up appropriately," she said.
"We have no reason to believe state and local government employers are not committing violations of the law," she added. "It's concerning that it appears the section is not enforcing the law as strongly as it has in previous years, but we don't have enough information to know what is driving it. It could be that the Employment Litigation Section is looking into the referrals and making a determination there is not enough evidence to believe discrimination to has occurred. But we don't have that information."
Title VII prohibits employers from discriminating against workers on the basis of several characteristics, including their race, sex, and religion.
Title VII prohibits employers from discriminating against workers on the basis of several characteristics, including their race, sex, and religion. But enforcing that law is often a complex, multiyear endeavor for workers. Employees who work for state and local governments can't just start by filing their own lawsuit.
First, by law, a worker must register his or her complaint with the EEOC, a federal agency that handles workplace discrimination cases under Title VII, which then urges the employer fix the problem through a process called conciliation. But in dozens of those cases each year, the negotiations fail. The EEOC lacks jurisdiction to sue local or state governments itself — even in cases where it believes the employer discriminated illegally.
Instead, the EEOC must refer dozens of those cases to the ELS, which has the jurisdiction to sue the employer in federal court. However, a relatively small percentage of those cases are filed annually due to several factors. The Justice Department can take other paths besides going to court. Federal lawyers can settle the case out of court, or they can give the worker what's called a right-to-sue letter. In that final scenario, the federal government gives up on the case, and the worker is on their own to sue their employer.
"I think the Civil Rights Division is much stronger when it files enforcement actions in court," said Montag. "It shows the public at large, this is what the Justice Department considers to be a civil-rights violation so they know how to conduct their behavior."
Despite the lack of new Title VII cases, the ELS has been active in other ways this year.
The ELS is continuing to litigate several Title VII cases that were originally filed in court during the Obama administration, including cases alleging sexual harassment, racial bias, and gender inequality. Those cases proceed in federal courts in Michigan, Florida, and New Mexico.
In addition, the section also enforces the Uniformed Services Employment and Reemployment Rights Act, known as USERRA, which bans discrimination against workers due to their military service. The section has filed two USERRA lawsuits in federal court this year, records show. The ELS is continuing to process referrals from the EEOC and, in some cases, reach settlements. It has announced five settlements with employers under USERRA.
"It is heartening to see active enforcement of the law in respect to protecting service members," said Levitt. "I would hope the division would show equal concern for all of the vulnerable populations protected by civil rights law."
The ELS also announced settlements in court this year in a case under the Americans With Disabilities Act and one Title VII case, which involved a Rhode Island police department. The section also reached at least one unannounced settlement in a Title VII case, which began in 2015, involving a transgender professor in Oklahoma.
More broadly, the Justice Department's Civil Rights Division has also pursued other work under Sessions, including filing housing discrimination lawsuits and prosecuting people accused of anti-Muslim hate crimes.
Ezra Young, a private-practice lawyer for the transgender professor in the Oklahoma case, said settlements can be a major victory and it's too soon to reach conclusions about how the Justice Department will proceed in these sorts of cases.
"I think it will be important to see what cases are filed in the next calendar year, and if the number of VII cases remains low," he told BuzzFeed News. "That may reflect a change in the Justice Department's priorities."