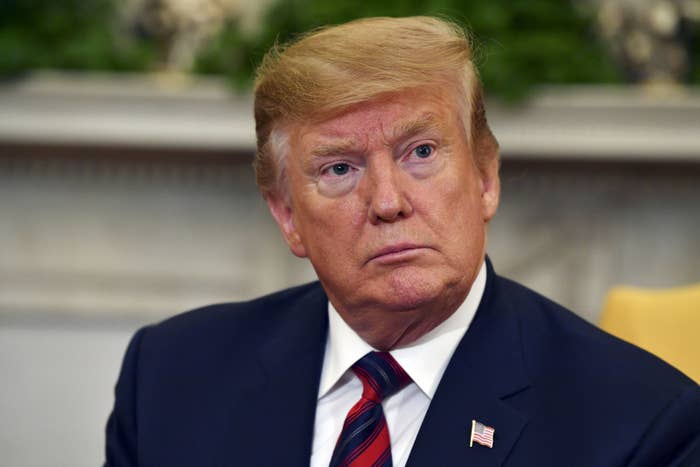 President Donald Trump finally got to implement a ban on transgender people in the military on Friday — nearly two years after he shot off tweets declaring the military "will not accept or allow transgender individuals to serve in any capacity."
Lt. Col. Carla M. Gleason, a Pentagon spokesperson, told BuzzFeed News, "We are pleased that we are able to create and implement our own accessions policy," adding that she is "not aware of any anecdotes up to this point" of military applicants or service members being penalized under the new rules.
The Pentagon has used a rhetorical sleight of hand to insist the new policy doesn't actually ban transgender people, arguing service members can simply pretend they're not and serve as their birth sex.
But it is certainly a ban.
After prevailing in four court battles, at least for now, the Pentagon released a directive in March to prohibit service members who appear transgender or act transgender by failing to meet grooming, uniform, and other military standards for their birth sex. It also bans people from enlisting in the armed forces if they have transitioned from their "biological sex" to another gender. People in the military who came out as transgender between 2016 and today can remain in the forces under a grandfather clause.
"It's absolutely not," Gleason said when asked if it was a ban. She did say, however, that new recruits will be rejected if they've undergone a gender transition, that they cannot transition while in service, and they they must conform to the uniform and fitness standards of their birth sex.
Nevertheless, she said, "We are not going to hunt down transgender individuals and punish them for being transgender."
A cavalcade of critics — including LGBT groups, medical leaders, and lawmakers — condemned the policy this week, calling it a "ban." The American Medical Association rebuffed the Pentagon's claim that gender transitions were a "deficiency."
"The only thing deficient is any medical science behind this decision," the AMA said in a statement. "The AMA has said repeatedly that there is no medically valid reason — including a diagnosis of gender dysphoria — to exclude transgender individuals from military service. Transgender service members should, as is the case with all personnel, receive the medical care they need. There is a global medical consensus about the efficacy of transgender health care, including treatment for gender dysphoria."
Trump had campaigned with the promise of being a champion for LGBT people, yet once in office, he carried out the agenda of the Evangelical Christian right with a rapid-fire assault on LGBT protections across several federal agencies.
Trump announced his military ban, which reverses a 2016 policy, in a series of tweets in July 2017 that accused transgender people of being a hardship on the armed forces, even though the previous administration found they weren't. Trump's administration assembled a so-called panel of experts to affirm the president's position.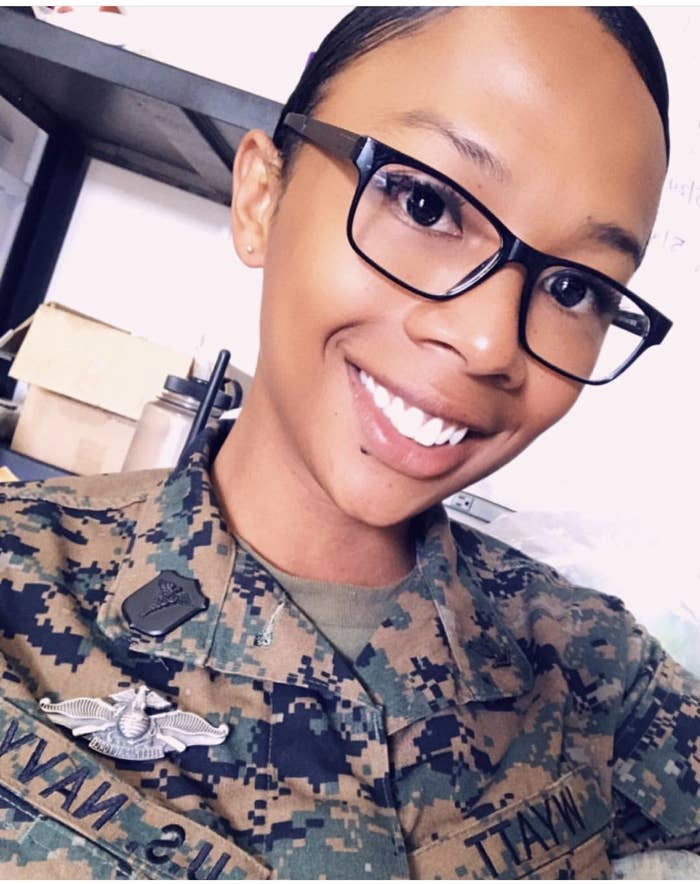 Transgender military members told BuzzFeed News in January they were terrified and disappointed by the ban. "To be told that I'm now a burden, after nearly 19 years of service, it's really hard to understand," Chief Warrant Officer Lindsey Muller, an active-duty Army attack helicopter pilot who also served during the Iraq War, said at the time.
Even with the grandfather clause, troops warned that they could still be at risk. "As people who are grandfathered in, we are in danger," Akira Wyatt, a Navy Corps member who transitioned publicly after the Obama administration lifted a longstanding ban in 2016, told BuzzFeed News in January.
Four lawsuits will continue to challenge the policy on its merits, even as it takes effect, including one lawsuit based in Washington, DC, where challengers attempted to push back implementing the policy until recently. The US District Court in DC had issued a preliminary injunction blocking the ban in 2017, and as recently as March, Judge Colleen Kollar-Kotelly ruled the ban could not yet take effect due to a procedural timeline set by an appeals court. "Defendants were incorrect in claiming that there was no longer an impediment," says Kollar-Kotelly's ruling against the Trump administration. But as the clock ran out, the Pentagon was able to proceed.
"Today is the implementation day as originally scheduled," Gleason said Friday.
The transgender military memo, signed by David L. Norquist, who is currently performing the duties of the deputy secretary of defense, prohibits service members who exhibit gender dysphoria, the condition of experiencing a distressing clash between one's gender and sex assigned at birth. Gender dysphoria is, for many, the essence of being transgender.
Pentagon officials said not all transgender people experience gender dysphoria, and that troops could say they are transgender, provided they act like they aren't. For those not grandfathered in under the 2016 policy, the new rules require that soldiers meet the military's prescribed expectations of their birth sex — including uniforms, haircuts, and physical tests.
After courts blocked Trump's initial memorandum banning transgender troops, his policy evolved in February 2018, when former defense secretary James Mattis recommended banning most transgender personnel but allowing those who'd already joined and transitioned to remain in the ranks.
The DC Court of Appeals found in January that the administration made "substantial" changes from the original version of the ban Trump first announced on Twitter in 2017, fixing problems that led judges to block it in the first round of litigation. The court said the ban wasn't a ban at all, because transgender people could still serve if they presented as their sex identified at birth.