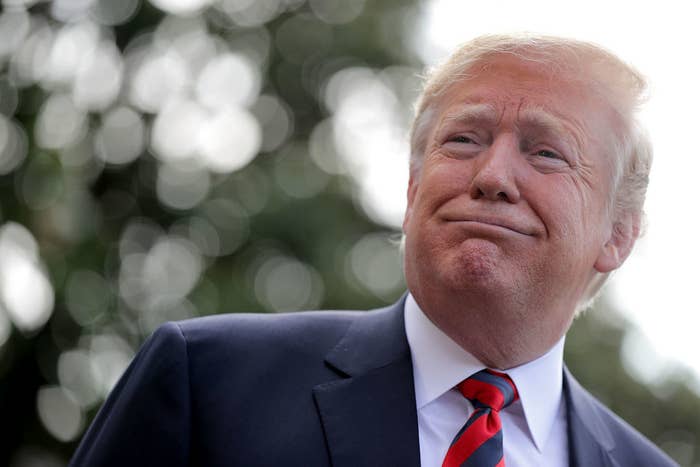 President Donald Trump "really" supports new legislation in Congress that would let state marijuana legalization thrive, untouched by the Justice Department, he said Friday.
The endorsement was a jolt for the bipartisan bill, but it also jabbed at Attorney General Jeff Sessions, who has relentlessly threatened a pot crackdown and would be hamstrung and humiliated by the measure.

Trump has carped about Sessions recusing himself from Justice Department's Russia probe. But the president has been unwilling to fire him, and Sessions has refused to quit, leaving Trump to explore ways to snub and belittle the attorney general. Trump's eagerness to sign the bill may be another effort to flog Sessions, roughly the equivalent of kicking a dog while it's tethered to a stake in the yard.
Formally titled the Strengthening the Tenth Amendment Through Entrusting States Act, the bill filed Thursday is sponsored in part by Colorado Sen. Cory Gardner, a Republican.
The bill probably wouldn't even exist if Sessions hadn't threatened a crackdown.
"I support Senator Gardner," Trump said before hopping on Marine One Friday morning. "I know exactly what he's doing; we're looking at it. But I probably will end up supporting that, yes."
Dubbed the STATES Act, the bill riffs on popular conservative ideas about state sovereignty and would decree that the Controlled Substances Act cannot apply to people and businesses — including growers and stores — complying with state or tribal pot legalization laws. A bipartisan companion bill was also filed in the House.
The bill responds to Sessions' decision in January to rescind an Obama-era policy that tolerated pot businesses that follow state laws. Sessions followed up by insisting the Justice Department has the right to enforce federal law. The irony for Sessions is that the STATES Act probably wouldn't exist — certainly not with bipartisan backing — were it not for Sessions' own policy positions and saber rattling.
"This guidance was withdrawn earlier this year, creating legal uncertainty, threatening public health and safety, and undermining state regulatory regimes," said a press release from the bill's sponsors Thursday. "It is critical that Congress take immediate steps."

The next question, however, is whether Republican congressional leaders will back it. Even though Senate Majority Leader Mitch McConnell has cosponsored a bill to legalize hemp — the industrial, nonpsychoactive version of cannabis — that bill has been stagnant until it was added to the Farm Bill on Friday. Perhaps the more telling sign of McConnell's thinking on drug policy, he has refused to provide a floor vote for a separate bipartisan bill on sentencing reform, even though it passed out of committee in February.
A spokesperson for the Department of Justice declined to comment Friday evening.
But in recent testimony to the Senate Appropriations Committee, Sessions said, "The federal government has passed some laws on marijuana that I'm not able to remove from the books. Congress — you — have passed them. They are on the books."