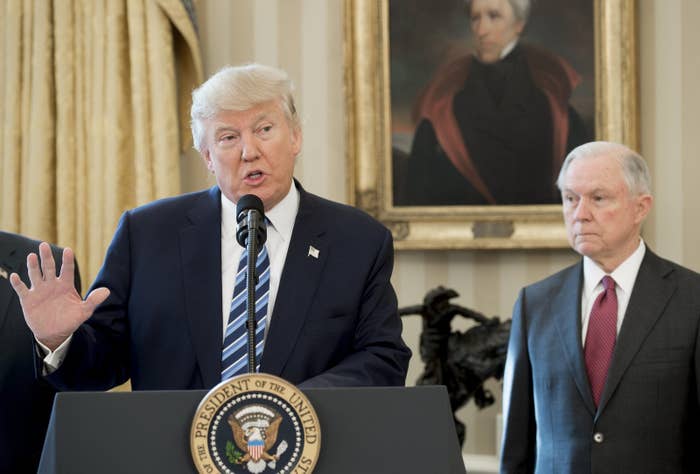 The Trump administration on Wednesday issued new guidelines to roll back an Obama administration policy that was designed to reduce anti-transgender discrimination in public schools.
In outlining the new standards, the Department of Justice and Department of Education told school officials they "have decided to withdraw and rescind the...guidance documents in order to further and more completely consider the legal issues involved."
"The Departments thus will not rely on the views expressed within them," the agencies said in a dear-colleague letter to school officials. "Please note that this withdrawal of these guidance documents does not leave students without protections from discrimination, bullying, or harassment,"
The Obama-era policy said transgender students must be allowed access to gender-appropriate restrooms.
Originally issued last May, the Obama-era policy said that any school receiving federal money "must not treat a transgender student differently from the way it treats other students of the same gender identity." As such, it instructed schools to give transgender students access to gender-appropriate restrooms and locker rooms.
While that was not a new position for the government under Obama, it was the most explicit interpretation of existing law. The former administration asserted that Title IX of the Education Amendments of 1972, which bans sex discrimination in public schools, also bans transgender discrimination as a form of sex discrimination.
Sean Spicer, the White House press secratary, said on Wednesday the Trump administration was considering abandoning that overarching position on Title IX — that federal civil rights laws protect transgender students.
"We have to decide whether or not this administration wants to continue that track that the Obama administration was on," he told reporters.

But the guidance itself and Attorney General Jeff Sessions did not announce a new view on the law. In a statement Wednesday night, Sessions merely said that Obama's directive "did not contain sufficient legal analysis or explain how the interpretation was consistent with the language of Title IX."
Rather, he seemed to leave wiggle room for the future, adding, "The Department of Justice remains committed to the proper interpretation and enforcement of Title IX and to its protections for all students, including LGBTQ students, from discrimination, bullying, and harassment."
Despite the federal government's latest position, states and local school districts can still adopt their own transgender-inclusive rules — and existing rules will remain in place. Trump's latest guidance also does not block individuals or advocacy groups from raising their own complaints in federal court that a transgender student's rights have been violated.
James Esseks, who oversees the ACLU's litigation on behalf of a transgender student in Virginia, told reporters on a call Tuesday, "Courts enforce Title IX and courts at the end of the day decide what the scope of Title IX is."
Withdrawing the guidelines was widely expected, given Trump's nod to state's rights on the campaign trail, and Press Secretary Sean Spicer announcing that a new policy was imminent. The new guidance also dovetails with the Justice Department's decision this month to step away from defending the guidance in a federal appeals court.
Still, a fight broke out between factions of the Trump administration, when US Attorney Jeff Sessions pressed to reverse the guidance and ran up against Education Secretary Betsy DeVos, according to a New York Times report on Wednesday.
Both of their agencies, the Justice Department and Education Department, which issued the guidance last year, had to concur on any replacement rules. Citing three Republicans with direct knowledge of the internal discussions as sources, the Times said Trump sided with Sessions after a meeting in the Oval Office, leading DeVos to capitulate.
States and local school districts can still adopt their own transgender-inclusive rules.
At a White House Press briefing, however, Spicer played down those fractures Wednesday afternoon, noting that "there's no daylight between anybody between the president, between any of the secretaries," and he said DeVos was on board "100%." While officials considered legal and procedural issues, he added, "where you might be hearing something" are disagreements related to to timing and wording of the new guidance.
Spokespeople for the agencies did not respond to inquires about the new policy on Wednesday.
Overriding the old guidelines will likely have little short-term impact on schools — the old policy was suspended by a federal court last summer. Most immediately, the move could neutralize lawsuits from more than a dozen states that had challenged the rules and it could be a factor in a case scheduled before the Supreme Court next month.
The new guidance was submitted to the Supreme Court on Wednesday night as an attachment to a letter announcing the move in that case.
In a statement, Education Secretary Devos said she considers "protecting all students, including LGBTQ students, not only a key priority for the Department, but for every school in America." She added, however, that protecting transgender students "is an issue best solved at the state and local level."
Outside Your Bubble is a BuzzFeed News effort to bring you a diversity of thought and opinion from around the internet. If you don't see your viewpoint represented, contact the curator at bubble@buzzfeed.com. Click here for more on Outside Your Bubble.