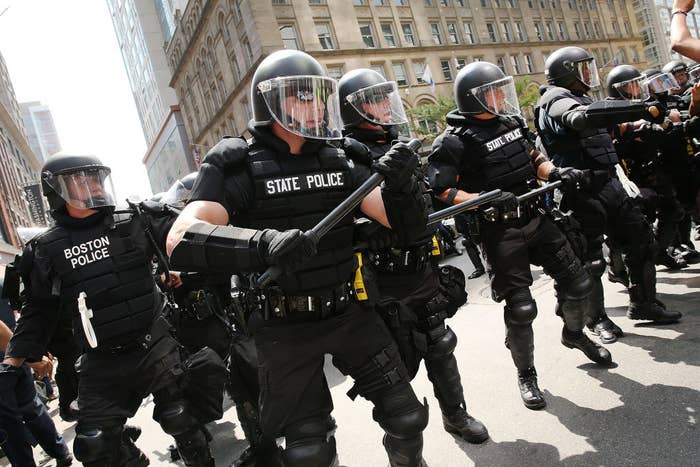 Republicans and at least one Democrat in Congress rolled out legislation on Tuesday that would imprison people for up to 10 years for seriously injuring a police officer — or attempting to do so — with backers saying a new federal punishment is needed to curb "cowardly assaults" on police.

As videos of white cops shooting and killing black people have sparked moves to increase officer accountability, the Protect and Serve Act in the House and Senate offers a counternarrative: Police are increasingly under fire and their assailants must be punished more harshly.
Civil rights groups, however, have accused the sponsors of conjuring a "war on police," which they say will further divide law enforcement officers from African Americans.
Injuring or killing a police officer is already a crime under state and federal law — with all 50 states enhancing penalties for those who do. But Sen. Orrin Hatch of Utah, lead sponsor of the Senate bill, said in a statement the legislation "makes clear that no criminal will be able to escape justice when he singles out and assaults those who put on the badge every day to keep us safe."
His office did not respond to a request to elaborate on how a new federal law would further protect officers.
Hatch's efforts are backed by William Johnson, executive director of National Association of Police Organizations, who said the measure "is critical, as there is a serious and growing trend of armed attacks on law enforcement officers."
The overall number of officers killed in felony homicides has fluctuated from 2007 to 2016, according to FBI statistics, without a clear upward trend. They show a low point of 41 killings in 2008 and 2015, and a peak of 72 killings in 2011.
Those figures, however, also show a jump in premeditated officer ambushes in 2016, when there were 17 such deaths, compared with between one and nine the previous decade. The spike in 2016 was partly driven by five officers killed that year in a Dallas shooting.
"This bill is a political response to the growing national movement for police accountability in the face of continued killings and assaults of unarmed African Americans," civil rights groups said.
"There is no doubt that police work is a dangerous undertaking, but the reality is that there has been a continuing decline in the number of officers killed or assaulted in the line of duty over the last several decades," says a letter to senators from the American Civil Liberties Union, Human Rights Watch, the Leadership Conference on Civil and Human Rights, and the NAACP Legal Defense and Educational Fund.

Rather than being used to protect historically victimized minorities, including people of color, the civil rights groups say the bill twists the intent of hate crime laws. They argue it adds an unnecessary layer of punishment to protect a group already well covered by other laws.
Hatch's Senate bill — using language typical of hate crimes laws that protect minorities — would penalize those who target someone for serious assault or homicide because the victim is or is perceived to be a law enforcement officer. It would apply if the assailant crosses state lines, uses a weapon that has traveled interstate, or if the offense interferes with commerce. It would be equally applied to those who "attempt to" injure or kill an officer, too. Someone who kills or kidnaps an officer would be eligible for life in prison.
The House version does not stipulate that perpetrators must be motivated by the belief that their victim is a law-enforcement officer — only that they must "knowingly" injure or kill the officer.
The bill is cosponsored in the Senate by Sen. Heidi Heitkamp, a moderate Democrat from North Dakota. In the House, the bill is sponsored by Rep. John Rutherford, a Florida Republican.
Republicans in the House and Senate had filed legislation to ratchet up offenses for assaults on police in 2016, during the Obama administration, but those bills ultimately died in committee.

Prospects for the legislation may be more favorable under President Donald Trump, who has heightened tensions between police and communities of color since winning the White House. The president has suggested officers should be "rough" on suspects, specifically telling Long Island law enforcement officials last year, "don't be too nice."
Attorney General Jeff Sessions, meanwhile, has stopped seeking local reforms to reverse unconstitutional policing, and he complained in a speech last summer about those "portraying law enforcement officers as the enemy…. Their divisive rhetoric treats police officers like the problem."
The civil rights groups write the new bill "signals that there is a 'war on police,' which is not only untrue, but an unhelpful and dangerous narrative."
Similar legislation has been introduced in states — so-called Blue Lives Matter bills — and the groups contend "this bill is a political response to the growing national movement for police accountability in the face of continued killings and assaults of unarmed African Americans."