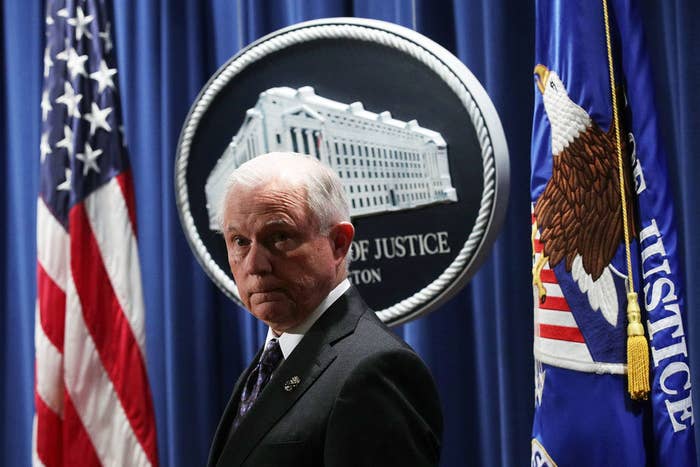 The Justice Department sued the City of Houston on Wednesday for allegedly allowing and failing to respond to the sexual harassment of two female firefighters who were being targeted by male colleagues.

The filing comes after BuzzFeed News reported in December that the Trump administration hadn't filed any lawsuits under Title VII of the Civil Rights Act of 1964, which bans sex-based discrimination in the workplace.
The lawsuit, filed in US District Court in Texas, alleges that Jane Draycott and Paula Keyes were subjected to humilities at Station 54, including men urinating on the walls, floors, and sinks of the women's restroom and dormitory — in addition to slurs written on the walls. The women reportedly complained nine times.
A Justice Department official confirmed to BuzzFeed News this is the first Title VII case filed by the department during the Trump administration. The department's Employment Litigation Section handles enforcement of Title VII in cases where employees of state and local governments allege workplace discrimination.
The previous Republican and Democratic administrations' Justice Departments filed a small-but-steady number of Title VII lawsuits — including sexual harassment claims — every year, making the absence of any new court cases for more than a year under Trump unusual.
However, the Justice Department and employment lawyers have told BuzzFeed News in the past that the cases, which begin with referrals from the Equal Employment Opportunity Commission, can require more than a year of internal processing and possible settlement negotiations before officials choose to file a lawsuit.
Earlier on Wednesday, the Justice Department announced a new project, the Sexual Harassment in the Workplace Initiative, to focus on sexual harassment in the public sector.
Acting Assistant Attorney General John Gore of the Civil Rights Division said in a statement: "Far too often, women are targeted and harassed in the workplace because of their sex. Employees have the right to work in an environment that is free from sex discrimination and retaliation."