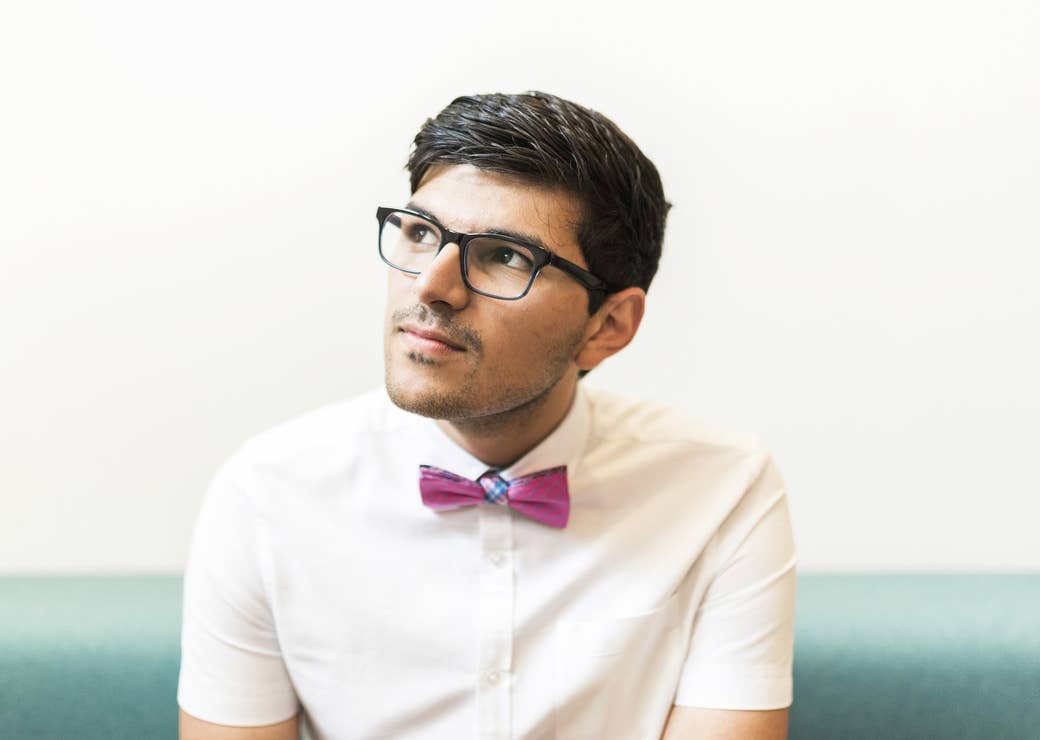 The last time Jay Franzone had sex was in December. He's cute, he's 21, and he could get laid anytime — he even has a boyfriend.
But the college senior is abstaining to make a point about the federal rules for donating blood. Under the Food and Drug Administration's latest guidance, issued in December, men are banned from giving blood or plasma until one year after the last time they had sex with another man.
"Being abstinent for a year is a crazy thing to ask of people," Franzone told BuzzFeed News.
Realistically, gay men, just like straight folks, tend to have sex more than once every 12 months — Franzone argued that the guidelines amount to a de facto ban for gay men. By jumping through the federal government's hoops — a year without sex — he hopes to demonstrate that the policy is not just unworkable but discriminatory.

That frustration came into national focus this week, when a gunman killed 49 people and wounded 53 more at an LGBT nightclub in Orlando. Demand for blood skyrocketed, and nobody in Florida wanted to donate more than the LGBT community. But due to FDA regulations, gay men couldn't give blood — even if they were HIV negative and didn't engage in risky behaviors.

"The hardest part about being abstinent for a year is laying to next to my boyfriend and being like, 'Night, babe,' and just going to sleep."
In response, more than 100 members of Congress will urge the FDA to change its policy in a letter next week, saying the agency should switch to a policy based on personal risk factors instead of sexual orientation. One representative filed legislation on Thursday to increase flexibility for blood donations during crises.

"When our community is attacked, we want to help," said Franzone. "We want to be there. But we can't because we're gay. Discrimination is still alive and well in outdated federal policies."
Not having sex for a year is "one way to get the FDA's attention," he continued. "I don't want to say I'm doing this for press, but I know this will get attention, and this policy needs to be looked at."
Franzone, who is majoring in political communications at Lasell College, is also a spokesman for the National Gay Blood Drive — a group that advocates for changing the blood donation policy — but he spoke to BuzzFeed News in his personal capacity. He said that for him, this is a personal issue. "There are plenty of my family members who have needed blood," he said. "Friends have needed blood. They have invited me to donate with them, and I had to remind them that I can't."
The FDA says the blood donation guidance helps prevent individuals at high risk for HIV from infecting the blood supply and that HIV is more prevalent among men who have sex with men. The agency points out the guidance is non-binding, but blood donation centers tend to follow it as policy, typically interpreting it conservatively.
But Franzone, some HIV experts, several LGBT groups, and numerous Democratic lawmakers have hammered back that the rules lack scientific justification. In fact, they argue the blanket application of the rule can instead create backward results. For example, straight people who have frequent unprotected, anonymous sex can donate blood under the guidelines, but HIV negative men in monogamous relationships are unilaterally banned simply for being gay.
In response to the shooting in Orlando, 109 members of Congress plan to send a letter next week urging the FDA to switch to a new deferral policy based on a donor's risk factors — not their sexual orientation.
109 members of Congress will urge the FDA to switch to a new policy based on a donor's risk factors — not their sexual orientation.
"It is our view that this tragedy, more than any other, shines a light on the need for a permanent reversal of this policy," says the letter, so far co-signed by four Republicans and spearheaded by Democratic Rep. Mike Quigley. "The 12-month celibacy requirement is unrealistic for most healthy gay and bisexual men to meet."
"Given the target, nature, and timing of this particular attack, the LGBT community is especially eager to contribute to the response effort," the lawmakers said in the letter.
Meanwhile, Rep. Mike Honda introduced legislation Thursday stating "the Secretary of Health and Human Services shall provide for increased flexibility in blood donor screening, while maintaining a safe blood donor pool, during times of national or local need." The Democrat from California added in a statement that the bill "would help prevent tragic ironies, like the one in Orlando, that prohibited gay and bisexual men from donating blood."
First approved during the AIDS outbreak, the FDA's guidelines banned men who had had sex with a man since 1977, among others with high risk factors — including sex workers and intravenous drug users. The FDA relaxed the guidance last December as it applies to men who have sex with men, so it only applies to those who have been sexually active in the previous 12 months.
Last July, when the FDA was contemplating the current rule, dozens of Congressional Democrats told the FDA in a letter that the one-year deferral policy would be "discriminatory and not based on science," calling it "unacceptable."
Peter Marks, deputy director of the Center for Biologics Evaluation and Research at the FDA, said on a conference call with reporters after the guidance was finalized the agency would revisit the policy as more data becomes available to consider risk-based assessments and a shorter deferral period.
That risk-based assessment is exactly what Franzone, dozens of members of Congress, LGBT groups, and numerous HIV organizations are now pushing for. In letters over the past several years and months, they have argued that low-risk gay men deserve the same opportunity to donate blood as equally low-risk straight people.
Franzone knows his role is limited. "I don't think that me being abstinent for a year will result in FDA changing the policy, but I think this will increase the conversation."
For now, Franzone has to contend with his boyfriend, Ben Sanders.
When Franzone turned 21 in April, his boyfriend took him out for "a wicked nice dinner" on the 52nd story of the Prudential Center in Boston, he said. "We got home, and, well, most people on their birthday are gonna have sex — that's a pretty common thing in my age bracket."

But sex didn't happen. "That was really hard on my birthday," he said. "The hardest part about being abstinent for a year is laying to next to my boyfriend and being like, 'Night, babe,' and just going to sleep."