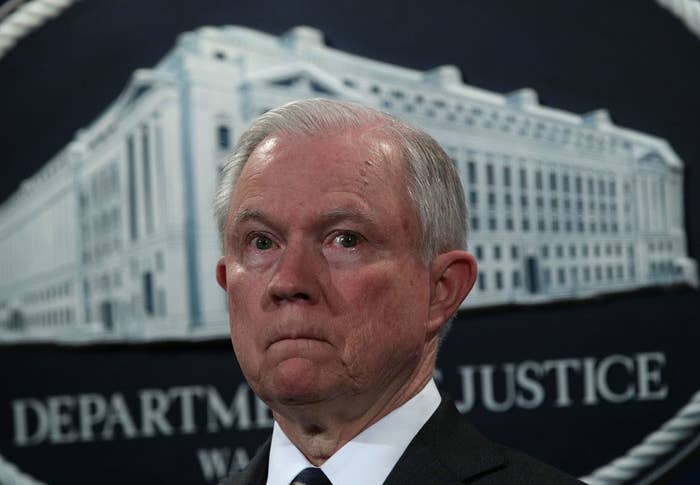 The US Justice Department rolled out a new policy on Wednesday allowing the government to seize more possessions and money under federal authority — in some cases circumventing state or local laws, even when a person has not been charged or convicted of a crime.

Officials argue this will allow police to seize money, weapons, and valuable property from criminal enterprises that have amassed the goods illegally, thereby weakening underworld networks that contribute to violence. The new policy also includes several provisions intended to limit abuse, which had led the Obama administration to limit the practice.

Backed by US Attorney General Jeff Sessions, the new policy largely reverses a decision by the Obama administration in 2015 to halt most so-called adoptive forfeitures. In adoptive forfeitures, local law enforcement agencies ask the Justice Department to use federal law to seize property from people suspected of committing a crime — and then return most of the proceeds to the local police.
The practice has been assailed for incentivizing wanton looting of low-level, nonviolent criminals — particularly drug offenders — or people who were innocent, while allowing officials to sidestep state limits on seizing property. Former attorney general Eric Holder said in early 2015 that curbing the seizures was a means of "safeguarding civil liberties."
It reverses an Obama-era rule designed to protect civil liberties.
During a briefing on the policy at the Justice Department on Wednesday, Deputy Attorney General Rod Rosenstein denied that the program provided "perverse" profit incentives to state and local law enforcement to seek out cash and property to seize.
He said that the underlying motivation of the program was to reduce crime, and that, if some resources were funneled back into law enforcement for legitimate purposes, that was appropriate.
"There is going to be scrutiny to make sure that every forfeiture that is adopted by the federal government complies with the Constitution, and particularly with the Fourth Amendment," Rosenstein told reporters.
Rosenstein acknowledged that there had been "instances" in the past when money from forfeitures had been improperly used by some law enforcement agencies.
"I think that's true, if you look at any federal program, some proportion of it is going to be used improperly, some proportion of it is going to be lost to fraud," he said. "I don't think that's the right way to measure the effectiveness of the program. You need to look at the overall impact of the program."

He added that if local governments use the money from forfeitures to buy "margarita machines," that would be inappropriate. "But I think that if you look at the volume of forfeitures and the amount of money and property that is seized, a very small portion of those cases are cases that implicate those kind of concerns," he said.

Sessions foreshadowed his policy in a speech in Minneapolis on Monday. "We plan to develop policies to increase forfeitures," he told an association of local prosecutors. "Adoptive forfeitures are appropriate as is sharing with our partners."
Conservative and progressive critics have long taken umbrage with the civil administrative process behind forfeitures, which can rely on little or no evidence to strip innocent people — or people with tangential links to crime — of money and property, and leave them with limited recourse to get their property back.
Rosenstein said seizures weren't always accompanied by criminal prosecutions because, for instance, drug dealers will transport cash and drugs separately to evade prosecution. But he said that seizing cash and property can nevertheless accomplish public safety goals because it means those assets are no longer available to criminals.

Republican Sen. Mike Lee of Utah cautioned the Justice Department on Monday not to overstep its bounds as it sets new policy, noting Supreme Court Justice Clarence Thomas wanted the court to hear a case challenging asset forfeiture's constitutionality.
"Instead of revising forfeiture practices in a manner to better protect Americans' due process rights, the DOJ seems determined to lose in court before it changes its policies for the better," Lee said in a statement on Wednesday after the new policy was announced.


The new policy, which was codified in a memo from Deborah Connor to various wings of the Justice Department and US attorneys on Wednesday, says federal adoptions of seized assets "is authorized whenever the conduct giving rise to the seizure violates federal law."

Connor then lays out a series of safeguards that may limit the potential for overreach. Local officials must provide information about why they believe there is probable cause of a crime that justifies the seizure, the policy says. There are also limits on seizing cash or property worth less than $10,000, such as by requiring a warrant, an arrest, presence of contraband, an admission of guilt, or approval from a US attorney's office.
The policy does not require that a person be indicted or convicted of a crime before the Justice Department can adopt the seizure under a civil proceeding.

However, the Justice Department says it will also expedite decisions on adoptions "in order to give individual property owners an opportunity to challenge the seizure," according to Connor's letter.
Asked if there was data that supported the idea that the Obama administration's 2015 policy hadn't worked, Rosenstein said there wasn't, but noted that there weren't any long-term studies that supported the adoption of the 2015 rules either. Pointing to a rise in drug overdose deaths in recent years, the deputy attorney general denied that the new policy was just political pandering to law enforcement.
"No, this is not an effort to appease any particular constituency. It's an effort to empower law enforcement to use a tool that we think can have an impact."