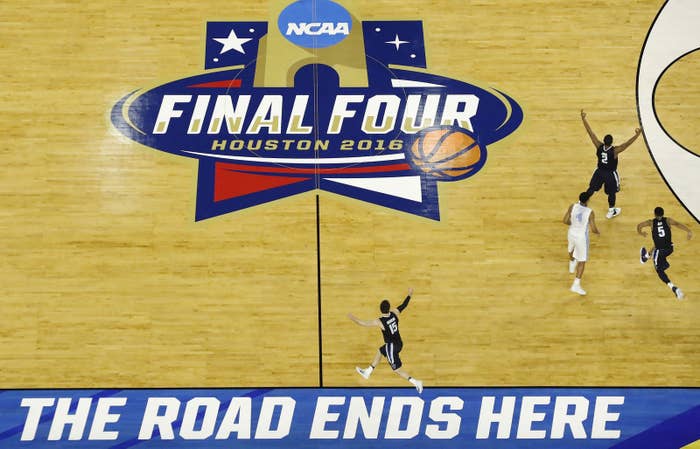 Cities seeking to host college championship sporting events must demonstrate how they will protect attendees and participants from discrimination, particularly shielding them from laws that restrict transgender people's access to restrooms, the National Collegiate Athletic Association announced Friday.
All bidding cities must fill out a survey by August 12 asking whether the municipality has policies banning discrimination or, conversely, if it has regulations that "interfere with any person's choice of bathroom or locker room." Cities that have already been granted championship rounds will also need to submit the survey on a separate deadline.
The announcement comes a day after the NBA announced it was withdrawing its 2017 All-Star Game from Charlotte in protest of anti-LGBT law passed by North Carolina lawmakers in March. The law bans transgender people from using restrooms that match their gender identity in government facilities.
Greensboro, North Carolina is scheduled to host the second and third rounds of the 2017 Men's Division I Basketball Tournament, a.k.a. March Madness. An NCAA spokesperson said the new requirement applies to all championship rounds, not just the title game.

Reached by phone Friday afternoon, Greensboro Convention & Visitors Bureau President & CEO Henri Fourrier told BuzzFeed News that his office has not yet had an opportunity to review the new NCAA mandate. Fourrier said the city of Greensboro intends to submit a number of bids for NCAA events in the near future. Asked about the maneuvering of navigating existing state law with the new NCAA mandate, Fourrier said: "It concerns me."

The NCAA has not made a determination about whether they will pursue a change of venue for the March Madness events in North Carolina.

Indianapolis is scheduled to host two rounds of March Madness in 2017. In 2015, the controversial Religious Freedom Restoration Act was signed into Indiana law by Governor Mike Pence, the Republican presidential nominee Donald Trump's pick for vice president.

The state's Religious Freedom Restoration Act was criticized for promoting discrimination against LGBT people. After an uproar, lawmakers passed a subsequent "fix" stating that religious freedom law, which remains on the books, could not be used to discriminate. Indiana lacks a law banning discrimination on the basis of gender identity or sexual orientation.

A question on the NCAA anti-discrimination survey reads: "Does your city, county/parish and/or state have provisions that allow for refusal of accommodations or service to any person?" When asked how a prospective NCAA host city in Indiana would answer that question, a spokesperson for Governor Pence said "You'll have to ask the cities."
Asked how Governor Pence would respond if the NCAA determined a city in Indiana ineligible to host an event due to a lack of anti-discrimination protections, the spokesperson said the Governor's office doesn't "speak to hypotheticals."

In response to a question regarding whether or not the NCAA has been in contact with Governor Pence's office about existing law and the new anti-discrimination mandate, the spokesperson responded: "It's late on a Friday so I'd have to check."
Despite pressure to move the games this year, the NCAA hosted its Final Four games in Houston, Texas, which had repealed a nondiscrimination ordinance following a 2015 campaign that claimed transgender people posed a threat in restrooms.
Friday's announcement results from the NCAA board voting in April on rules that bidding cities must "demonstrate how they will provide an environment that is safe, healthy, and free of discrimination," the questionnaire says.
"The board's decision follows the recent actions of legislatures in several states, which have passed laws allowing residents to refuse to provide services to some people based on their sexual orientation or gender identity," the questionnaire goes on. "While proponents of the laws focus on how they protect religious beliefs, critics have voiced concerns that they create an environment of sanctioned discrimination."