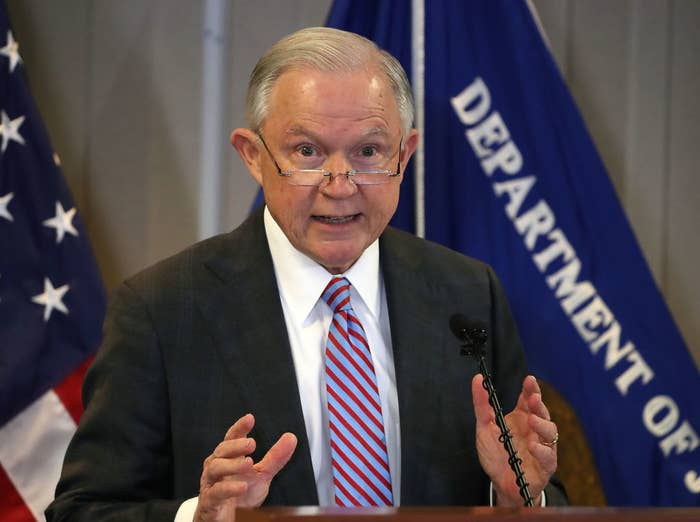 The Justice Department announced on Monday it will award more than $98 million to local police departments, giving preferential treatment to 80% of the recipients because they'd agreed to let federal immigration officers inside local jails and notify federal authorities about undocumented immigrants in local custody.

The grants are part of a broader effort by Attorney General Jeff Sessions to reward cities that cooperate with the Trump administration's crackdown on illegal immigration, while threatening to block standard-issue crime-fighting grants from dozens of jurisdictions that may have adopted sanctuary policies.
The community-policing grants announced Monday will disburse $98,495,397 to 179 local law enforcement agencies, which will hire 802 officers, as part of the Justice Department's Community Oriented Policing Services (COPS) hiring program.
In doing so, Sessions is further reshaping the agency's community policing office, which under former President Obama emphasized building trust between police officers and citizens through grants and civil-rights reforms. Sessions has instead pressed the division to fight violent crime, turn in unauthorized immigrants, and abandon efforts to systematically reform police departments.
Sessions in September announced he would use a point-based system to grade applicants for the community policing money, giving additional marks to those that agreed to give the Department of Homeland Security access to detention facilities and provide at least 48 hours notice before releasing an undocumented immigrant.
A Justice Department official said Monday that 80% percent of the 179 agencies that got the grants received extra points because they agreed to those requests. The remaining 20% scored high enough without agreeing to the terms. Those 20% may include jurisdictions that do not operate a detention facility, the official said. Many cities have contracts with county-run jails, potentially putting those cities at a disadvantage when seeking grants because they are unable to earn those points.
Local police departments also got an advantage if they sought to hire officers to fight violent crime, assist in homeland security, or combat unauthorized immigrants.
"Cities and states that cooperate with federal law enforcement make all of us safer by helping remove dangerous criminals from our communities," said Sessions.
By contrast, the same grant program under the Obama administration gave a leg up to police departments in 2016 that were "building trust" within their communities, based on standards set out in Obama's 21st Century Policing plan, which sought to promote transparency and diversity among police, and switch to a "guardian" culture instead of "warrior culture of policing." Applicants in 2016 also earned points for engaging in school-based policing, homicide or violent crime, and homeland security.
"Cities and states that cooperate with federal law enforcement make all of us safer by helping remove dangerous criminals from our communities," Sessions said in a statement. "Today, the Justice Department announced that 80 percent of this year's COPS Hiring Program grantees have agreed to cooperate with federal immigration authorities in their detention facilities. I applaud their commitment to the rule of law and to ending violent crime, including violent crime stemming from illegal immigration."
But Ron Davis, who was director of the Justice Department's Community Oriented Policing Services under Obama, said Monday that coercing local police into immigration enforcement runs "counter to the philosophy of community policing."

The longstanding goal of the community policing office was to open dialogue with citizens, Davis told BuzzFeed News, adding that Sessions' grant preferences "create fear in communities you need more information from. It makes communities less safe because people will be afraid to report crime in fear of deportation."

He added that the Justice Department now has a community policing office "only in name," owing to Sessions' "focus on this ideology about immigration."
While these 179 police department's have benefited from a proverbial carrot in community policing grants, the Trump administration has wielded a stick toward other departments by expanding threats against dozens of cities, including Chicago and New York, to deny future funding from the Justice Department's primary crime-fighting grant program. Letters sent over the year, most recently on Wednesday, suggested that cities failing to comply with immigrations standards will lose out on the Edward Byrne Memorial Justice Assistance Grant Program — which totals in the hundreds of millions annually.
But standing at odds with the Justice Department on sanctuary policies did not stop all cities from receiving a community policing grant — Chicago, which has sued over Edward Byrne Memorial Justice Assistance Grant Program conditions, received funding for 25 officers through Monday's community policing grants. Dade County, Florida, which Sessions had successfully pressured to terminate its sanctuary policies, also received a grant for 25 officers.
In September, Sessions announced he would re-purpose a COPS Office program that was designed to help local police departments rebuild trust with their communities after controversial incidents — particularly in cases where officers had shot black civilians — to instead support more traditional law enforcement tactics: arresting violent criminals, breaking up gangs, and making drug busts.