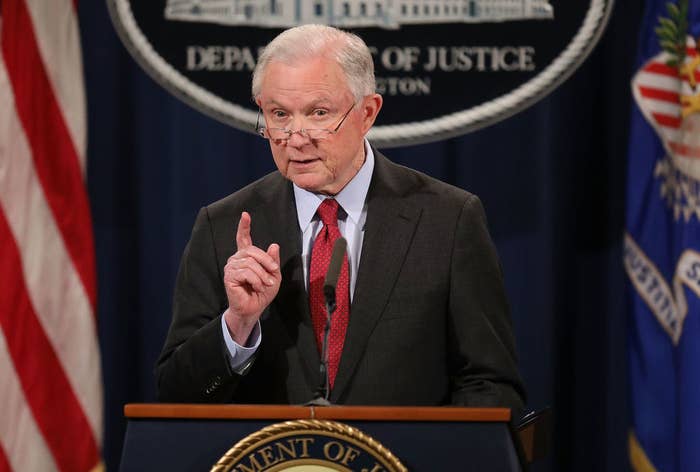 Attorney General Jeff Sessions set off a feud between several mayors and the White House on Wednesday with his latest moves to punish sanctuary cities and coerce them into enforcing the administration's hardline immigration agenda.

Sessions has been a steady critic of sanctuary cities since taking office, as a matter of public safety. Violence is exploding on streets in the United States, he claimed in speeches to local police last year, and cities that shelter undocumented immigrants are exacerbating that threat.

So on Wednesday, the Justice Department sent letters dialing up the pressure on 23 jurisdictions that have failed to hand over records that show compliance with federal immigration laws. The letters, sent by an official under Sessions, warn that cities and counties failing to cooperate by Feb. 23 will be subpoenaed, and they threaten to withhold millions of dollars in grants from their police departments.
A Justice Department official, asked if local officials could be jailed for failing to comply, said Wednesday morning, "We will evaluate next steps."
Under his current ultimatum, Sessions could cut off resources used to fight crime in the same cities he's arguing are not doing enough as is to fight crime — and he created a swift backlash.
Mayors from around the country, who convened this week in Washington, DC, sought to exact revenge by pulling out of a Wednesday afternoon meeting with President Trump at the last minute.

New Orleans Mayor Mitch Landrieu, chair of the US Conference of Mayors, a bi-partisan group, called the Justice Department's letters "an attack on everyone in our conference."
New York City Mayor Bill de Blasio also pulled out of the meeting, calling the Justice Department's threats a "racist assault on our immigrant communities."
A source familiar with the coalition told BuzzFeed News that most of the group's mayors were expected to skip the event — including Los Angeles Mayor Eric Garcetti; Burnsville, Minnesota, Mayor Elizabeth Kautz; and Chicago Mayor Rahm Emanuel.
But once the event was underway, Trump disputed that most of mayors had boycotted, saying "the vast majority of people showed up," according to a White House pool report.
"The mayors who choose to boycott this event have put the needs of criminal, illegal immigrants over law-abiding America," Trump added, saying the Justice Department letter was a "critical legal step."
Still, others stayed away. When Trump asked a few mayors to stand — including New Haven, Connecticut, Mayor Toni Harp — Harp didn't stand because, apparently, Harp wasn't there, the pool report said. Trump said Harp might be a "sanctuary city person" and "that's not possible, is it?"
Lindsay Walters, a White House spokesperson, called the mayors' move a "political stunt."

"We are disappointed that a number of mayors have chosen to make a political stunt instead of participating in an important discussion with the President and his administration," she said in a statement to BuzzFeed News.
"The mayors who choose to boycott this event have put the needs of criminal, illegal immigrants over law-abiding America," Trump said.
A senior Justice Department official, who held a conference call with reporters Wednesday morning, said the government was not taking a contradictory stance by threatening to cut off crime-fighting grants.

"With jurisdictions that are so willing to undermine public safety by choosing to enact so-called sanctuary policies, the department seeks to have these jurisdictions reconsider," the official said, noting that the Justice Department's Edward Byrne Memorial Justice Assistance Grants (JAG) have required cooperating with federal agencies since Obama was president.
"When jurisdictions do not share information with federal immigration authorities, there is a commitment in essence to return criminal aliens back to the street as opposed to allowing them to be apprehended by ICE and placed in removal proceedings," the official added.
The Justice Department launched its offensive last year, warning jurisdictions that federal grants were contingent on notifying Immigration and Customs Enforcement (ICE) when an undocumented immigrant was in local custody, and holding the suspect for 48 hours so federal authorities could visit the facility.
In September, however, a federal judge in Chicago suspended the rule as it applied to notification and detention — but the judge let stand the requirement that jurisdictions show compliance with federal laws in order to accept JAG grants. That law, known as 8 USC 1373, instructs local officials to share information with federal immigration authorities.
In November, Sessions sent letters to 29 jurisdictions, warning they had until December to comply.
The 23 cities receiving letters on Wednesday include Chicago and New York City, which each received more than $2 million in the most recent funding cycle, fiscal year 2016, according to Justice Department records.
"The Department fully anticipates your complete cooperation in this matter," states one of letters, sent by Jon Alder in the Office of Justice Programs. "Should you fail to respond in a complete and timely manner, the Department will subpoena these document."
The Justice Department wants the jurisdictions to document laws, internal policies, and procedures, including directives from politicians to police chiefs. The department adds that failure to comply may also result in the Justice Department attempting to repossess funds given out in the 2016 cycles and denying grants in the current cycle for fiscal year 2017.
"We have seen too many examples of the threat to public safety represented by jurisdictions that actively thwart the federal government's immigration enforcement — enough is enough," Sessions said in a statement on Wednesday.
The Justice Department sent the letters to the following jurisdictions:
· Chicago, Illinois;
· Cook County, Illinois;
· New York City, New York;
· State of California;
· Albany, New York;
· Berkeley, California;
· Bernalillo County, New Mexico;
· Burlington, Vermont;
· City and County of Denver, Colorado;
· Fremont, California;
· Jackson, Mississippi;
· King County, Washington;
· Lawrence, Massachusetts;
· City of Los Angeles, California;
· Louisville Metro, Kentucky;
· Monterey County, California;
· Sacramento County, California;
· City and County of San Francisco, California;
· Sonoma County, California;
· Watsonville, California;
· West Palm Beach, Florida;
· State of Illinois; and
· State of Oregon.
Tarini Parti contributed to this report.