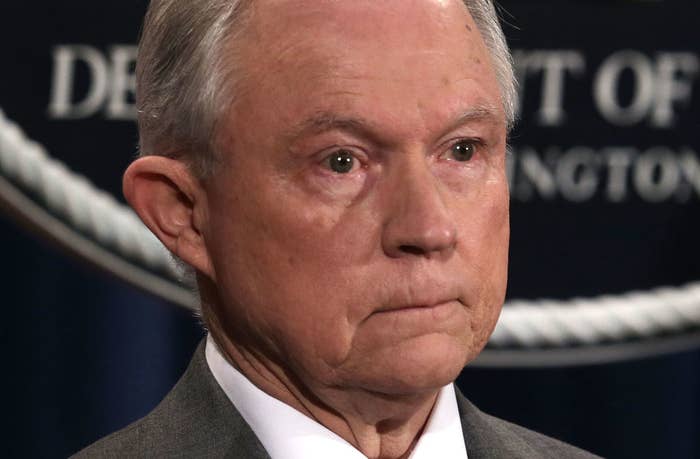 The US Justice Department said Friday it is significantly repurposing a program that was designed to help local police departments rebuild trust with their communities after controversial incidents — particularly in cases where officers had shot black civilians.

Instead of investigating police departments and offering suggestions for reforms, the Justice Department will provide technical assistance grants for more traditional law enforcement tactics: arresting violent criminals, breaking up gangs, and making drug busts.
"This is a course correction to ensure that resources go to agencies that require assistance rather than expensive wide-ranging investigative assessments that go beyond the scope of technical assistance and support," Attorney General Jeff Sessions said in a statement. A background document supplied by the Justice Department claimed the collaborative reform efforts created an adversarial relationship with local officials.
But Ron Davis, a former Justice Department official who had overseen the program during the Obama administration, rebuffed Sessions' comments, arguing that the collaborations were voluntary — and that some tensions are inevitable when fixing entrenched problems.

"The hard truth tells you how to improve community relations and make departments great," Davis, a former police chief, told BuzzFeed News. "It is counter-productive to say you will focus on crime reduction and think it would not include building trust and systemic reforms — these are the foundations of public safety."
Under former president Obama, the Justice Department's Community Oriented Policing Services Office (COPS Office) started the Collaborative Reform program in 2011.
Entirely voluntary, the partnerships with local jurisdictions typically began with a one-year investigation by federal officials, punctuated by an assessment that gave police departments pointers — such as how to deescalate confrontations and when to use force. Those assessments were followed by two progress reports. Local leaders, meanwhile, would furnish records and hold town halls in an effort to mend frayed communities relationships.
But Sessions halted part of the program's progress when he issued a March 31 memorandum that called on officials to review the federal government's relationship with state, local, and tribal law enforcement.
The announcement Friday cemented that the review was complete and the COPS Office would abandon efforts toward the collaborative investigations, accountability, and systemic changes.
As BuzzFeed News reported in August, the COPS Office hasn't published a single assessment or follow-up report for any of the police departments it agreed to help with its collaborative reform program since President Trump took office. Several jurisdictions appear overdue for reports — including Calexico, California; Chester, Pennsylvania; Milwaukee; Salinas, California; St. Anthony, Minnesota; and St. Louis County.
City leaders in North Charleston, South Carolina, have become particularly frustrated this year that the COPS Office failed to issue an assessment report, which would provide a guide to enact reforms. That city initiated the collaboration in 2016 after a white police officer fatally shot an unarmed black man — and city leaders looked for outside help.
"Our city needs to hear from DOJ as promised. I hope with the new administration that it was not pulled." Virginia Jamison, a city council member, told BuzzFeed News at the time, saying she was concerned with the dead air.
As envisioned on its website, the Collaborative Reform project said it endeavored to "improve trust between police agencies and the communities they serve" using a "long-term, holistic strategy that identifies issues within an agency that may affect public trust."
But the Justice Department's background document on Friday said federal officials now want to focus on technical grants to improve best practices, crime reduction, officer training, and outreach.
Kanya Bennett, legislative counsel for the American Civil Liberties Union, said in a statement that "ending the program is a big mistake that will adversely impact communities of color."
The move Friday reflects a broader trend of destroying chunks of Obama's legacy in the Justice Department, including avoiding court-supervised settlements to stop alleged civil rights violations.
Sessions has also reinstated certain property forfeitures and enacted a policy to once again seek long mandatory prison terms.
"They want to round people up in mass arrests and put them in jail or deport them," said Davis, who was a police chief East Palo Alto, California, and spent 20 years in the Oakland Police Department. "This is a dramatic turn that will not be beneficial in the field. It's a disservice to the entire law enforcement profession that will compromise public safety."