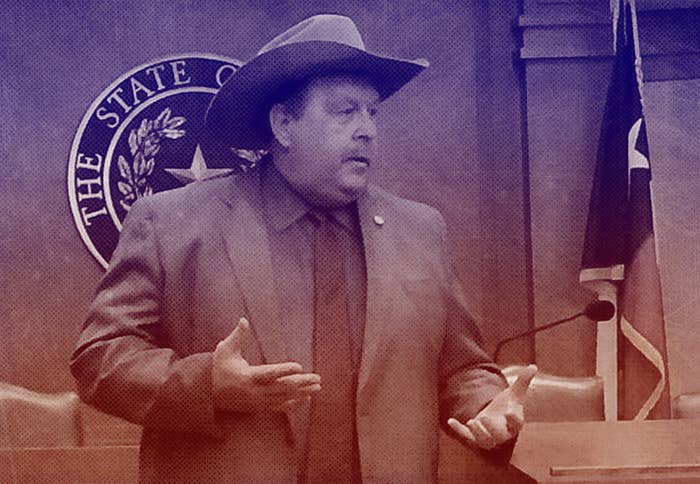 Texas is fine with — maybe even relishes in — bucking federal authority. It is officially nicknamed the Lone Star State, a badge of honor from its era as an independent nation, and its unofficial motto, "Don't Mess With Texas," is particularly suited to the state's growing obstinacy toward a widely anticipated national ruling on same-sex marriage.

As the U.S. Supreme Court prepares to hear arguments Tuesday about whether marriage is a constitutional right guaranteed to same-sex couples in every state, legislators in Austin are advancing a bill designed to resist a decision extending that right to same-sex couples.
Rep. Cecil Bell Jr., lead author of the bill, told BuzzFeed News that if the justices rule that way, "We will simply say, not in Texas."
Passed by the House State Affairs committee on April 22, the bill would prohibit Texas from using state or local funds to license or recognize same-sex marriages. Even if a court issued "an order requiring the issuance or recognition of a same-sex marriage license," the bill states, officials would be barred from spending any money to do so.
"It's about asserting the sovereignty of Texas and Texans to define and regulate marriage."
Bell wears a cowboy hat in almost all his photos on Facebook and signs off posts with "GOD BLESS TEXAS!" His family has raised cattle since 1862, the year after Texas seceded from the Union, but these days that's more hobby than vocation.
"Right now I have about 100 head of cows. Normally we have 175," he said in a phone call. Bell divides his time outside the legislature between running a construction company and raising livestock on 1,700 acres near Houston.
"I am a very conservative individual who lives in probably one of the most conservative districts of a very conservative state," Bell said. Indeed, according to a legislative district report, voters of Texas' District 3 backed Republicans by at least a 4-1 margin in every race last November.
"I ran on the fact that I will stand for our traditional values," he said, "and I think the constituents of my district expect no less than my best effort."
Out of the 20 bills introduced in Texas this year that could stymie LGBT rights — an unprecedented number for a single year, even in Texas — Bell introduced four of them. Three of those bills haven't moved. "But I think this bill is moving," Bell explained about the proposal to cut off funds from recognizing gay married couples, "because it's about asserting the sovereignty of Texas and Texans to define and regulate marriage. The bill gets its traction from the fact that it literally seeks to make sure that our taxpayer dollars are used the way Texans want them to be used and defines our sovereignty."
"I don't think you should flout the Supreme Court," Bell added, acknowledging the justices can set legal precedent. Yet, he said, "I don't think the Supreme Court has enforcement authority." He added that since Tuesday's cases before the Supreme Court originated with lawsuits in other states, they may not apply to Texas.
U.S. Sen. Ted Cruz, a Republican representing Texas, also has plans to introduce bills in Congress intended to stymie compliance with a potential same-sex marriage ruling. As Bloomberg News reported, the first bill "would establish a constitutional amendment shielding states that define marriage as between one woman and one man from legal action. A second bill would bar federal courts from further weighing in on the marriage issue until such an amendment is adopted."
Bell said this is not a partisan issue, though he mentioned his bill passed out of committee on party lines. And this is not primarily about social mores for Bell, either, though, he said, "I have a biblical belief that marriage is between one man and one woman. I am socially not a fan of it, and I would not promote gay relationships."
"But it is my belief that the will of the State of Texas is being a sovereign people. That is the real conversation of the day."
In other words, the fact that his bill attempts to poke the Supreme Court in the eye is not drawback, but rather the primary impetus for Texas lawmakers to pass it.
***
"Any such law would be blatantly unconstitutional," Shannon Minter, legal director of the National Center for Lesbian Rights, told BuzzFeed News. "Texas has to comply with the federal Constitution and Supreme Court rulings, just like all other states. This is just political posturing and grandstanding."
Plenty more LGBT lawyers, including pioneering gay-rights attorney Evan Wolfson, who leads the national group Freedom to Marry, echo that view.
"Texas is Texas, but it's also America," said Wolfson. "We are one country with one Constitution."
Be that as it may — Bell and even his some of his liberal opponents in Texas say that if the bill becomes law, it could carve out a winding path through the courts for Texas to challenge LGBT rights.
"Any such law would be blatantly unconstitutional ... This is just political posturing and grandstanding."
This measure and additional bills marching behind it could pose questions for courts about how much a state could chip away at the rights of married gay couples by withholding money or imposing restrictions. Such legislation could be passed and litigated almost interminably, possibly leaving certain rights for same-sex couples in limbo.
"On the one hand," Dan Quinn, a spokesman for progressive advocacy group Texas Freedom Network, said, "to run around and say we are sovereign and somehow don't have to obey a Supreme Court ruling is the quintessential example of a temper tantrum. Some of the lawmakers, including the representative who introduced this bill, just refuse to accept what's happening. This seems to be a way to stomping their feet and saying we're not going to let that happen, which is absurd."
"On the other hand," Quinn slowed his pace, "there is a strategy here."
The strategy goes back to the 20 LGBT-related bills introduced in the state's 2015 legislative session. A report by the Human Rights Campaign said that eight of the bills undermined marriage rights, four targeted the rights of transgender people, four intended to gut local nondiscrimination laws, and four others would allow discrimination in the name of religious freedom. One of the bills in the last category also cleared committee this month: It would allow child welfare providers to refuse clients based on the "provider's sincerely held religious beliefs."
"We have never seen this many bills," said Quinn.
In this context, it's impossible to ignore the Supreme Court's 1973 Roe v. Wade decision, which found abortion was a constitutional right, but a right that must be balanced with each state's interest in regulating those abortions. Particularly in Texas, the legislature has pushed the regulatory envelope on Roe v. Wade and the laws that have followed have led to new lawsuits — with several rulings saying the state was too restrictive while several even more restrictive measures were left in place.
"We know from cases like Roe v. Wade that the power of the purse hasn't been challenged," said Rep. Bell, adding that the bill he is pushing will "set up an additional legal challenge."
Regardless of the court's final marriage decision, expected in June, Bell said additional bills and lawsuits will mean the legal fight "continues on."
Quinn is careful to say the discrimination of LGBT people is not like that against people of color under Jim Crow laws. But he compares the fleet of LGBT-related legislation and potential subsequent legal challenges in Texas to the 1960s fights in the South against racial desegregation.
"Ultimately the result will be almost endless litigation that will be very expensive to taxpayers and plaintiffs, and ultimately Texas will lose, just like when it tried to block desegregation," Quinn said. "The question is: How much pain and heartburn are the state lawmakers willing to put the state through to get there?"
***
Bell thinks the interests of same-sex couples have been overrepresented. "Plenty of people are willing to stand up for the 43,000 same-sex couples in Texas," he said, citing 2010 Census data. "They do not lack for a voice. But there are not a lot of people who want to talk about the other 26 million Texans."
Quinn compares this mosquito fleet of LGBT-related legislation and potential subsequent legal challenges to the 1960s fights in the South against racial desegregation.
Texas voters consistently opposed same-sex marriage until 2013, and only two polls have defied that trend since. But Chuck Smith at Equality Texas pointed that those numbers show "movement from previous years" in favor of marriage equality.
If Bell's bill does pass the legislature, Smith said, "a lot of people would think that taking this marriage fight into extended litigation is a waste of taxpayer money."
Bell's HB 4105 is now in a committee that schedules votes by the full Texas House of Representatives, where Smith says, "I hope that we and others are able to kill it."