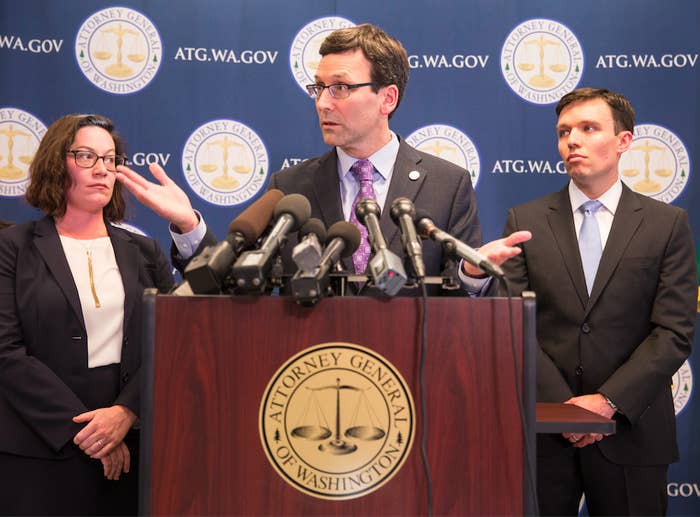 Several state and local officials wasted no time Wednesday night announcing they would keep enforcing bans against transgender discrimination in schools and make sure students can use bathrooms that match their gender identity.
Their announcement was a swift rebuttal to the Trump administration's decision to rescind a federal policy created under former President Barack Obama that said school districts must protect transgender students.
"I will ensure ... protections for transgender and gender non-conforming students are enforced fairly and vigorously," Washington State Attorney General Bob Ferguson said.
Ferguson was one of three state attorneys general who told BuzzFeed News that while the federal government is stepping back, they will step up. "The civil rights of transgender individuals will continue to be protected under Washington state law," Ferguson said, calling Trump's decision "a disappointing step backward."
"Transgender students ... will remain protected regardless of the new directive."
Likewise, Superintendent Michelle King of the Los Angeles School District said the California Education Code and district policies will still "permit pupils to use facilities consistent with one's identity."

"Transgender students," she said in a statement, "will remain protected regardless of the new directive by the Trump administration pertaining to access to restrooms and locker rooms."

In 2016, the Obama administration released guidance interpreting Title IX of the Education Amendments of 1972 to say that public schools must treat transgender students consistent with their gender identity. As such, transgender students needed access to gender-appropriate restrooms and locker rooms.

But the Trump administration on Wednesday withdrew that policy, saying it was considering the underlying legal issues while recognizing the "primary role of the States and local school districts."

Some state and local governments jumped, pointing out they could enforce federal, local, and school district civil rights laws on their own. The administration's guidance did not block individuals or advocacy groups from raising their own complaints in federal court that a transgender student's rights have been violated.
"Transgender students will still be protected by Title IX and its implementing regulations, which prohibit discrimination on the basis of sex," said Amy Spitalnick, a spokesperson for New York Attorney General Eric Schneiderman.

"Additionally, our state law protections are independent of federal law — for example, the Dignity for All Students Act," Spitalnick continued. "The Attorney General will continue to ensure that Title IX and New York's own civil rights protections are enforced, because we know that policies that ensure equality for transgender New Yorkers promote safe and inclusive schools, workplaces, and communities — benefiting everyone."

New Mexico Attorney General Hector Balderas said in a statement that his office "will aggressively enforce the rule of law to protect the health, safety, and welfare of New Mexicans; and no government entities, including schools, should discriminate against any individual."
A Seattle Public Schools spokesperson said the district would continue to enforce its nondiscrimination policy. And in Philadelphia, the school district told local media it was sticking with its transgender student policy.
Colleen Melody, head of the civil rights unit for the attorney general in Washington State, explained her office's position: "This rollback at the federal level won't stop transgender protections in Washington."
Her office led a 12-state effort in federal court to support the transgender guidance issued under Obama.
"There are a lot of state-level officials who are committed to this, and their commitment is not going to change, even though the federal government is apparently going backward," she said.
But some school districts saw the new Trump policy as a sign of progress.
The Gloucester County School Board, which is heading to the Supreme Court next month to defend its policy that bans a transgender boy from the boys restroom, said it "is pleased."
"This action shows 'due regard for the primary role of the States and local school districts in establishing educational policy,'" a statement said. "We look forward to explaining to the Supreme Court why this development underscores that the Board's commonsense restroom and locker room policy is legal under federal law."