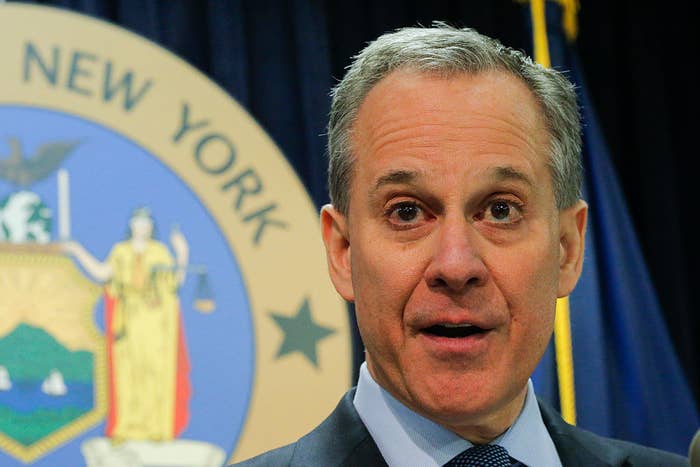 Fifteen states and Washington, DC, teamed up in federal court on Wednesday to sue the Trump administration over the president's decision to end the Deferred Action for Childhood Arrivals program, which has allowed nearly 800,000 young undocumented immigrants to live and work in the United States.

A coalition of Democratic state attorneys general are arguing that the administration rescinded the Obama-era directive that established the DACA program in 2012 with minimal guidance and without giving the public an opportunity to comment, and said that doing so violates federal law. They also argue that Trump was unconstitutionally motivated by prejudice against people of Mexican origin in deciding to end the program.
"The effort to unwind this spectacularly successful program has been driven by the president's personal anti-Mexican, anti-Latino bias," New York Attorney General Eric Schneiderman said at a press conference Wednesday afternoon to announce the lawsuit. "Let me be clear: There is no good reason to end this program."
The state officials want a federal judge to stop the administration from ending DACA, and also to block the government from using personal information provided by applicants to locate or deport them or their families. The lawsuit was filed in the US District Court for the Eastern District of New York.
"Rescinding DACA will cause harm to hundreds of thousands of the states' residents, injure state-run colleges and universities, upset the states' workplaces, damage the states' economies, hurt state-based companies, and disrupt the states' statutory and regulatory interests," the suit says.
The arguments mirror those raised by states that sued to block Trump's first travel ban.
The arguments mirror those raised by states who moved to block Trump's first travel ban, both in alleging that Trump's actions were rooted in prejudice and in contending that the states themselves face harm, which would give them grounds to sue as opposed to filing on behalf of individual DACA recipients.
The suit was filed in the Brooklyn federal district court by lawyers from Schneiderman's office, joined by attorneys general from Delaware, Connecticut, Hawaii, Illinois, Iowa, Massachusetts, New Mexico, North Carolina, Oregon, Pennsylvania, Vermont, Virginia, Washington state, and Washington, DC.
On a call with reporters Wednesday, Washington state Attorney General Bob Ferguson said that he, Schneiderman, and Massachusetts Attorney General Maura Healey are co-leading the case, and had decided that New York was a "logical place" to file.
The lawsuit contends that the Trump administration's rescission of DACA violates the Equal Protection clause of the Fifth Amendment, because Trump was driven by bias against Latinos, citing Trump's comments during the campaign.
"Ending DACA, whose participants are mostly of Mexican origin, is a culmination of President's Trump's oft-stated commitments...to punish and disparage people with Mexican roots," the attorneys general wrote in the complaint, noting that Trump called Mexicans "rapists" and labeled protesters who carried the Mexican flag "criminals" and "thugs."
"If a majority of DREAMers were Caucasian, does anyone think the president would take the action he took yesterday?" Ferguson asked.
On Tuesday morning, Attorney General Jeff Sessions announced that the administration would "wind down" the program, allowing DACA recipients to keep their status until it is due to expire, processing new applications that were received before Sept. 5, and permitting some recipients to apply for renewals if their status was set to expire by March 2018. But no new applications will be accepted, and renewals are not guaranteed.
The states say the Trump administration violated DACA enrollees' due process rights because they were promised their personal information would not be deployed for immigration enforcement. The US Department of Homeland Security said that information provided by DACA applicants would not "proactively" be given to immigration enforcement officials, but could be disclosed if a person "poses a risk to national security or public safety" or meets other criteria for referral to Immigration and Customs Enforcement.
"Yesterday's announcement makes no assurance that this information will not be used against them — and that was not right," said Ferguson. The states will also argue that Trump violated Administrative Procedure Act by failing to meet proper rulemaking protocols.
As several states had when challenging Trump's travel ban, the states on Wednesday said they had a standing to bring the litigation because Trump's policy ensnares residents, businesses, and state institutions. Ferguson said his state obtained declarations from Starbucks, Amazon, Microsoft, and the University of Washington.
On Tuesday, immigrant rights lawyers took steps to sue the Trump administration, arguing a Mexican-born DREAMer was harmed by the policy. The plaintiff in that case had filed an earlier lawsuit related to the DACA program, and his lawyers are asking a judge for permission to amend the case to add claims that address Trump's DACA reversal.
California Attorney General Xavier Becerra said on Tuesday he is also prepared to sue the Trump administration over DACA. That action is expected as a separate lawsuit, but California officials did not immediately respond to a request from BuzzFeed News on Wednesday to elaborate on their plans.
UPDATE
Janet Napolitano, who instituted DACA in 2012 when she was secretary of the Department of Homeland Security, filed a lawsuit against the Trump administration on Friday in her official capacity as president of the University of California. Her complaint in US District Court in Northern California says the administration erred in its justification to rescind the program, and therefor violated the Administrative Procedure Act. Specifically, Trump's attorney general, Jeff Sessions, had said DACA was indefensible because a related — but different — program called Deferred Action for Parents of Americans was suspended by federal courts. "Defendants' failure to recognize the many differences between the programs renders their decision unreasonable," says the university's complaint, which asks the court to vacate DACA's rescission.
The school holds an interest in the case because it has 4,000 undocumented immigrants as students, including many DACA recipients, the complaint adds. The Trump administration violated the students' and the school's Fifth Amendment's Due Process rights "by failing to provide the University with any process before depriving it of the value of the public resources it invested in DACA recipients, and the benefits flowing from DACA recipients' contributions to the University," the complaint says. "More fundamentally, they failed to provide DACA recipients with any process before depriving them of their work authorizations and DACA status, and the benefits that flow from that status."