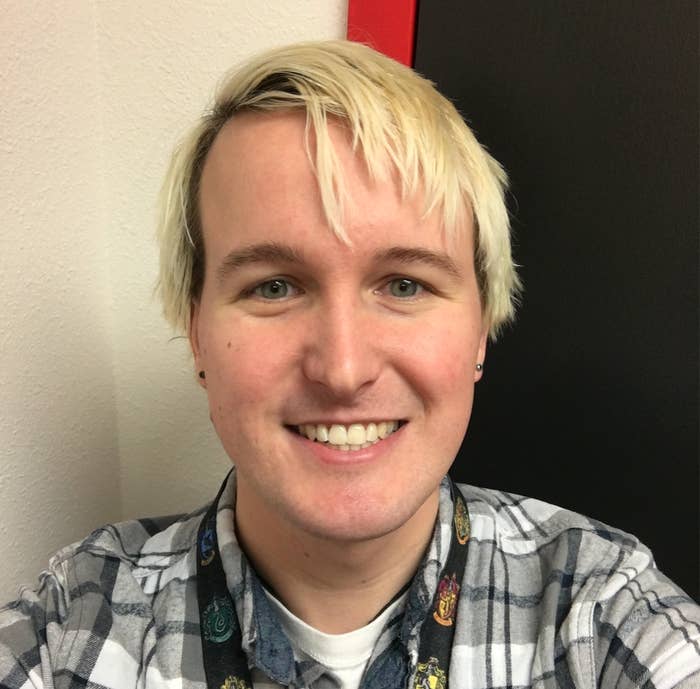 Two Democratic members of the Senate Judiciary Committee are probing a presidential nominee about his views on transgender people after his daughter, a transgender woman, accused her father of calling her a "freak in dress" who's "possessed by the devil."

Sen. Dianne Feinstein of California, the committee's ranking member, and Sen. Cory Booker of New Jersey asked Trump's nominee for US Marshal for the Eastern District of Oklahoma, Frank M. Coffman, about the allegations and his politically charged Twitter feed in a questionnaire in March.
Coffman denied the allegations in a reply submitted last week, saying his daughter is "my child whom I love very much."
"Never in my entire career spanning over 25 years of service have I demonstrated bias or prejudice against any individual or group of individuals, including those in the LGBT community," Coffman said in the questionnaire obtained by BuzzFeed News. "If confirmed, I will perform the duties of a United States Marshal in the same manner."
But Bailey Coffman, his 30-year-old transgender daughter, is trying to stop her father's nomination.
She alleges that her father made anti-transgender comments in private when she came out in 2015, which she says raises flags that he'd discriminate against LGBT people if the Senate confirms him.
"He accused me of being possessed by the devil, and corrupted by demons and society."
"He accused me of being possessed by the devil, and corrupted by demons and society," Coffman said of those conversations. "He told me you'll never be female, you're not female, and you'll only ever be a freak in a dress."
"If he feels this way about transgender people, I wonder what he would do with a case involving an LGBT person," she told BuzzFeed News, saying she felt compelled to speak out now because his views have largely been hidden from the public during his career in the Secret Service since 1998. "I worry about the bigotry he would bring to this job — if he would be fair."
She also raised the allegations to the Gayly, a blog in Oklahoma, leading the Democratic senators to ask Frank Coffman if he would fulfill his duties as a US Marshal without bias or prejudice toward LGBT individuals.
The elder Coffman has a Twitter account largely consisting of retweets of conservative pundits, retweets about football, and retweets about police killed in the line of duty.
In the questionnaire, the senators also asked Frank Coffman about his retweets that said professional sports franchises had "lost their moral compass" by supporting transgender rights, and that former president Obama's policy to allow transgender people in the military was "immoral garbage."
Frank Coffman replied in his questionnaire, "I often re-tweet tweets from a variety of individuals on a variety of issues to elicit conversation. These re-tweets are not endorsements."
The White House and Justice Department, which oversees the US Marshals Service, did not respond to requests from BuzzFeed News to comment on the allegations.
His nomination to the US Marshal Service, the primary law enforcement agency of federal courts, has been praised by Republican lawmakers in Oklahoma, including Sens. Jim Inhofe and James Lankford.
Bailey's brother told BuzzFeed News in a phone call that he does not remember their father making the anti-transgender statements. "I know it was a shock to our family," said Jacob Coffman, Bailey's brother, of Bailey coming out as transgender. He added that their dad "was just confused about whole situation. I remember my dad hugging him and saying, 'I want to understand.'"
Jacob also supports his dad's confirmation to the job. "Even if he wasn't supportive of that type of, I don't want to say lifestyle, but that lifestyle, when it comes to his job, that is not going to change anything he does in the law."
Bailey has reached out to other senators to oppose the nomination and to some LGBT groups with her story. After reading her father's response to the senators, she said, "He said those things, and my family sat there crying or shouting about how if I transition, I don't respect my family."
The Senate Judiciary Committee could vote on the nomination within the next couple months, leading transgender rights activists to question the nomination.
"These are allegations, but they deserve to be fully explored and answered before a nomination like this goes forward, Harper Jean Tobin, the policy director for the National Center for Transgender Equality, told BuzzFeed News.
US Marshals are responsible for holding suspects in custody, executing warrants, and dealing with misconduct in their own ranks, Tobin said. "Given the concerns and allegations raised by a member of the nominee's immediate family, and the inflammatory and demeaning tweets by the nominee, the burden is on him to prove that these things are not true, he does not believe these things, and he can be fair and unbiased. These minimal answers are not enough."
CORRECTION
Cory Booker's name was misspelled in an earlier version of this post.