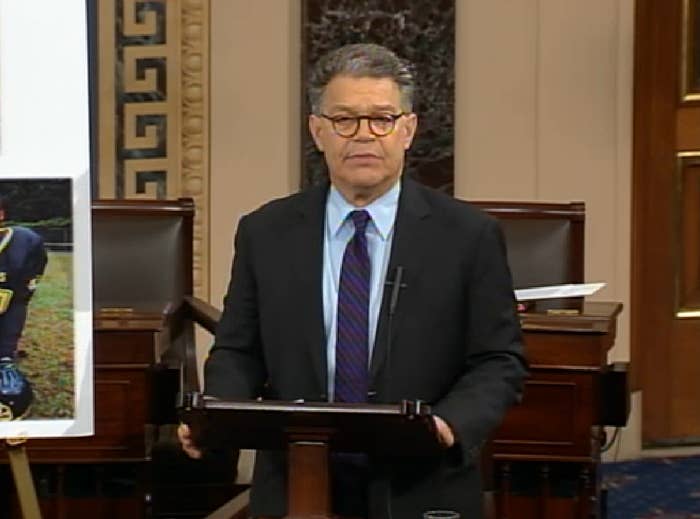 Fifty-two senators voted for an amendment Tuesday to ban discrimination against LGBT students in public schools, but the measure to amend the Every Child Achieves Act failed because 60 votes were required for passage.
"I'm tremendously disappointed in the Senate," Sen. Al Franken, who sponsored the amendment, said in a statement after the vote. "The inability to put in place meaningful protections for some of our most vulnerable children is an enormous disservice to LGBT students all across the country who face terrible bullying every day."
Four times this year now, however, a majority in the Republican-led Senate voted for a pro-LGBT measure, which could signal growing acceptance of LGBT issues. In April, 56 senators voted for an amendment that included LGBT protections for runaway youth — four votes shy of the number needed to pass.
Introduced by Sen. Franken of Minnesota, the amendment before lawmakers on Tuesday had 42 sponsors, including one Republican — Sen. Mark Kirk of Illinois. At least five more senators from the GOP — Sens. Kelly Ayotte, Susan Collins, Dean Heller, Lisa Murkowski, and Rob Portman — joined Kirk in voting for the amendment.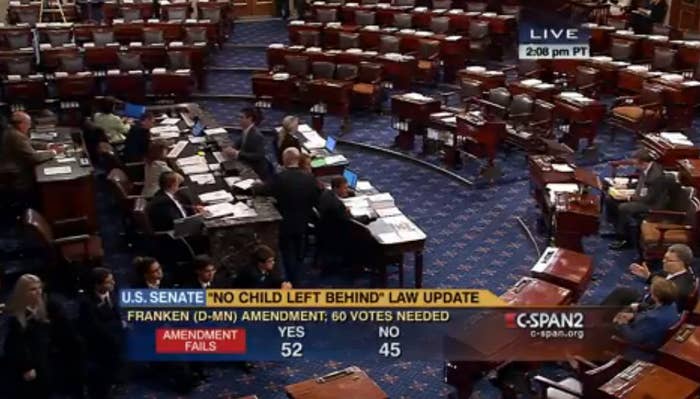 Taking his legislation to a floor vote represented a new strategy for the Democratic senator, who has tried since 2010 to advance nearly identical legislation, called the Student Nondiscrimination Act, or SNDA. That bill never got an up-or-down vote in the full Senate.

Tuesday's vote was to amend the Every Child Achieves Act, which has yet to clear if the Senate. If approved, the act must still be approved by the House.
In addition to banning LGBT discrimination on the basis of sexual orientation or gender identity, Franken's amendment would have required campus officials to intervene when an LGBT student is being bullied. It would also bar schools from retaliating if a student complains to officials.
Bullying of LGBT students is "becoming an epidemic," Franken told BuzzFeed News in an interview Monday, citing three boys who committed suicide after they were being harassed by classmates who believed they were gay. "You can't learn if you are afraid," he added.
Sen. Patty Murray, from Washington, pointed out the amendment would give LGBT students similar protections to those already on the books for students based on their race, gender, religion, disability, and country of origin.

"Since the Court's ruling," Murray said a speech before the vote that referred to the Supreme Court decision that struck down bans on same-sex couples' marriages, "this will be the first vote this body takes on legislation aimed at ending discrimination against LGBT individuals. In this case – discrimination against LGBT children in schools. Surely we can agree that a minority group of students who have long endured bullying, harassment, and discrimination deserve the same protections that we afford other groups of students."
Critics, however, expressed concerns the legislation would lead to lawsuits. One opponent of the measure, Sen. Lamar Alexander of Tennessee, said allegations of LGBT student harassment and discrimination were best handled by local school districts.