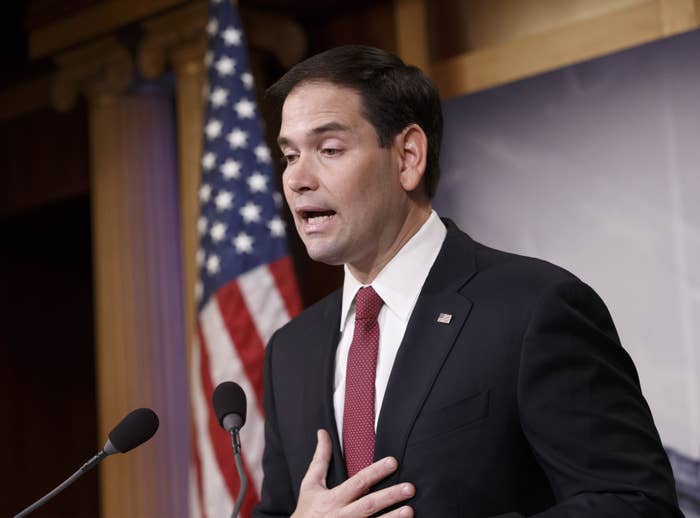 Florida's decades-old gay adoption ban boiled over in the state capitol last week — replete with an internecine power struggle between Republicans.
"We don't need to turn back the social clock in this state to 1977," said GOP State Senator Don Gaetz, making his case to repeal the ban on the senate floor Thursday. As BuzzFeed News reported, Gaetz mounted a surprising offensive against GOP colleagues trying to keep the ban on the books, dubbing the gay adoption statute both a "sleeping, comatose dead dog" and "that archaic, dusty, dead law."

But it's unclear where U.S. Sen. Marco Rubio, who announced his run for president Monday, feels about the "dead dog" in his home state. His most decisive statement on the issue appears to be from nearly a decade ago.
"Some of these kids are the most disadvantaged in the state," Rubio is quoted saying for a 2006 article in the Tallahassee Democrat. "They shouldn't be forced to be part of a social experiment."
Federal courts effectively struck down the gay adoption ban in 2010, but efforts have continued to try to keep it on the books and pass other laws that could shut LGBT parents out of adoption.
House Republicans in Florida took the opposite tack as the senate Thursday — approving a bill that would let adoption agencies turn away otherwise capable gay parents by claiming a moral or religious objection. LGBT advocates argue it would be a proxy for the gay adoption ban, using a similar approach to the controversial religious freedom laws like those passed recently in Indiana and Arkansas.
Has Rubio's position on gay parents adopting changed? Rubio's staff did not immediately respond to questions from BuzzFeed News about his position on LGBT adoption.

The year before Rubio's comment, Tufts University School of Medicine reviewed 15 studies on more than 500 children; researchers found those raised by same-sex parents were as emotionally adjusted and did not have different self-esteem as their counterparts raised by opposite-sex parents. A 2010 study of 106 families also "found no significant differences among families headed by lesbian, gay, or heterosexual parents in terms of child adjustment, parenting behaviors, or couples' adjustment."
Conservative groups, including the Family Research Council, often cite a more recent study by a University of Texas professor that says children raised by same-sex parents fare worse than those raised by straight parents — although the merits of those findings are questioned.