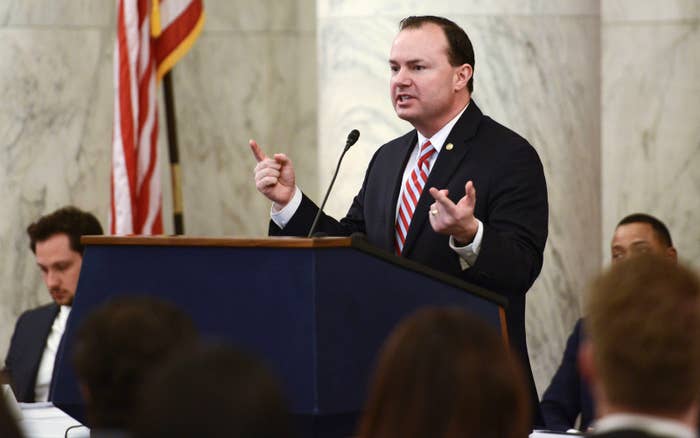 WASHINGTON — Sen. Mike Lee of Utah will reintroduce a bill next year to protect people and corporations that hold a religious objection to same-sex marriage, a spokesman for his office told BuzzFeed News, adding that the political climate amid Donald Trump's presidency will give the legislation a better shot at advancing than it had the past two years.

"Hopefully November's results will give us the momentum we need to get this done next year," said Lee's spokesman, Conn Carroll.
Trump vowed during the campaign to sign the First Amendment Defense Act, arguing it would "protect the deeply held religious beliefs of Catholics and the beliefs of Americans of all faiths."
Carroll added, "We do plan to reintroduce FADA next Congress and we welcome Trump's positive words about the bill."
The measure was filed in both the House and Senate in 2015, but only got a hearing in the House. The bill faltered amid protests from Democrats and speculation that President Obama would veto the measure if it reached his desk.
"Any effort to protect religious liberty has brighter prospects with a new Congress and new administration," said Sen. Ted Cruz.
Sen. Ted Cruz, a co-sponsor of the bill who sits on the Senate Judiciary Committee, where the bill was referred in the current Congress, believes the election results are a game-changer.

"The prospects for protecting religious freedom are brighter now than they have been in a long time," the Texas Republican told BuzzFeed News. "We are having ongoing conversations with our colleagues both in Congress and leaders in the new administration about a multitude of ways we can honor the commitment made to the voters in this last election."
The First Amendment Defense Act would ban the federal government from punishing individuals and corporations — for example, denying them a tax exemption or a grant — if they act on a "religious belief or moral conviction" that marriage is between one man and one woman. It also protects those who think "that sexual relations are properly reserved to such a marriage."
It had 172 House co-sponsors and 37 in the Senate.

This time around, Cruz said, "Any effort to protect religious liberty has brighter prospects with a new Congress and new administration,"adding that a "relentless assault" on religious liberty was a key driver for voters.
Carroll said he "absolutely" believes the bill will get a Senate hearing next year. "We made great progress last Congress, the first Congress it was introduced, the House had hearing, and we have every reason to believe the momentum will continue next year."
But LGBT groups and Democrats have insisted the measure attempts to legalize anti-gay discrimination, undermining the Supreme Court's marriage ruling last year, and may be found unconstitutional. A federal court suspended a similar bill passed by Mississippi legislature this year due to concerns it violated the First and Fourteenth Amendments.
The bill's House sponsor, Rep. Raúl Labrador of Idaho, did not respond to questions about whether he would re-file the bill. Trump's transition team did not reply when asked if the president-elect stood by his pledge to sign the bill if it reaches his desk.