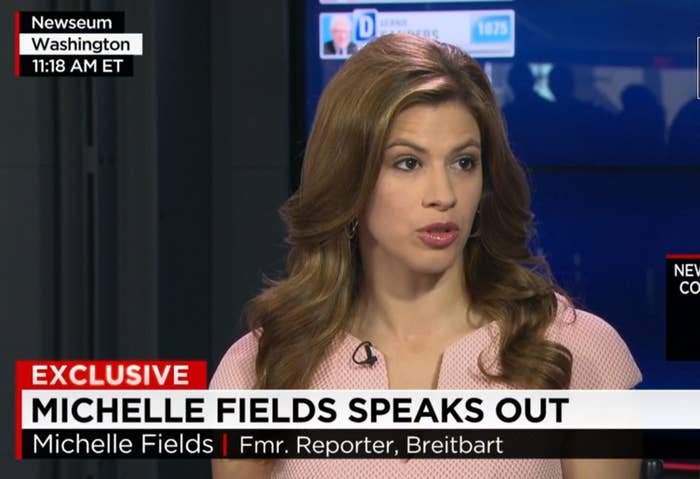 Michelle Fields, a former reporter for conservative website Breitbart News, on Sunday questioned the integrity of a Florida state attorney who declined to prosecute Donald Trump's campaign manager — even though police had charged the campaign manager with misdemeanor battery for forcefully grabbing Fields's arm at a Trump campaign event in March.

"The entire situation seems a little sketchy," Fields told CNN's Brian Stelter on Sunday.
Fields said the prosecutor and his wife had ties to Trump, including visiting his Florida estate, and she alleged the prosecutor relied on a Trump campaign ally as an expert in forming the decision to decline to proceed with the charges.
"I think the prosecutor's decision, the way they handled this whole situation, was unprofessional," she said. "I just don't agree, obviously, with their decision."
Fields also skewered Trump and his campaign manager, Corey Lewandowski, saying their attempts to discredit her story and initially deny the altercation happened — later revealed on video — amounted to defamation.
"Corey lied. Trump lied. They defamed me," she said. "And they went on this huge smear campaign against me."
On March 8, Fields attended a Trump event at his Florida estate, Mar-a-Lago, as a reporter for Breitbart. When she tried to approach him, Lewandowski grabbed her arm. She later posted photos of bruises on Twitter.
Trump's campaign initially denied that the altercation happened, saying she had made it up.
After Fields took her case to authorities, the Jupiter Police Department released a video from surveillance cameras showing Lewandowski reaching for and grabbing Fields, and said they would charge Lewandowski with misdemeanor battery.
But Palm Beach County Florida State Attorney David Aronberg on Thursday announced he would not pursue those charges because he lacked enough evidence.
"Although the facts support the allegation that Lewandowski did grab Miss Fields' arm against her will … there is sufficient evidence to presume his innocence," said Aronberg, who added "any contact was incidental and that is not contemplated under the simple battery statute which requires an intentional and unwanted touching."
The Trump campaign and Lewandowski had praised the decision, maintaining that Lewandowski had not erred.
In her interview on Sunday, Fields questioned the relationship between Trump and Aaronberg's wife, Lynn, who runs a public relations firm.
Her firm's website features a photo of Lynn Aaronberg with Trump, alongside promotional text that says that Mrs. Aronberg is "capitalizing on strong relationships." Both members of the couple two have visited Trump's estate repeatedly, Fields said.
"If I was a prosecutor and my wife was trying to monetize her relationship with Donald Trump — and it's right there on her website — and I'm partying all the time at Mar-a-Lago, I would recuse myself from the situation in the case," said Fields.

Further, Fields said the prosecution did not involve an independent source when deciding to not press charges. She claimed the prosecutor instead used "an expert that the Lewandowski camp gave to them."
Gossip Extra quoted David Aronberg as saying in March, "I know Donald Trump, I've been at Mar-a-Lago a bunch of times." However, David Aronberg also said that his relationship with the wealthy Republican contender was not an issue in the case — pointing out that he is a Democrat who supports Hillary Clinton for president.
With charges off the table, Fields said she would not rule out a defamation lawsuit against Trump and Lewandowski. "I think they were trying to defame me and I think it shows malice," she told CNN.
The Trump campaign, David Aronberg, and Lynn Aronberg did not immediately respond to BuzzFeed News' requests for comment on Fields's allegations.