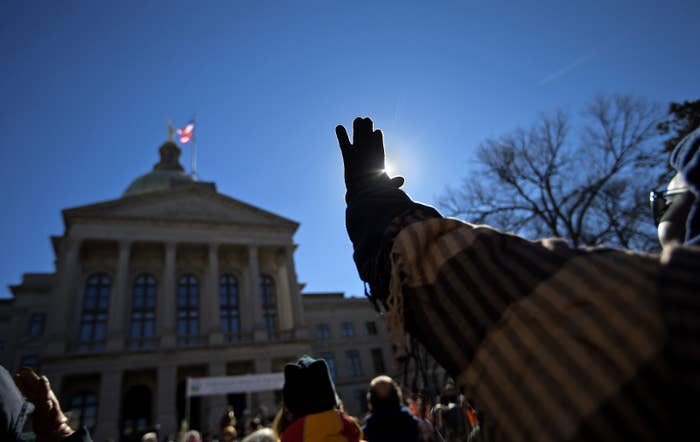 In the first legislative session after the Supreme Court ruled for same-sex couples' marriage rights, Republican-led capitols across the country are home to an unprecedented number of bills to protect religious freedom or allow people to deny services based on their faith.

At least 105 bills were filed so far this year, more than double the number in 2015, according to data from the American Civil Liberties Union.
None of this year's bills have become law — most legislative sessions are still in full swing — but bills in eight states have picked up momentum, from Oklahoma to Georgia. Several have passed out of committee, while others have passed out of the full house or senate.

Some proposals are mild, such as a bill in Florida that affirms the existing rights of clergy and churches to refuse to wed a couple.

Other bills gaining traction, however, chart new ground. A measure in Georgia would give individuals a legal defense if they refuse service based on a religious objection. A bill in Mississippi seeks to protect someone who denies marriage-related goods or declines non-emergency medical services to a transgender person. In Oklahoma, a proposal would protect adoption agencies that turn away parents, and in Tennessee, a bill would provide immunity to counselors who turn away clients.
A fifth of the bills filed this year reflect variations of the religious freedom laws approved last spring in Indiana and Arkansas.
A summary of the bills moving forward is below.
Advocates for the measures say they are resisting a tectonic encroachment on their free speech and exercise of religion — particularly in light of bans on same-sex couples' marriages being struck down this past June and nondiscrimination laws that lack exemptions for people of faith.

"Lawmakers have stepped up to shore up freedoms we have always had as Americans, because they understand those freedoms are at risk," Greg Scott, a spokesman for the Alliance Defending Freedom, told BuzzFeed News.
Scott, whose group provides support to lawmakers working on religious freedom bills, added, "The stakes have never been higher and the intentions of those who oppose religious freedom have never been clearer."
But LGBT advocates, who have been trying to stymie the bills by teaming up with pro-LGBT businesses, argue religion is being used as a guise to promote discrimination.
"As the opposition has fewer issues left to stand on, they are now turning to religious refusals, and, more dangerously, anti-transgender bills as their last stand against the LGBT community," Dan Rafter, a spokesman for the group Freedom for All Americans, said in an interview with BuzzFeed News.
As a result, he said, "The level of activity this legislative session is unprecedented."
"People are allowed to have their own religious beliefs, and that is why they are already so strongly protected, but you can't impose them on others, especially if that means denying them services — like denying access to a homeless shelter or access into a restaurant."
Georgia
House Bill 757 was among the mildest of eight religious freedom bills introduced in Georgia this year. But in a sudden twist, it transformed into a lightning rod.
The house originally passed the bill Feb. 11 as a so-called Pastor Protection Act, which would affirm existing rights of clergy and religious organizations to refuse services that clash with their faith. Those rights are widely considered already guaranteed by laws on the books and the Constitution.
However, a senate committee last week broadly amended the bill. The full senate on Feb. 19 approved a version that would also ban government from penalizing an individual or faith-based organization for acting in accordance with their religious opposition to same-sex marriage.
Rafter and other LGBT advocates contend this would give people and groups carte blanche to refuse services to gay couples, and that the bill's definition of a faith-based organizations is so ambiguous that it may encompass for-profit businesses that express a religious point of view.
But it is unclear which version, if any, will become law. Because the house and senate bills are so different, the house would need to affirm the senate's expanded version — and house leaders are holding back.
Businesses and LGBT groups have leaned on Republican House Speaker David Ralston to block the new version.
However, Kaleb McMichen, a spokesman for Ralston, told BuzzFeed News that religious conservatives also applied counter-pressure. McMichen said the house is likely to approve a compromise between the two versions of the bill before adjourning on March 24.
"Like most things," he said, "I think it is going to be somewhere in the middle."
Mississippi
House Bill 1523 is a broad proposal to protect the rights of those who oppose marriage equality — and believe sex should be restricted to married straight couples — while also protecting those opposed to recognizing the gender identity of transgender people.
The Mississippi House passed it on Feb. 19; it is now in the senate.
The 13-page measure prohibits the government from "discriminating" against people for acting on their religious convictions.
In defining "discriminating," the bill says government could not fine, withhold loans, give bad grades, refuse to hire, or take dozens of other retaliatory acts against individuals acting on their faith. The measure would protect, among others, people who deny services at a business, refuse marriage-related goods, and refuse non-emergency medical services to transgender people. The government also could not penalize a religious organization for denying housing, employment, or services.
Tennessee
Senate Bill 1556 and House Bill 1840 would give counselors and therapists immunity from liability if they refuse service to someone whose behaviors conflicts with their religious beliefs.
The senate passed its bill on Feb. 17, including an exemption in cases when clients are in "imminent risk of harming themselves or others." A house committee is scheduled to take up the measure on March 1.
West Virginia
House Bill 4012 is a Religious Freedom Restoration Act, known as a RFRA, that has passed the house and has been referred to the Senate Judiciary Committee.
Much like a federal law of the same name, the bill says the government "may not substantially burden a person's right to exercise of religion" unless the government has a compelling reason and uses the least restrictive means possible.
Twenty-one states already have variations on RFRAs on the books.
LGBT advocates have raised concern about these laws, but it is not clear they would provide a successful case against discrimination complaints — particularly those that mirror the narrowly written federal law. But, LGBT advocates say, it is unclear how the laws could be interpreted by courts.
Kentucky
A senate committee passed SB 180 on Thursday, just one week after it was introduced. The fast-moving legislation would protect people who provide creative services — such as wedding cakes or floral arrangements — and apparently override the eight local ordinances in Kentucky that ban LGBT discrimination.
Specifically, the proposal builds on the state's RFRA. It says that no ordinance or public agency shall restrict the rights of people who provide "customized, artistic, expressive, creative, ministerial, or spiritual goods or services."
As WCPO reported, "The bill comes after the Lexington-Fayette Urban County Human Rights Commission ordered a Christian T-shirt company to get diversity training for refusing to print shirts for a gay pride festival. A state judge overturned the order, but an appeals court is reviewing the case."
The bill now heads to the full senate, which some believe will vote on the measure by next week.
Missouri
Missouri lawmakers are attempting to place a constitutional amendment on the ballot with Senate Joint Resolution 39, which had its first committee hearing on Wednesday. If the bill is passed by the legislature and the amendment is approved by voters, the legislation would protect individuals and religious organizations from activities that clash with their faith.
"The state cannot penalize an individual who declines, due to sincere religious beliefs, to provide goods of expressional or artistic creation for a same sex wedding ceremony," says a bill summary, which adds that religious organizations could not be penalized for refusing to perform a same-sex couple's wedding or refusing to allow one on its property.
Florida
A couple companion bills moving through the Florida legislature would affirm the right of clergy and religious organizations to deny services based on their religious beliefs. Both Senate Bill 110 and House Bill 43 are out of committee and appear to be heading to floor votes next week.
Oklahoma
House Bill 2428 says the state could not deny contracts to religious adoption agencies — which typically receive taxpayer funding — even if they turn away parents due to a religious objection.
Specifically, according to a legislative analysis, "The measure provides that no state agency may refuse to contract or enter into an agreement with a child welfare service provider because the provider declines to provide or refer for a child welfare service that conflicts with the provider's religious beliefs or moral convictions ...."
It was passed by Feb. 16 by the Children, Youth and Family Services Committee and now heads to the full house.
Michigan approved a similar law last June.
In all of these states, Republican backers of the bills say they are intent on protecting the faithful.
Eunice Rho, advocacy and policy counsel for the ACLU, which has tracked the bills, disagreed. "The pattern is crystal clear," she said in a statement. "These bills are all aimed at chipping away at the rights of LGBT people under the false guises of freedom and safety."
Scott, from Alliance Defending Freedom (ADF), countered that people characterizing the bills as anti-LGBT "are wrong."
"There has never been a 'right' to coerce someone, particularly an artist or creative professional, to produce speech or participate in the celebration of events that burden their consciences," he wrote in an email to BuzzFeed News. "The introduction of same-sex marriage, as religious freedom and freedom of conscience advocates like ADF have long warned, has already led to a tectonic shift in many areas of law and policy related to religious freedom and free speech."