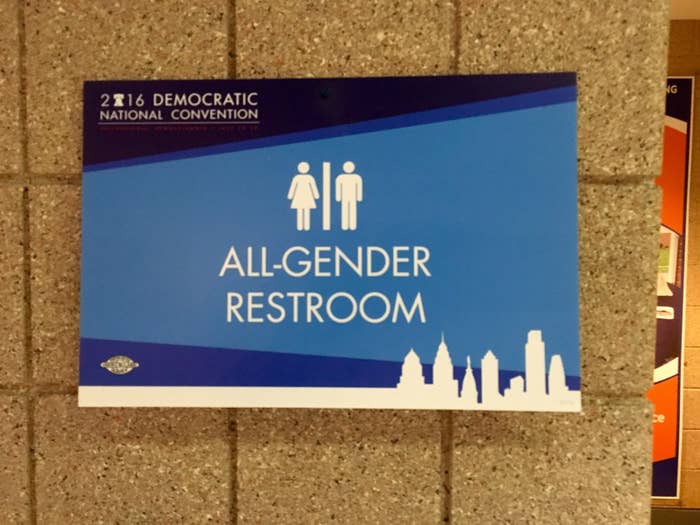 PHILADELPHIA —Hundreds of men and women shared a big, busy "all-gender restroom" at the Democratic National Convention on Monday — and were seemingly unfazed by the experience.

"It doesn't make me nervous at all," Lula Dualeh, a delegate for Bernie Sanders, told BuzzFeed News. "I just need to use the restroom. I don't care who's next to me."
But restrooms have been a hot-button issue for many Republicans. State and federal politicians have politicized bathroom access, saying that allowing transgender women — whom they call "men" — to use the women's restroom poses a safety threat.
At the Wells Fargo Center, which also had single-sex restrooms, a sign at the entrance of the all-gender restroom featured a figurine in a dress and another figurine without a dress.
Inside, everyone took turns using stalls; then women and men washed their hands side-by-side at a bank of sinks. Nobody who spoke to BuzzFeed News found the situation troubling.
A co-ed pack of conventioneers were searching for a bathroom — one restroom for the guys and another for the women — when one of the guys saw the sign and said, "It's an all-gender restroom. Let's go." The group emerged a couple minutes later. Did they have any qualms about sharing a bathroom with each other at the same time? "It was a nonevent," one woman said. "It was perfectly natural."
Republican leaders in North Carolina passed a law this year barring transgender people from restrooms that match their gender identity in government facilities, saying transgender women posed a threat to women and girls in restrooms.

Republican Sen. Ted Cruz made segregating restrooms on the basis of birth sex a campaign talking point when he ran for president this year. He appeared to argue that transgender people should be restricted to using the bathroom at home. "If a man to wants to dress as a woman, and live as a woman, and have a bathroom at home," he told reporters in April. "You don't have a right to intrude upon the rights of others."
However, So Young Yoon, a delegate, told BuzzFeed News that men in the restroom didn't feel like an intrusion at the convention — her only concern was someone moving too slowly. "I was just in a hurry," she said as she rushed back to the convention floor.