Out Transgender Airman, In Male Uniform, Attends White House Pride Reception
Granted an exception to wear a man's uniform, Senior Airman Logan Ireland and his fiancé — another trans service member — were President Obama's guests on Tuesday. Military policy, however, continues to ban out trans service.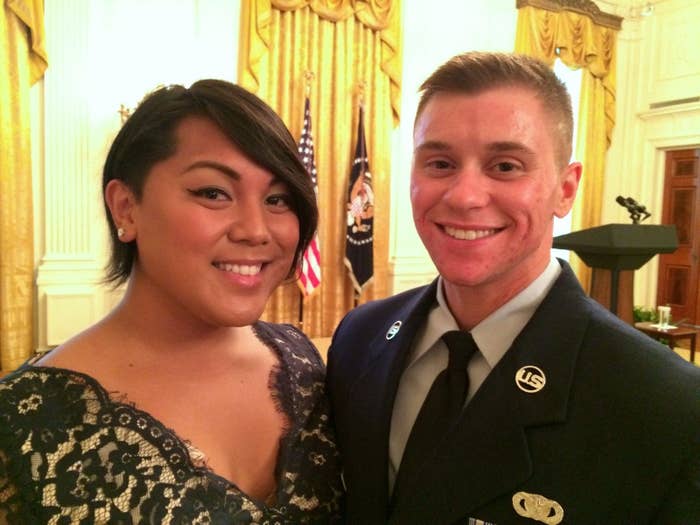 The White House took a new position in February on transgender military service: Being transgender should not be a reason to bar people from serving. President Obama seemed to inch closer to making that a reality on Wednesday, when an out transgender airman in the U.S. Air Force attended an LGBT pride reception at the White House — at the president's invitation — even though official policy still states transgender people must be discharged.
"I know that I am allowed to serve openly, and I know that the policy will be changed very soon," Senior Airman Logan Ireland told BuzzFeed News in an interview after the event.
"People at the Pentagon want this changed," he added. "They are losing valuable people and prohibiting people from enlisting."
Senior military officials are so supportive of Ireland, he said, that they put him on official orders to attend and granted him an exception to appear in a man's uniform. Yet he is one of a select few who can serve in a uniform that corresponds with his gender identity. Ireland's fiancé, Army Cpl. Laila Villanueva, a transgender woman, attended in civilian clothes.
"We are trying to make a statement to say, if you are letting me go by male dress and appearance standards," Ireland said, "then why not let my fiancé" wear the uniform that corresponds with her gender identity? "She is also active duty in the Army. And there are other people from other branches of the military who are transgender who are not able to go by the same standards I am."
Both are members of SPARTA — an LGBT service member and veterans group that had several members attend the reception by presidential invitation.
"With the inclusion of Senior Airman Ireland and Corporal Villanueva at tonight's event, the president's intent couldn't be clearer," SPARTA's policy director, Allyson Robinson, told BuzzFeed News. "It's [Defense] Secretary [Ashton] Carter's job to follow through and get the job done."

To date, the presence of Ireland and other SPARTA members at the White House was the most clear exhibit of the disconnect between the military's unequivocal regulations — transgender people cannot serve — and an administration that opposes that policy and now, in at least some circumstances, is not enforcing it.

Ireland and Villanueva — featured recently in an op-ed documentary published in the New York Times — are not the only out trans service members. Others, including Major Jamie Lee Henry and Sgt. Shane Ortega, also have come out publicly in recent months.
But Ireland was the only active duty trans service member who was specifically invited to the White House after coming out. Asked if Ireland should be discharged in accordance with current military policy, a White House spokesperson cited comments from the president's press secretary, Josh Earnest, earlier in the week.
"I will reiterate the president's view — and it's one that is shared by his secretary of defense — and it's that Americans who are qualified to serve should be able to do so, and deserve to be treated with dignity and respect," Earnest said.

The Army and Air Force have made it more difficult to discharge transgender service members this year by requiring high-level officials to take the actions, but the underlying policy itself — both branches have said — remains unchanged.
Despite the invite to Ireland, however, the topic of transgender military service was absent from Obama's address on Wednesday — as it was earlier this month when Carter addressed a Pentagon LGBT Pride Month event. In the East Wing on Wednesday, the president ticked off accomplishments for LGBT rights during his tenure — including ending "don't ask, don't tell" — and outlined goals to come.
"If he wants to say something, that's up to him," Ireland said. "He is my commander-in-chief. There are a lot of LGBT issues that go on in this world, and transgender inclusion is a policy that is going to be changed very soon. Our stories and our voices are being heard."