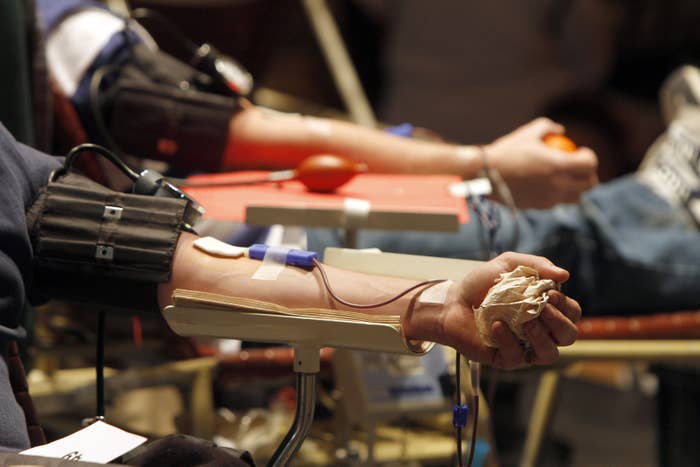 The Food and Drug Administration published a revised policy Monday that eases the United States' outright ban on blood donations from men who have had sex with men — a policy instituted in the 1983 amidst the AIDS epidemic.

The new policy states that men who have been sexually active with another man may give blood — but only if they have abstained from sexual contact with another man for 12 months or more. That condition, in effect, maintains the ban for gay men who are even somewhat sexually active.
The FDA has posted the policy, known as guidance, here.
Peter Marks, deputy director of the Center for Biologics Evaluation and Research at the FDA, said on a conference call with reporters Monday that there is "sound scientific evidence" based on a similar policy in Australia that the new guidelines will not increase HIV transmissions in the blood supply.
Men can donate blood if they have not had sexual contact with another man for 12 months or more.
However, coming after a one-year process involving public comment, the new guidelines still leave critics saying that the FDA is needlessly stigmatizing gay men and the guidance lacks scientific merit.
"The revised policy is still discriminatory," said a statement from the National Gay Blood Drive, which advocated along with the American Civil Liberties Union, Gay Men's Health Crisis, and others for a policy that approved or rejected donors based on their individual risk factors — not their sexual orientation.
"While many gay and bisexual men will be eligible to donate their blood and help save lives under this 12 month deferral, countless more will continue to be banned solely on the basis of their sexual orientation and without medical or scientific reasoning," the statement said.
FDA officials had also examined eliminating the ban altogether, using a deferral period shorter than 12 months, and assessing donors based on their personal risk factors. But Marks said HIV was too prevalent in the U.S. to eliminate the ban altogether, and not enough data existed from epidemiologically similar countries to support a shorter deferral timeframe or a risk-based assessment.
Martin O'Malley, former governor or Maryland, appeared to be the only presidential candidate commenting on the new guidelines, condemning them as "still discriminatory."
Rep. Jared Polis, Democrat of Colorado and chair of the House LGBT Equality Caucus Co-Chair, blasted the policy.

"It is ridiculous and counter to the public health that a married gay man in a monogamous relationship can't give blood, but a promiscuous straight man who has had hundreds of opposite sex partners in the last year can," Polis said in a statement.
"The FDA's own BloodDROPS survey has found that the prevalence of HIV in male blood donors who reported that they had sexual relations with men is just 0.25%, which is lower than the overall prevalence in the United States of 0.38%," Polis added. "There is no scientific reason to impose a celibacy requirement on gay men before they can donate blood."
The rule also addresses transgender donors. It says the "FDA recommends that male or female gender be taken to be self-identified and self-reported."
But on its own, that change offers little clarity to a policy that some blood banks have interpreted as a ban on all transgender donors.

One national blood donation company — facing two discrimination lawsuits from transgender women who were allegedly turned away — has argued in court records that previous FDA policy banned all transgender women. It is unclear that donors self-reporting gender, as specified by the new guidance, clarifies that issue.
Asked about the ambiguity, Marks said, "There is no ban on transgender donation through this guidance." However, Marks did not answer a question from BuzzFeed News about how the guidance makes it clear that transgender people are not in fact banned.
Whitman-Walker Health, a health center that serves LGBT people and people living with HIV, said in a statement it was "disheartened that the FDA has failed to give clear guidance to prevent discrimination against transgender individuals, which occurs too often at blood donation centers. The FDA must do better than this slow chipping away at antiquated bans."

The policy was proposed as a draft in May, with similar language to the final guidance released Monday. Responding to that draft, 82 members of Congress sent a letter to the FDA in July that said they were grateful the FDA was relaxing the ban but the one-year-deferral policy and language about transgender donors remained problematic.

"There is no scientific reason to impose a celibacy requirement on gay men before they can donate blood."
"The draft's proposed policy change would, in practice, leave the lifetime ban in place for the vast majority of [men who have sex with men], even those who are healthy ... Both deferral policies are discriminatory and not based on science, and both approaches are unacceptable," the Congressional Democrats members wrote in July.

The members of Congress also wrote they are "deeply concerned" that medical directors would be given discretion to turn away transgender donors.
"Transgender individuals often face discrimination, unfair stigma, and misunderstanding, including by some medical professionals," the lawmakers said in the July letter. Leaving discretion to staff at blood banks "increases the chance that a transgender individual will be turned away, and set the stage for discrimination."

The guidance is non-binding. However, blood donation centers tend to follow the guidance as policy, typically interpreting it conservatively.

Donation centers that move blood products across state lines will need their new procedures approved by the FDA, Marks said, but those operating entirely in-state can implement the new guidelines immediately.

Sen Tammy Baldwin, Democrat of Wisconsin, has been among the most dogged members of Congress trying to reform the FDA's blood policy.
In a statement Monday, she called the guidelines "just the first step toward ending an outdated policy that is medically and scientifically unwarranted. This revision doesn't go far enough – and I expect the FDA to maintain its commitment to work with stakeholders to develop better blood donor policies based on science."
The FDA's Marks said the agency would revisit the policy as more data becomes available to consider risk-based assessments and a shorter deferral period.

France announced in November that it would loosen its ban on blood donations from gay men starting in spring 2016. Men who have abstained from sex with men for one year will be allowed to donate; men who have had sex with just one man, or have not been sexually active, could donate after four months.
Responding to the FDA's final guidance, the Human Rights Campaign called it a step in the right direction that nonetheless fell short.
The LGBT advocacy group's government affairs director, David Stacy, said in a statement, "It simply cannot be justified in light of current scientific research and updated blood screening technology. This new policy prevents men from donating life-saving blood based solely on their sexual orientation rather than actual risk to the blood supply."