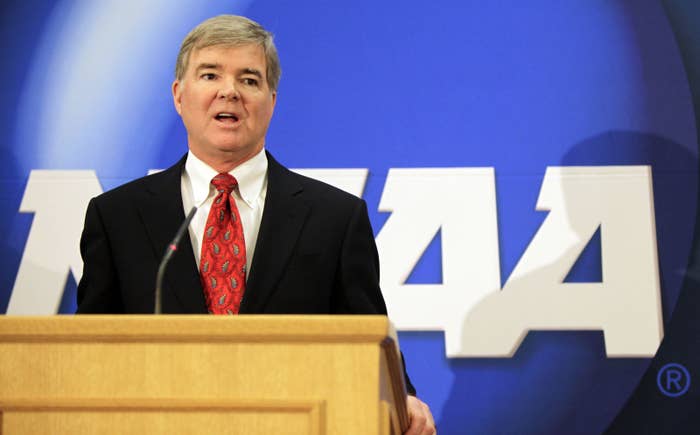 In its most blunt protest of North Carolina's anti-LGBT law to date, the National Collegiate Athletic Association announced Monday it was withdrawing all seven of its previously scheduled championship events there in the 2016-17 season and will relocate them to other states.
"We believe in providing a safe and respectful environment at our events and are committed to providing the best experience possible for college athletes, fans and everyone taking part in our championships," NCAA President Mark Emmert said in a statement.

A press release from the association said that "cumulative actions taken by the state concerning civil rights protections" fueled its decision.
On Wednesday, the Atlantic Coast Conference announced it was also relocating its championships games for the 2016-17 academic years, saying HB2 is inconsistent with its "values of equality, diversity, inclusion, and non-discrimination."
"The ACC Council of Presidents made it clear that the core values of this league are of the utmost importance, and the opposition to any form of discrimination is paramount," ACC Commissioner John Swofford said in a statement. "Today's decision is one of principle, and while this decision is the right one, we recognize there will be individuals and communities that are supportive of our values as well as our championship sites that will be negatively affected."
Encompassing sports from tennis and golf to basketball, the announcements come less than two months after the NBA said it was withdrawing its 2017 All-Star Game from Charlotte in protest of the law.
Known as HB2, the policy passed by North Carolina lawmakers in March bans transgender people from using restrooms that match their gender identity in government facilities and preempts local jurisdictions from enacting their own LGBT nondiscrimination ordinances.
Those were two of four elements that distinguish North Carolina from other states with laws that may target LGBT people, the group said.
Then NCAA explained on Twitter why the North Carolina law was uniquely objectionable:
The law has been the subject of several lawsuits; a federal judge suspended a portion of the policy in August.
The NCAA Board of Governors had telegraphed its concerns for months, including passing policy in April that says cities bidding to host the league's events must have policies in place to protect participants from discrimination.

The board followed up this summer with survey that asked prospective bidders how they would protect attendees and participants from discrimination, particularly shielding them from laws that restrict transgender people's access to restrooms
In announcing its decision to withdraw the games Monday, the NCAA said that "championships and events must promote an inclusive atmosphere for all college athletes, coaches, administrators and fans. Current North Carolina state laws make it challenging to guarantee that host communities can help deliver on that commitment if NCAA events remained in the state."
These are the NCAA games to be relocated:
2016 Division I Women's Soccer Championship, College Cup (Cary), Dec. 2 and 4.

2016 Division III Men's and Women's Soccer Championships (Greensboro), Dec. 2 and 3.

2017 Division I Men's Basketball Championship, first/second rounds (Greensboro), March 17 and 19.

2017 Division I Women's Golf Championships, regional (Greenville), May 8-10.

2017 Division III Men's and Women's Tennis Championships (Cary), May 22-27.

2017 Division I Women's Lacrosse Championship (Cary), May 26 and 28.

2017 Division II Baseball Championship (Cary), May 27-June 3.
The NCAA and ACC have yet to announce where they will relocate the games.