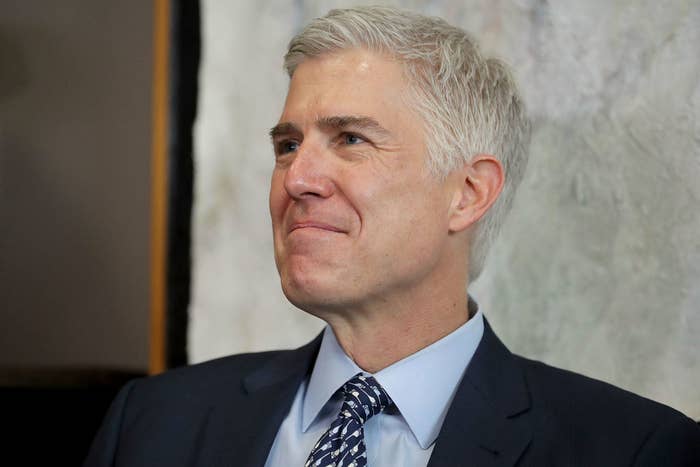 The US Senate should "interrogate" President Donald Trump's pick for the Supreme Court, several of the country's top LGBT groups said on Thursday, warning that Judge Neil Gorsuch's track record raises concerns he opposes same-sex marriage and transgender rights.

In a letter to leading members of the Senate Judiciary Committee obtained by BuzzFeed News, 19 organizations worried Gorsuch may stymie attempts to expand legal protections, saying, "We have concluded that his views on civil rights issues are fundamentally at odds with the notion that LGBT people are entitled to equality, liberty, justice and dignity under the law."
Gorsuch would serve on the Supreme Court as several LGBT cases percolate in the federal judiciary, including those asking whether transgender students and workers are protected under existing law, and if corporations are free to act based on their opposition to same-sex marriage.
The committee is set to begin confirmation hearings on Monday.
Led by Lambda Legal, one of the country's top litigators in federal courts for LGBT protections, the letter is joined by the Transgender Law Center, Transgender Legal Defense & Education Fund, and the Human Rights Campaign.
The groups note that Gorsuch, a member of the 10th Circuit Court of Appeals, has claimed to be an originalist — a legal view that interpretations of the Constitution should be fixed, based on their original intent.
"This philosophy essentially writes LGBT people out of the Constitution," the groups wrote to Sen. Chuck Grassley and Sen. Dianne Feinstein, the respective chair and ranking member on the committee.
Past Supreme Court decisions to strike down bans on gay sex and legalize same-sex marriage were based on an evolving view of who is protected by the Constitution, the letter continues. "Based on his extensive record, there can be no doubt that, had he been on the Court, Judge Gorsuch would have rejected each of these basic rights."
"Judge Gorsuch poses a significant threat to the LGBT community."
Gorsuch has never led a decision on same-sex marriage, but in a 2005 National Review op-ed, he wrote that "American liberals have become addicted to the courtroom . . . as the primary means of effecting their social agenda on everything from gay marriage" to other issues.
The groups also note that Judge Gorsuch joined an opinion rejecting a transgender woman's discrimination claim. "In that case," their letter says, "the school denied her access to the women's restroom, and claimed that it had a non-discriminatory reason for doing so unrelated to her 'sex'—'safety concerns' due to the discomfort-based complaints of other students."
Gorsuch also sided with Hobby Lobby in a case over the rights of employers to withhold reproductive health care benefits that conflict with the employer's religious views. "The Committee should interrogate Judge Gorsuch on his position in this area, as his views on 'religious complicity' go well beyond anything that currently exists in American jurisprudence."