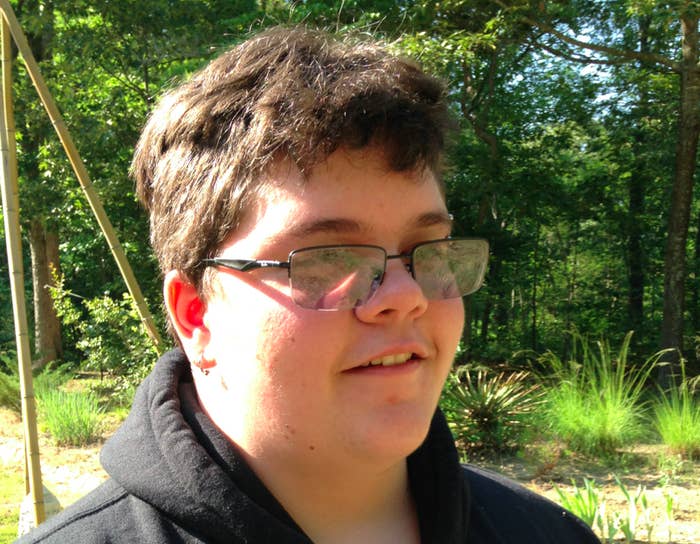 A transgender teenager in rural Virginia got a powerful ally this week in his legal fight to use the boys restroom at his public high school.

Lawyers at the U.S. Justice Department filed a statement of interest in federal court that argues the Gloucester County School Board violated Gavin Grimm's rights by passing a policy prohibiting transgender students from using restrooms that don't correspond to their "biological genders."
"Discrimination based on gender identity, including transgender status, is discrimination based on sex," Justice Dept. lawyers state in a brief filed Monday in U.S District Court in Virginia. Lawyers in the department's Civil Rights Division further argue that discrimination based on an individual's nonconformity to sex stereotypes also discriminates on the basis on sex.
"The United States has a significant interest in ensuring that all students, including transgender students, have the opportunity to learn in an environment free of sex discrimination," the brief says. "[I]t is the view of the United States that it is in the public interest to allow [Grimm], whose gender identity is male and who presents as male in all aspects of life, to use the male restrooms at Gloucester High School."
As BuzzFeed News reported, Grimm had initiated a lawsuit against his school board in June. Filed by the ACLU, the complaint asked the court to strike down the school board's restroom policy and impose an injunction that allows him to use the boys restroom when he returns to school in September.
Previously, Grimm had filed a complaint against the school board with the Justice Dept.
At the crux of Grimm's lawsuit and the Justice Dept.'s filing is Title IX of the Education Act of 1972, which bans schools that receive federal money from discriminating on the basis of sex.

By stepping into the lawsuit, the Justice Dept.'s further carves out the Obama administration's role as transgender-rights disputes grow litigious over restroom access in schools. As recently as February, federal lawyers filed a similar statement of interest in a Michigan case in which a student sued his school district.
Education and Justice Department officials also found a California middle school could not discriminate against a student under Title IX in 2013, addressing a complaint that rose from restroom use.
The Gloucester County School Board did not reply to a request for comment Tuesday. However, a lawyer for the board recently cited the decision of a federal court in Pennsylvania in a letter to the Justice Dept.

In that case, a federal judge dismissed a lawsuit in March filed by a transgender college student who raised similar arguments to those in Grimm's case. Because it is acceptable to separate male and female restrooms generally, Judge Kim R. Gibson found, a transgender student may be barred from a restroom based on his or her sex at birth.
But the Justice Dept. responds in their statement Monday that judge's reasoning was "faulty and should not be followed" because the distinction between sex and gender was "eviscerated" by a 1989 Supreme Court case on sex-based discrimination.
Instead, the Justice Dept. argues, the definition of "sex" is broad under Title IX and that "an individual's gender identity is one aspect of an individual's sex ... Consequently, discrimination on the basis of gender identity is 'literally' discrimination on the basis of sex."