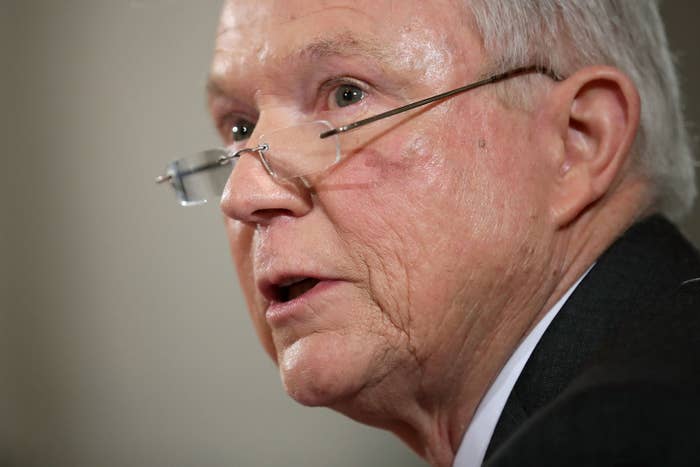 Alabama Sen. Jeff Sessions attempted to soothe concerns about his record on LGBT rights at his Senate confirmation hearing Tuesday, where Democrats fired off hours of questions targeting his qualifications to become the next US Attorney General.

"I understand the demands for justice and fairness made by our LGBT community," Sessions said in an opening statement, apparently trying to deflect criticisms before they arrived.
But Democrats drilled down.
Sen. Patrick Leahy probed Sessions on his 2009 vote against a bill that expanded federal hate crimes laws to include malicious violence against LGBT victims. At the time, the Vermont senator said, Sessions had questioned whether LGBT people experience the sort of discrimination faced by people of color and said Sessions claimed to not see it.
"That does not sound like something I said or intended to say," Sessions said at the hearing. "I've seen things taken out of context and not give an accurate picture."
"That does not sound like something I said or intended to say."
Session explained his nay vote by suggesting that he didn't see evidence states were failing to charge hate-motivated attacks against LGBT people on their own.
"My view is, and was, a concern that it appeared that these cases were being prosecuted effectively in state courts where they would normally be expected to be prosecuted," Sessions said. "Do we have a problem that requires an expansion of federal law into an area that the federal government has not been historically involved?"
Sessions said had asked former Attorney General Eric General Holder to list cases that had not been prosecuted by states in order to offer proof that the federal law — the Matthew Shepard and James Byrd Jr. Hate Crimes Prevention Act — was necessary. He said that Byrd's murder resulted in a death sentence death and Shepard's case resulted in two life convictions, both at the state level.
Questioned by Sen. Dianne Feinstein about the Supreme Court's decision allowing same-sex couples to marry, Sessions said the "majority of the court has established the definition of marriage for the entire United States of America. And I will follow that decision."
Yet he has long held a different view, voting in 2006 to advance a constitutional amendment that would have banned same-sex couples from marrying.
While he gave a nod to marriage, Sessions also made an open-ended pledge to uphold religious freedom — a broad term that many Republicans have seen as a means to protect those who oppose marriage equality.
"There are situations in which I believe we can reach accommodations that would allow the religious beliefs of persons to be honored in some fashion as opposed to just dictating everything under a single provision or policy," Sessions said. "We should recognize religious freedom. It will be a very high priority of mine."
In his opening statement, Sessions also spoke about the LGBT community directly, saying, "I will ensure that the statutes protecting their civil rights and their safety are fully enforced."
But despite the hate-crimes law, which passed dispute his opposition, there is no federal civil rights statute explicitly banning LGBT discrimination for an attorney general to enforce. Rather, for his part, Sessions voted to block a workplace nondiscrimination bill in 2013.