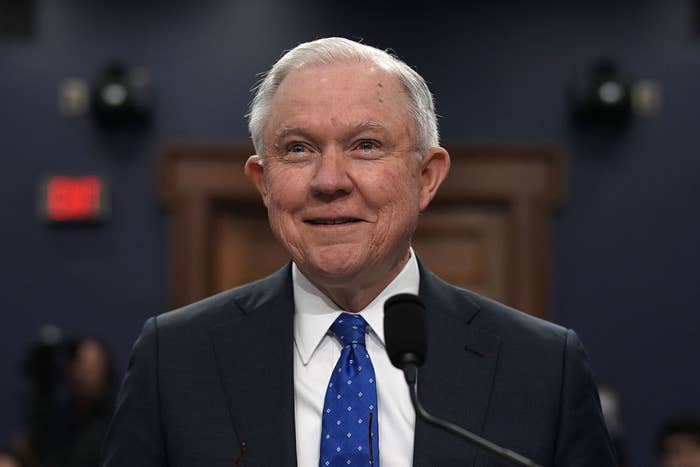 President Donald Trump blinked on Wednesday, signing an executive order that at least backs away from the administration's policy of separating immigrant families at the border — and weakening his brand as a tough nationalist. Homeland Security Secretary Kirstjen Nielsen has been forced to be the smiling face of the policy — and the policy change. Federal lawyers and law enforcement at the border were stuck figuring out what to do next.
For Attorney General Jeff Sessions and his former aide, White House adviser Stephen Miller, though, it wasn't a bad week. They have, by and large, done exactly what they set out to do.
Sessions had masterminded the latest fracas, being transparent about his plans to take children from their parents long before his orders bore fruit on the nightly news. He announced a "zero tolerance" policy first on April 6 and elucidated it in two speeches May 7.
The attorney general said in Scottsdale, Arizona, and at a press conference later that day in San Diego, "If you are smuggling a child, then we will prosecute you and that child will be separated from you as required by law."
"If you don't like that, then don't smuggle children over our border," he threatened.
But once networks were broadcasting footage of brown toddlers wailing in cages, Sessions had slipped mostly into the background.
The Justice Department announced Tuesday, Wednesday, Thursday, and Friday mornings that Sessions had "no scheduled public events" those days.
The focus and blame fell overwhelmingly on Trump and Nielsen, while Sessions faded away. Nielsen spoke at length in a White House press briefing Monday (the appearance was described as an "absolute mess" and "total disaster"), only to be heckled out of a Mexican restaurant in Washington, DC, the next night.
Sessions did appear on Fox News for an interview Monday with Laura Ingraham, who gently lobbed softball questions (could Trump end this with a phone call?), which Sessions punted. He certainly could have ballyhooed that he incubated the policy, which was popular with Trump's xenophobic base (a Quinnipiac poll and a CNN/SSRS poll both found solid Republican support for separating the kids). Sessions could have run a victory lap.
Instead, he made a tiny splash of news in the nine-minute segment with Ingraham by saying — astonishingly — that the difference between the child separation policy and the Holocaust is that "in Nazi Germany, they were keeping the Jews from leaving the country" (not trying to deport them).
But Sessions didn't need the limelight — he had directed the show.
Hardliners like Sessions and Miller, like the former White House adviser Steve Bannon, want more than just a wall. They have relished in a two-pronged strategy of creating calamities for immigrants — and a subsequent liberal uproar — while staging deportation dramas that shock onlookers abroad.
Trump's first travel ban had exactly this effect when it took effect immediately and unexpectedly on a Friday afternoon in January 2017, months after Trump threatened a Muslim ban as a candidate and days after he took office. The fallout that weekend reportedly delighted Bannon as it instigated wall-to-wall TV coverage of "snowflakes" protesting in airports while despondent travelers were held at airports or not allowed into the country.
So by this Wednesday, Sessions was mostly quiet and Trump was being sandblasted by criticism, forcing the president to wrestle with his reputation as a strongman.
"The dilemma is that if you're weak, if you're weak, which some people would like you to be — if you're really, really pathetically weak, the country is going to be overrun with millions of people," Trump said in a meeting of Republican lawmakers Wednesday. "And if you're strong, then you don't have any heart. That's a tough dilemma. Perhaps I would rather be strong, but that's a tough dilemma."
Trump — under crushing pressure — chose "pathetically weak."
His executive order instructed Sessions to expedite cases of unauthorized immigrants with children, and further decreed that Sessions must ask the US District Court for the Central District of California to modify a 1997 settlement agreement so that the government could "detain alien families together."
In the aftermath of Trump's order, Sessions lied in an interview with the Christian Broadcasting Network interview, claiming that "we never really intended" to be "separating families."
But Sessions is still getting mostly what he wants: Defense attorneys reported that families were still being broken apart at the border, while, in contrast, a judge said federal prosecutors weren't even bringing charges. The whole situation remains, in other words, an emotional drama.
Trump's decree could be seen as a diss to Sessions and to Miller, who had pressed for the child separation policy inside the White House and had insisted to the New York Times that the president wouldn't budge.
"There is no straying from that mission," Miller told the Times, days before Trump strayed from the mission.
But Sessions and Miller are prevailing — their policy remains largely intact for now. More importantly, Sessions' original threat from May came true, and the images of kids in captivity are seared into the global consciousness. Even if the settlement modification is approved by the court, Sessions wouldn't likely see indefinite detention of immigrant families as a loss.

Sessions, who is resilient to Trump's insults and slights, remains at the helm of the Justice Department and lives to fight another day. And as long as he is there, he can keep implementing more policies like this, which shape the country, while Trump and the rest of the administration take the beating.