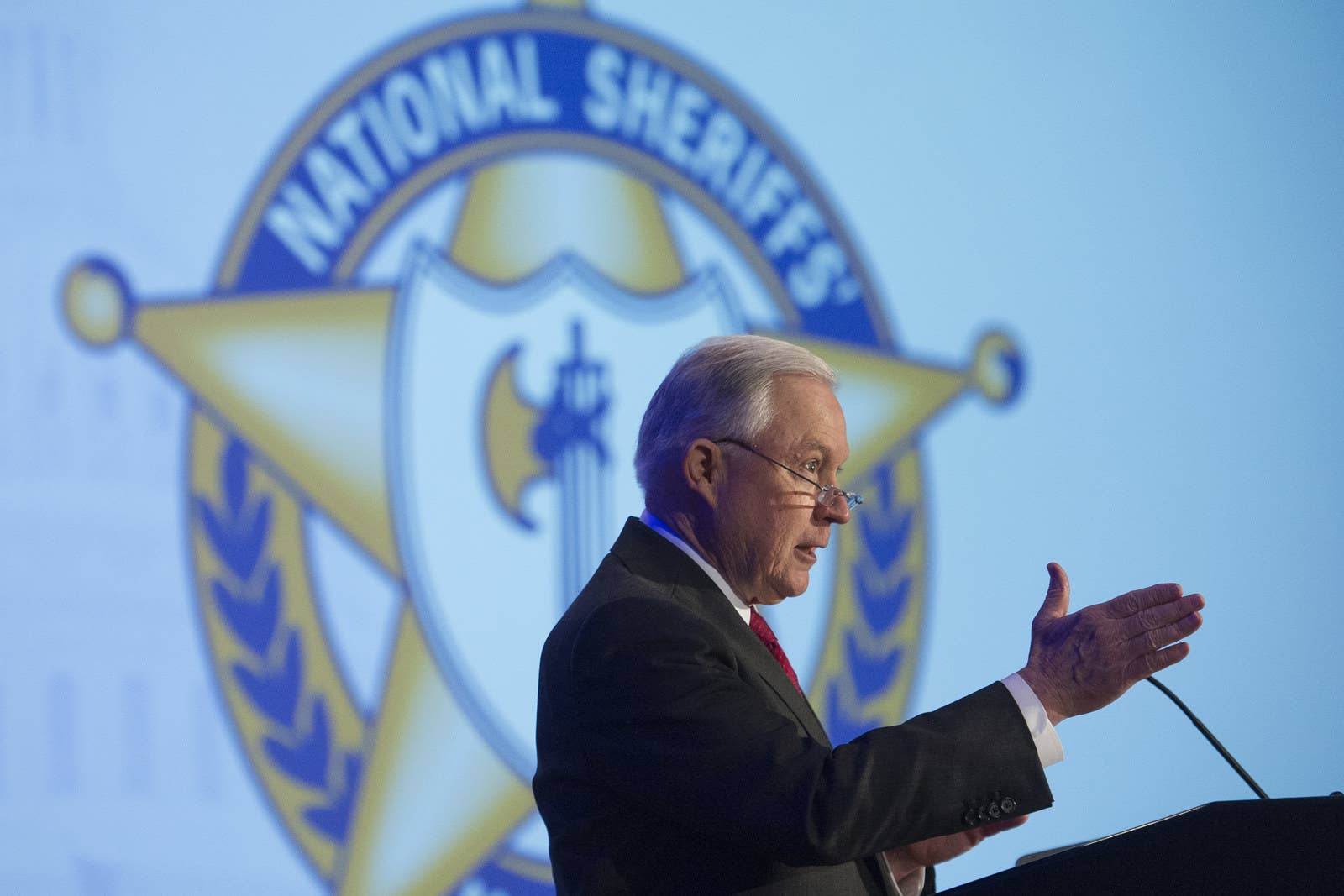 When Congress approved spending for the 2017 fiscal year last May, $254 million went to the Edward Byrne Memorial Justice Assistance Grants, the federal government's primary means to help fight crime at the local level. It was due out for more than 1,000 jurisdictions by Oct. 1.
Yet more than six months later, Attorney General Jeff Sessions refuses to distribute the cash, part of a strategy to exact punishment against a couple dozen sanctuary districts that have stymied the Trump administration's deportation efforts.
But BuzzFeed News has found Sessions' war is catching hundreds of other police departments and agencies in the crossfire — even though their jurisdictions don't have any sanctuary policies.
In more than a dozen interviews this month, police officers, sheriffs, and state officials said they've been forced to reduce staff, curtail programs, or not purchase equipment — in some cases suspending criminal investigations — because Sessions is sitting on their money.
Ironically, the hardest hit are lower-population counties and states, where many officials share Sessions' hardline views on immigration and drugs. But owing to their smaller tax bases, these areas lack rainy day funds to backfill the overdue grants.
The impacts are piling up in Republican strongholds like Nebraska, where state officials say paychecks for highway patrol troopers and drug detectives will soon be in jeopardy, and other programs to reduce crime have been cut. Drug task forces are being depleted in the western US, where officials say they've been forced to shelve drug investigations despite a national opioid crisis.
Law enforcement officials said they resent being punished for a dispute they're not involved in, since they actively cooperate with federal immigration agents, particularly when they want to advance the same anti-crime goals as Sessions.
Sheriff Mark Nelson was in the ballroom with Sessions when the attorney general spoke at the February conference of the National Sheriffs' Association in Washington, DC. Sessions pledged to support local officers, saying, "We have your back," and ticking through shared priorities like drug overdoses and and violence.
But it chafed Nelson, who's been waiting on $115,000 critical to funding his drug task force in Cowlitz County, which has the highest overdoses death rate in Washington state.
"There are cases we haven't been able to work on," said Sheriff Mark Nelson.
"The attorney general talked about support for law enforcement and efforts in the opioid crisis, but we can't get the promised financial assistance," Nelson told BuzzFeed News this week.
His drug task force, in a largely rural county, has been forced to deactivate investigations and may need to disband by June because of the delayed grants, he said. "There are cases we haven't been able to work on," he explained, saying he's been able to stave off the worst impacts for now. "It's going to end up shutting down our operations. It's frustrating to hear, 'We're behind you' and 'We support you,' but then get stonewalled."
Sessions has alleged about 30 jurisdictions have sanctuary policies — including New York City, Los Angeles, Chicago, and California. He threatened last July to withhold the JAG money, as it's known, unless they agree to notify federal agents when an undocumented immigrant is in custody and hold the inmate in jail.
A US District Court judge in Chicago struck down those two grant conditions on Sept. 15. Although Sessions asked to overturn that decision at the 7th Circuit Court of Appeals, that court also ruled against him on Thursday. The Justice Department did not immediately announce its next steps.
Jonathan Thompson, executive director of the National Sheriffs' Association, said he's heard sheriffs' offices are struggling in Oklahoma, Arizona, Georgia, and New York. One jurisdiction can't replace squad cars, he said, while a another had to remove three deputies from a drug task force.

"The fact of the matter is, these funds make or break the nation's ability to interdict criminal activity, human trafficking, drugs, and violent criminal behavior," Thompson said. "Radios wear out, cars wear out, and so do people if you can't pay them."
Many local jurisdictions have tried to ameliorate the worst impacts by cobbling together reserve funds. But in phone conversations, officials predicted the wholesale termination of crime-fighting and anti-recidivism projects if the Justice Department doesn't change course this year.
Lisa Stamm, grant director at the Nebraska Commission on Law Enforcement and Criminal Justice, added, "The bottom line is that Nebraska is being impacted now, and we have been for months, not only in rural communities, but urban."
"We have already felt the impact," she said. "It's very sad."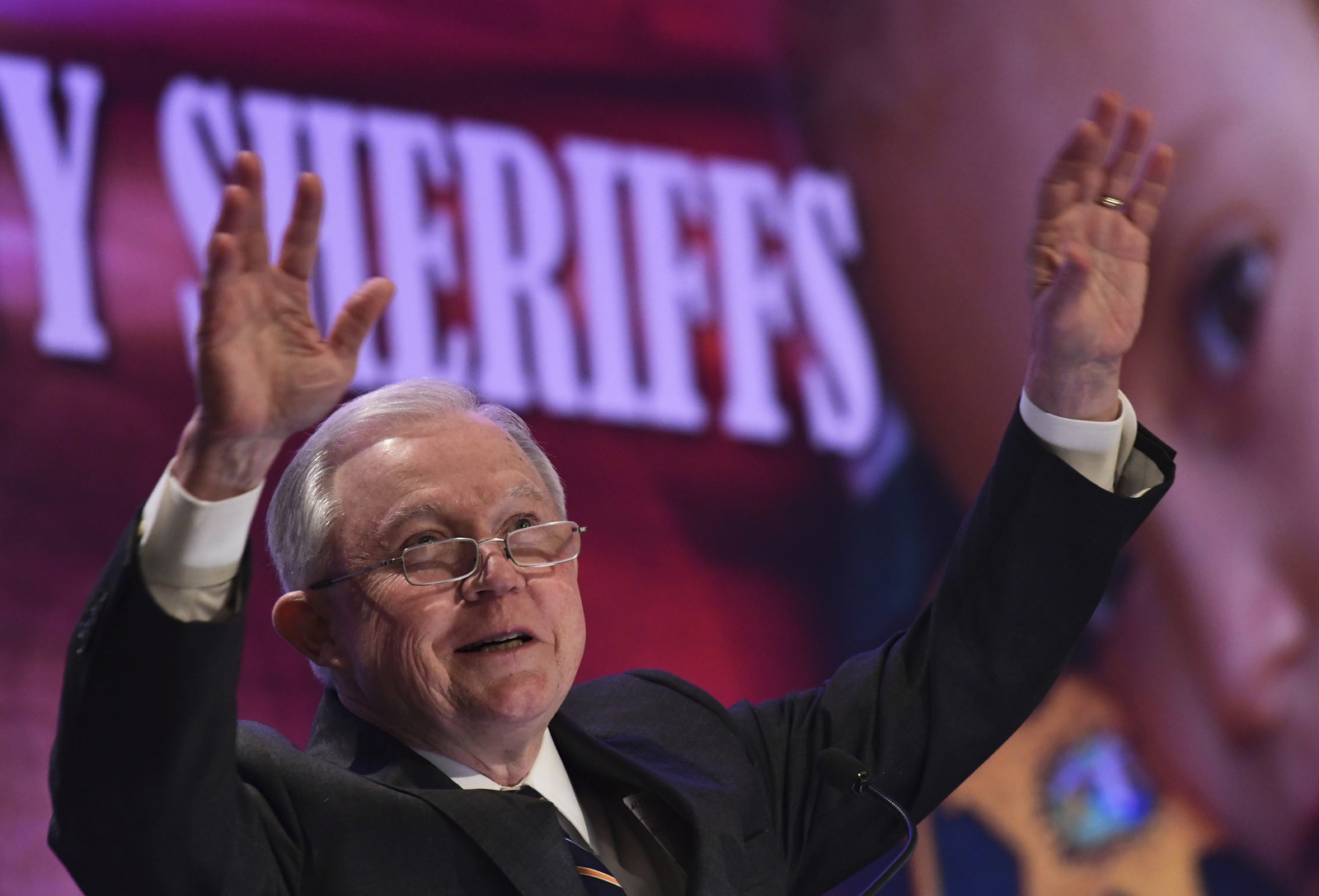 Many local officials say the Justice Department has left them in the dark, or claimed that the court proceedings prevent the funds from being released. A Justice Department official told BuzzFeed News, "Byrne JAG award distribution has been delayed because of pending litigation and a nationwide injunction." Thompson, from the National Sheriffs' Association, also blamed courts and sanctuary jurisdictions for freezing the money.
However, the Justice Department can give out the funds now.
Per US District Court Judge Harry Leinenweber's Sept. 15 order, Sessions simply cannot make the funds contingent on local officials agreeing to notify federal authorities when an undocumented immigrant is their custody, or holding those inmates in jail for 48 hours until federal agents arrive.
BuzzFeed News asked the Justice Department several times to cite any court mandate that prevents the agency from giving out the cash, particularly to those departments that lack a sanctuary policy. Officials did not reply.
In contrast, the Justice Department wrote in a brief to the US Court of Appeals for the 7th Circuit on Oct. 13 that it was the department's "choice" to withhold the funds if the Sept. 15 injunction was left in place — which it has been.
"Absent a stay," lawyers for Sessions wrote, "the Department of Justice will be faced with the choice of delaying awards, to the detriment of states and localities across the country, or else forgoing grant conditions intended to guarantee that the incarceration of aliens by states and localities does not impede the federal government's efforts to enforce the immigration laws."
Still, several local officials told BuzzFeed News they believe the Justice Department's claims that the case out of Chicago prevents the JAG money from being dispersed.
Sheriff Mike Bouchard from Oakland County, Michigan, said the delayed money is "concerning and a bit frustrating," but he said he appreciated Sessions' support on other matters — including working alongside agents from the Drug Enforcement Administration and the FBI. "We understand some of the battles he is having to uphold the laws of the county," he said of the sanctuary lawsuit. "We believe that the attorney general has been incredibly helpful and supportive."
Officials in sanctuary jurisdictions, including Chicago and Los Angeles, have countered that by declining to help deportations, they're better able to connect with immigrant communities and keep their cities safer.
"If there are areas not complying with the law, they should be dealt with differently," said Sheriff Mike Adkinson, president of the Florida Sheriffs Association.
While that debate falls along largely partisan lines, a call to release JAG money brought together House Democrats and Republicans last December, when they urged Sessions to release the funds in a letter. House staff told BuzzFeed News the Justice Department never wrote back.
The delayed funds have also been noted by advocacy groups, including the Center for American Progress, and the news site Slate. But it's been a challenge to get a full scope of the impacts.
Congress appropriates the JAG funds in each annual budget based on each jurisdiction's population and crime rate. It apportions money directly to larger cities, like Chicago, while entrusting states, like Illinois, to hand down the cash to smaller subdivisions. The Justice Department, which is entrusted with dispersing the money, notified juridictions last year that their grants were approved.
Local authorities told BuzzFeed News the grant does not typically fund full-time positions, but rather tends to cover overtime, equipment, and contracted projects with private organizations.
In many states, the disbursements allow sheriffs' offices to host drug task forces — which are multi-agency endeavors typically consisting of city cops, county deputies, state patrol, and DEA agents supplied by the Justice Department. The JAG funds can help pay the office's rent, cover clerical staff, and provide overtime to officers so they can conduct investigations.

In Snohomish County, Washington, where officials interdict a channel of meth and heroin traveling through the I-5 corridor about an hour south of the Canadian border, the missing JAG funds has cost the team a detective. Mark Richardson, acting commander of the drug and gang task force, said that he's unable to replace an officer who retired.
"I need to save save money I would have had from the JAG grant," he said. "I'm just not going to rehire that person. There will be fewer drug investigations."
Walton County Sheriff Mike Adkinson, president of the Florida Sheriffs Association, said he's concerned for smaller agencies in Florida that rely on JAG funds to buy Tasers, body cameras, and bulletproof vests. "We already planned," he said, "and now there's no funding. It's a point of frustration and concern. This grant happens every year, so nobody ever anticipated it being held up like this."
"If there are areas not complying with the law, they should be dealt with differently," he said, adding that Florida counties don't have sanctuary rules. "For all these law enforcement communities complying with the law, we believe it would be appropriate to disperse this funding."
Stamm, in Nebraska, said that cuts could reach the state administration by year's end if the JAG funds don't shake loose. "I don't think it's going to come any time soon," said Stamm. "I could be laid off, and the programs would be stopped — that worries me more than my job."