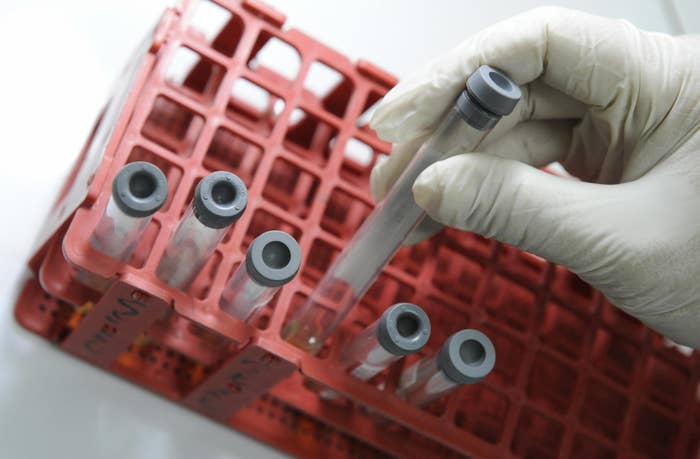 A new Center for Disease Control report found that a porn actor likely infected another performer with HIV while having condom-less sex on a gay porn set — leading the agency to warn that testing alone is insufficient to prevent the virus's spread in the adult entertainment industry.
The agency advised performers to wear condoms and consider taking a drug that can prevent transmission.
The incident involved a 25-year-old man who had tested negative for the virus in 2014, the CDC said in the report released Friday. Over the following weeks, the man had bareback sex with 17 other men — 12 performers and five non-work partners.
Referred to as Patient A, the man had apparently contracted HIV from a non-work partner, the report found, but HIV tests do not necessarily detect recent infections.

"The performer, having tested negative by nucleic acid amplification test within the preceding 14 days, and unaware of his very recent HIV infection, infected another performer and a non–work-related partner," the report 's summary explained.
All four of the men were found to have a highly genetically related versions of HIV.
"This is the first well-documented work-related HIV transmission among male adult film performers," the CDC said.
Patient A had a negative test shortly before he performed in a shoot, but in the 22 days between that test and finding that he was HIV positive, he was in two productions. None of the the actors in the first production was found to be infected, but an actor from the second production was infected. Patient A was showing symptoms during the second shoot.

"Patient A likely subsequently infected both a coworker during the second film production and a non–work-related partner during the interval between his negative test and receipt of his positive HIV results," the report found.

Neither production company is named in the report.
None of the men in involved, including those who did not contract the virus, were taking preexposure prophylaxis — a drug treatment known known as PrEP.
Approved in 2012, PrEP is at least 92% effective at warding off new HIV infections when taken every day, and the CDC recently recommended it for one out of four gay men.

"Adult film performers and production companies, medical providers, and all persons at risk for HIV should be aware that testing alone is not sufficient to prevent HIV transmission," doctors for the CDC wrote.
"Condom use provides additional protection from HIV and sexually transmitted infections," they added. "Performers and all persons at risk for HIV infection in their professional and personal lives should discuss the use of PrEP with their medical providers."
HIV transmission has also been documented in straight porn. In 2013, a female performer was infected with HIV. The Free Speech Coalition, a Southern California-based adult industry group, called for a production moratorium after learning a performer tested positive for HIV.