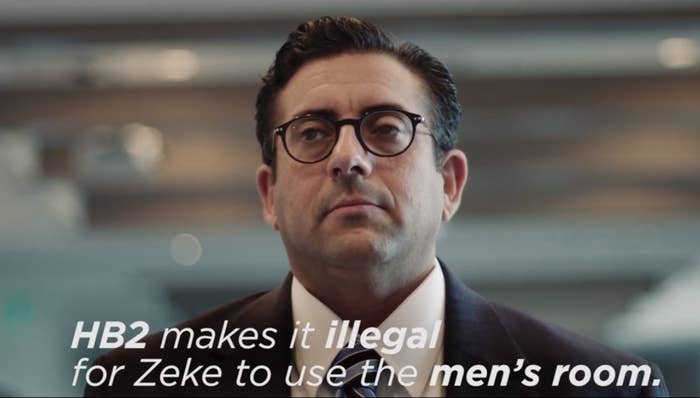 In a shift of tactics, a national LGBT group's new commercial features a transgender man front and center in a 60-second spot criticizing North Carolina's law that says people can only use restrooms in government buildings that reflect their birth sex.

It focuses on Zeke Christopoulos, a transgender man who discusses his gender transition with two colleagues and decries the law that mandates he use the women's restroom.

Matt McTighe, executive director of Freedom for All Americans, which produced the commercial, told BuzzFeed News on Monday, "This is clearly a piece that has been missing. We need to humanize this issue, and to educate people on who transgender people really are."
"It shows a different approach," he added.
National LGBT groups have had an incoherent strategy for representing transgender people in heated policy debates — even when transgender people and their rights are at the very crosshairs of criticism.
Specifically, LGBT advocates have faced blistering attacks arguing that if LGBT discrimination were banned — letting transgender people use restrooms corresponding to their gender identity — they will prey on women in public restrooms. Last fall in Houston, the specter of "men in women's bathrooms" was the driving force of an effort to repeal the city's LGBT nondiscrimination ordinance. That attack continued through this weekend, when Ted Cruz criticized those who think "grown men should be allowed to use the little girls' restroom."
But LGBT groups largely avoided talking about transgender people or restrooms in Houston, instead pivoting to broad themes in their TV ads about fairness there — particularly about veterans. The LGBT campaign in Houston, which was backed by the Human Rights Campaign and Freedom for All Americans, lost in a landslide.

Now — with the transgender bathroom argument getting national attention in the wake of the North Carolina law — McTighe believes that an "evolution, not a shift" of tactics requires confronting the opposition's messages more directly. That involves putting transgender people in mass-media campaigns and attempting to reframe the issue from there.
Appearing alongside Christopoulos, Patricia Hickling Beckham notes she was briefly uncomfortable when she learned Christopoulos was transgender. But she then notes the paradox of a law forcing him to use the women's restroom.

"A law that forces Zeke to use the women's restroom is totally inappropriate," Beckham says in the ad, which does not specifically address the issue of predators in restrooms.
McTighe expects the spot to run on cable starting next week, part of an effort to influence North Carolina lawmakers and the general public during the current legislative session.

Like other Republican leaders in the state capitol, Gov. Pat McCrory has consistently referred to transgender women as "men" who pose a threat in public restrooms. However, in 17 states and more than 200 cities that protect transgender people in public facilities, there are no documented cases of nondiscrimination laws being used to promote or defend predatory behavior in restrooms.
McTighe said that the ad is based on research conducted in focus groups and online audiences last fall. The organization found people were inclined to support LGBT rights after seeing transgender people with co-workers.
"In Zeke's case, he is a transgender man — he is a man — and it's clear what bathroom he should be using," McTighe said. "And the flip side of this law in North Carolina is that it would force him to use the women's bathroom. It's absurd, not to mention has enforceability problems."

Much like same-sex marriage advocates found they could counteract criticism about gay lifestyles being taught in schools with narratives about loving couples, he said, campaigns for LGBT nondiscrimination are slowly figuring out messages to respond to attacks over transgender women in women's bathrooms.
"We needed an additional way to frame this issue that is more personal and more powerful than the attacks that our opponents are throwing at us," McTighe said. Still, he said, "There is a lot more research that needs to be done, but we are really starting to figure out how to engage on this issue."