Major Corporations Reject Compromise On LGBT Rights In Indiana
They reject any compromise — including one being discussed by Gov. Mike Pence — that would allow discrimination in places of businesses. After the state's reputation was sullied by backlash to a religious freedom law, business leaders say expanding LGBT rights can attract top talent.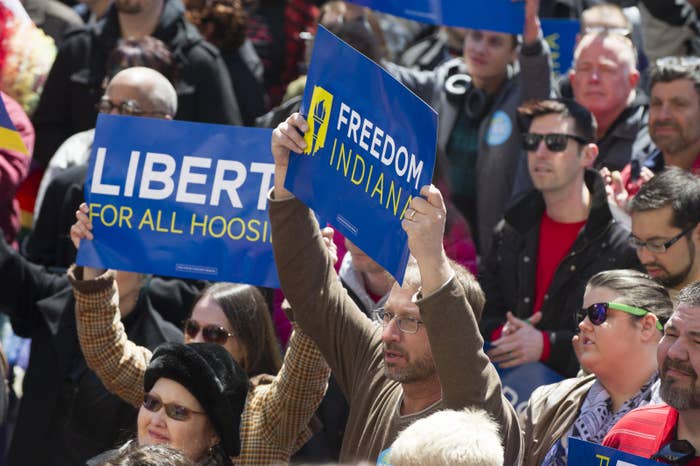 Less than eight months after Indiana was excoriated for passing a far-reaching religious freedom law — widely seen as a permit for business owners to turn away LGBT customers — business leaders in the state are trying to swing the pendulum the other direction.

Major corporations and business groups based in Indiana — including pharmaceutical company Eli Lilly, Cummins Engine Company, the Indianapolis Chamber of Commerce, and a coalition of tech companies — are pushing for a broad civil-rights law to protect people from discrimination on the basis of gender identity and sexual orientation, according to officials who spoke to BuzzFeed News.
They insist that such laws must protect LGBT people in housing, jobs, and public accommodations.
But the businesses may find themselves at odds with Republican Gov. Mike Pence, one of the religious freedom law's prime backers. (Shortly after the law was passed and drew national backlash, Pence signed a so-called fix bill that said the law could not be used to discriminate against LGBT people.) He has since been floating a trial balloon for compromise legislation that would lack coverage in places of accommodation – thereby allowing LGBT discrimination by businesses such as in hotels and restaurants, according to BuzzFeed News interviews and local media reports.
The carve-out is called a "Utah compromise," referring to a nondiscrimination law there that lacks coverage for public accommodations. But spokespeople for business groups and companies in Indiana that back a comprehensive law said they reject a compromise out of hand.
"We would not accept a bill that lacks coverage for public accommodation," Eli Lilly spokesman Ed Sagebiel told BuzzFeed News.
The global drug maker, based in Indianapolis and with more than 11,000 employees in the state, may have particular influence on the governor. Eli Lilly's political action committee made six contributions totaling $31,550 to elect Pence 2012, according to state election records. Since then, it has banked another $15,000 to reelect him next year — however, it hasn't given a penny since Pence signed the religious freedom bill into law this spring.
Eli Lilly's CEO and other business leaders recently met with Pence to speak broadly about the situation and other issues, Sagebiel said. They did not address the specifics of possible bill, he said, but said Eli Lilly's position is unequivocal.
"We would not support anything that attempts to carve out exemptions to pubic accommodation beyond the existing religious exemptions in Indiana law for religious institutions and ordained clergy from the existing Indiana civil rights law," Sagebiel said.
Nineteen states have some sort of law banning LGBT discrimination, while no federal law exists to protect people on the basis of sexual orientation or gender identity. Several municipalities in Indiana have such a policy, but none exists statewide.
Pence is trying to secure to his reelection next year by quelling the religious-freedom blowup. His approval rating has sagged in recent polls, showing that most voters disapprove of his role in the religious freedom controversy.
He could burnish his moderate image by helping pass a nondiscrimination bill. However, striking a compromise could neutralize conservative hardliners who may try to challenge him in the primary election.

But many the business community believe trying to find a middle ground is simply bad for business.

"We would not support anything that attempts to carve out exemptions to pubic accommodation."
"People who have spent time in Indiana know we are welcoming place," Mark Fisher, vice president of government relations and policy development at the Indianapolis Chamber of Commerce, told BuzzFeed News. But after this year's bruising battle over the religious freedom law, he lamented, "people who have not spent time here may have come away with a negative perception. It may have reinforced stereotypes some people held."

Fisher's group represents roughly 2,000 business, employing about 225,000 people, and he worries that perceptions about Indiana being hostile to LGBT people could repel financial investments and stifle recruitment.

"We feel that it was pretty obvious during the Religious Freedom Restoration Act discussion that what could be seen as half measures, or as a compromise, could make matters worse," he said.
Jon Mills, a spokesman for Columbus-based Cummins, a Fortune 500 company that employs 54,000 people globally, said in phone interview that his company also opposes a compromise bill and is scheduled to meet with Pence soon.
"If you look at Indiana," he said, "we are a state that in some people's minds may be at a disadvantage. We don't have a coast and we don't have mountains, but we can build an environment that is welcoming and attractive to companies that are cutting edge. And in order to get and retain the best talent, we need an open and inclusive environment. And there should not be any exceptions to that."
Pence hears an equally staunch line from Bill Oesterle, who runs Tech For Equality, a coalition that includes Salesforce, Angie's List, NextGear, Mobi, OurHealth, and PolicyStat, and other Indiana companies. He told BuzzFeed News a Utah-style compromise "is a nonstarter for all of the businesses I represent."
"The 30 organizations we represent are united and exist as a coalition only for the purpose of passing civil rights legislation that covers employment, housing, and public accommodation," Oesterle said. "There should be no exceptions in any of those three areas."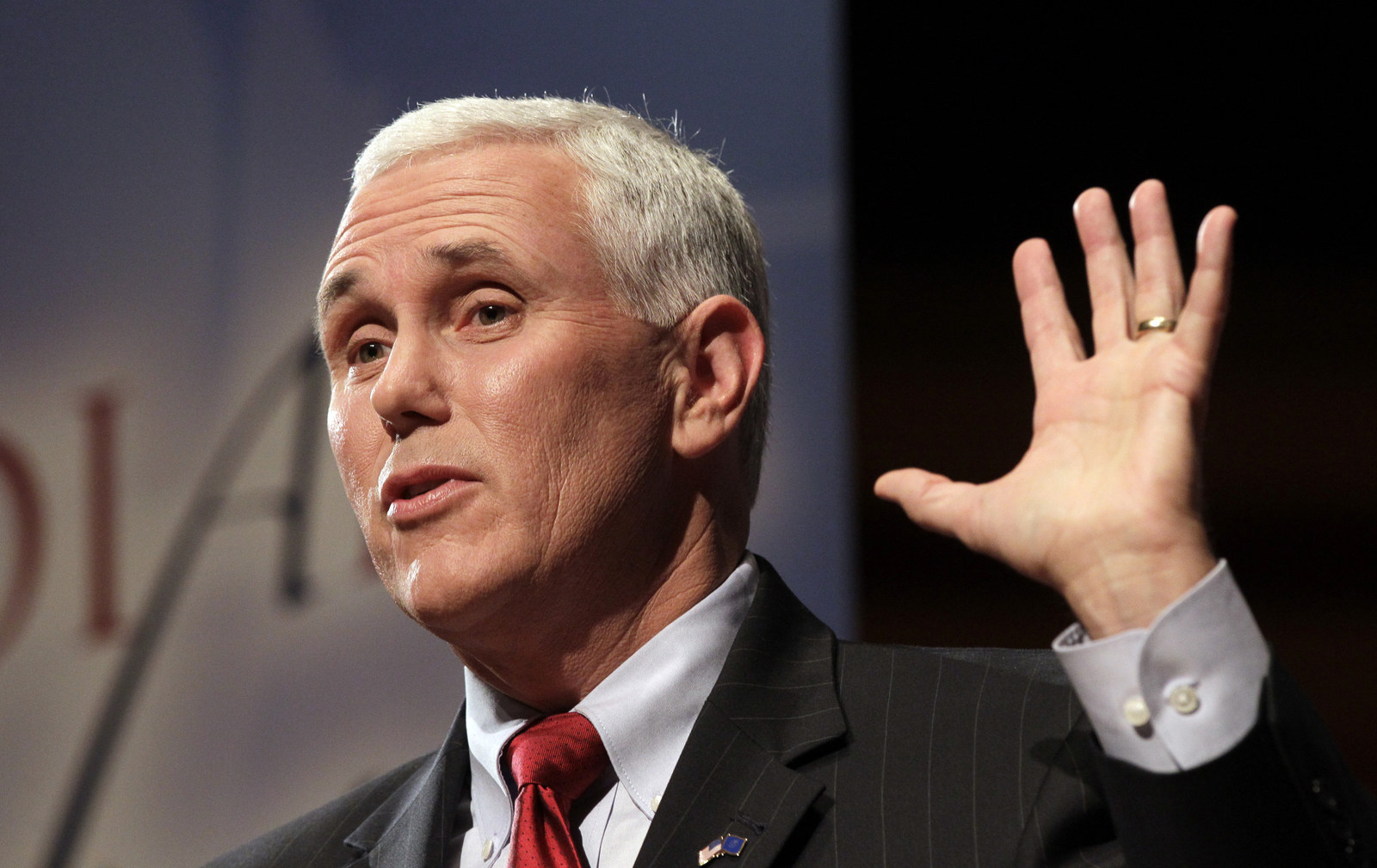 Republican leaders in the capital are keeping cards close to their chest when asked about their support for a compromise.
A spokeswoman for Pence, Kara Brooks, told BuzzFeed News simply, "Governor Pence is listening to people on all sides of the issue."
Meanwhile, according to his spokesman, Senate President Pro Tem David Long "is engaged in discussions on this issue, but isn't going to publicly comment on it yet, as we are still almost three months out from our next legislative session." And finally, House Speaker Brian Bosma's office did not respond to questions about his position on an LGBT nondiscrimination bill or a compromise.
All three Republicans — the most powerful leaders in the capital, where their party holds a supermajority — are under pressure from inside their conservative fold to reject these calls for broader LGBT rights.

Micah Clark, president of American Family Association of Indiana, was among those who stood behind Gov. Pence at a ceremony to sign the Religious Freedom Restoration Act into law. He was furious that the governor subsequently called for — and signed — the fix bill that said the law could not be used to discriminate against LGBT people.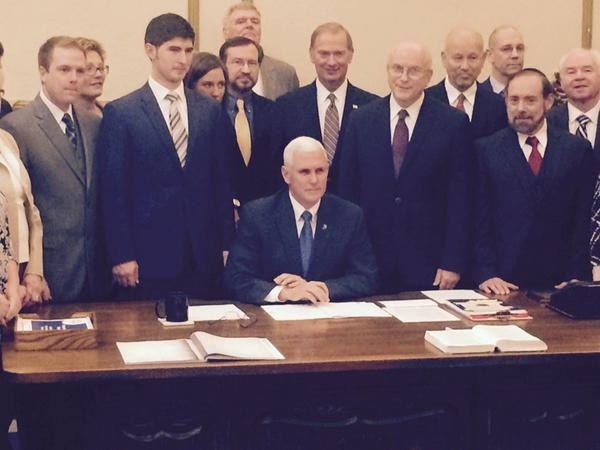 Clark told BuzzFeed News that a nondiscrimination bill "isn't necessary at all."

"If Pence backs this, after his failure to veto the RFRA fix, he further destroys his base of support with conservatives," Clark warned.
"It is a liberal concept for special rights based upon fluid sexual behaviors," he continued, saying that it could allow discrimination against people of faith.
These dueling pressures presents an urgent conundrum for Pence.
A poll conducted in April by Greenberg Quinlan Rosner Research, paid for by the LGBT advocacy group Human Rights Campaign, found that 85% of Hoosiers believed business owners should not be allowed to turn away a customer based on sexual orientation or gender identity, even if an owner says homosexuality violates their religious beliefs.
The pollsters found 53% of voters had an unfavorable view of Pence for signing the religious freedom law, compared with 38% who had a favorable impression of him approving the legislation.
Pence' standing seems to have declined as a result of his role in the religious freedom law. In June, the Indy Star reported on a poll by Bellwether Research that found roughly 34% of voters gave him a favorable rating while 43% gave him an unfavorable rating. Politico reported that the same pollster had found Pence dropped to that low from a strong 62% in February.
Meanwhile, a survey by Bellwhether Research in April found that 54% of respondents would support a comprehensive nondiscrimination law, a 20% lead over those who would oppose it.

In addition to pressure from business and advocacy groups, including Freedom Indiana and the Human Rights Campaign, Democrats have tried to exert their limited influence. Indiana Senate Minority Leader Tim Lanane said he would introduce a comprehensive LGBT nondiscrimination bill.

Still, passing a comprehensive law in line with the one Democrat's proposal looks feasible to Fisher, at the Indianapolis Chamber of Commerce.
It would be difficult, he said, "but we certainly see a path to victory. And we are going to be focus on making a business case, an economic development case. For people who question whether we are a welcoming state, this removes all doubt."